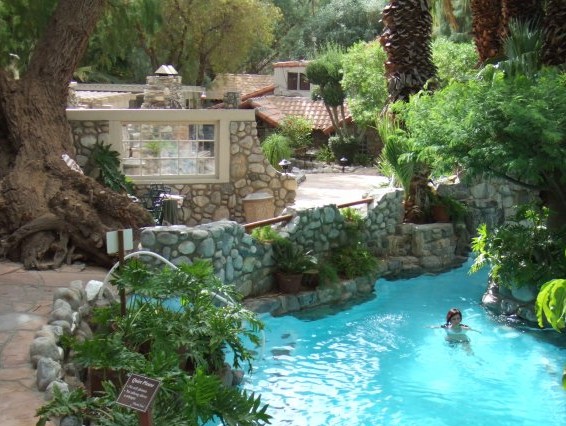 Your job: Decide to get out of town and fast. Our job: Help you find where you're headed. This week, NBCLA's Worth the Drive takes us to...
Two Bunch Palms Resort & Spa: It's hard not to think of this famous California hideaway come Valentine's season. After all, the Desert Hot Springs hotel caters to adults (no children under 18). There's a quiet-voice policy on the grounds (so no yelling, "hey, honey, watch this cannonball" as you dash for the pool). Just people, being serene, being with each other.
"Two" is in the name: So is the word "Palms," of which there are plenty surrounding the famous grotto area. The world "Palms" also reminds us that the Date Festival in Indio is just ahead. If you are a grotto person, a person who values quiet and you dote on dates, obviously there's a perfect place and time for you: the desert in February.
The grotto: It is warmed by the planet and full of lithium, says the hotel. Fine stuff for floating and staring up at the palms. No thoughts. Just palms and sky.
"The Player": Like you, we think of the much-talked-about Tim Robbins showing-some-skin scene that was filmed at the mud baths here.
The spa: We mentioned the mud baths. There are also breathwork treatments, treatments that happen in the water, and more traditional massages.
Prices: Two Bunch is great for the ever-changing specials; follow them on Facebook or sign up for emails. The fall/winter rate rooms start at $185.
Two more things we like: Roadrunners around the grounds, just being curious, darting hither and yon. And being quiet, generally -- they know the rules. And the view of San Jacinto from the restaurant. San Jacinto, also quiet. The roadrunners are silent. The mountain is quiet, too. Now your turn.
Copyright FREEL - NBC Local Media