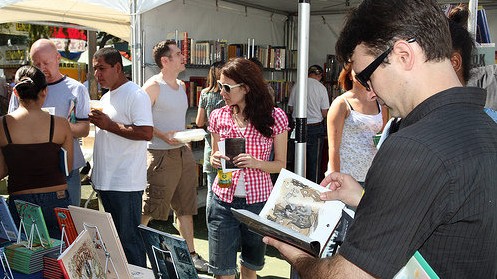 Publishing is always evolving and changing, like any industry, but the fact that most of us carry small screens in our pocket capable of transmitting text has proved to be one of the biggest shifts in the centuries-old way of doing things.
But what never changes? Readers love meeting their favorite authors. And another thing that never changes? The fact that authors chatting up fans -- and giving readings -- is a fine way to gain deeper insight into a story.
Regardless of what technology delivers, those two remain constant.
And the community-nice celebration in West Hollywood each autumn is very much about putting those two concepts into play. The West Hollywood Book Fair is not necessarily out-sized, and that's a good thing; it's only one day, that day being Sunday, Sept. 30 this year.
But it attracts a lot of major names, regardless of its easy, low-key nature. Novelist Melissa de la Cruz, funny people Rachel Dratch and David Misch, travel writer (and, yep, "Pretty in Pink" star) Andrew McCarthy, and Deepak and Gotham Copra are slated to be there.
This being SoCal, a number of authors are locals.
Since it is a one-day festival, you'll need to plan who you want to see when, so best check out the schedule ahead of time. There are also various pavilions to visit, including the culinary and fiction pavilions, so make time for a stroll around.
And, lastly, here are the frees: Admission is free and so is the parking/shuttle deal. West Hollywood, that is so amazing! Let's us keep more dough for on-the-spot book purchasing at West Hollywood Park. Thanks!
Follow NBCLA for the latest LA news, events and entertainment: iPhone/iPad App | Facebook; | Twitter; | Google+; | Instagram; | RSS; | Text Alerts | Email Alerts
Copyright FREEL - NBC Local Media