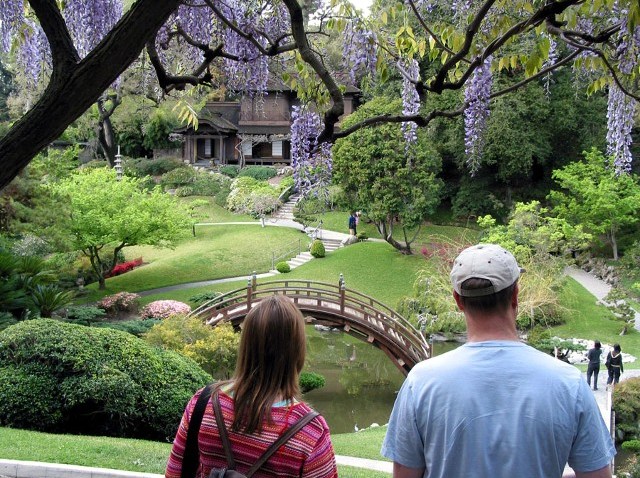 The Huntington Library, Art Collections, and Botanical Gardens are rife with treasures and flowerly plots and world-famous paintings.
But few places at the San Marino landmark have the devoted following of the Japanese Garden. True, the much-photographed section has been around for nearly a century, giving it time to win many hearts. But it isn't merely its longevity that makes the garden a stand-out among stand-outs; visitors know it is a place of peace, ceilinged by wisteria blooms come the spring and filled with koi and bonsai throughout the year.
Now the beautiful, arch-bridged nook will be closing, for renovations, for a full year. It's big news for frequent Huntington fans, and thus the institution is encouraging people to stop by before the area is shuttered on Monday, April 4.
But like the purple-y wisteria blooms return each spring, so shall the Japanese Garden by back, and just in time for its 100th birthday. The renovations will include landscaping, work on the water systems, and, possibly the most exciting at all, the opening of a teahouse and tea garden. It will not be a restaurant, note, but rather a place for visitors to learn about the art of the Japanese ceremonial tea service. The garden promises demos and other tea-oriented classes in the teahouse.
Of course, some of the garden's koi know all about renovation. They recently made the move from the Disneyland Hotel to the Huntington, in summer 2010.
If seeing the Japanese Garden with the wisteria purple-ing the entrance is something you've longed to experience, and the thought of waiting a year makes you blue, don't be; the flowers are flowering right now, and just ahead of the April 4 closing date. So get there quick, and then slow down, and enjoy the exquisite space.
Copyright FREEL - NBC Local Media