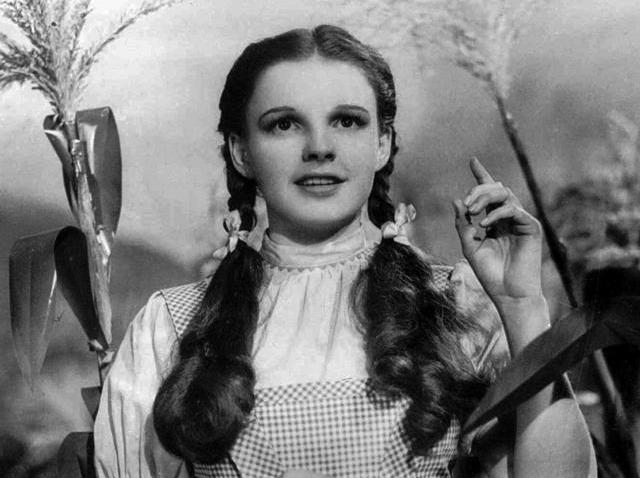 Famous movie lines don't come much more iconic than "Toto, I don't think we're in Kansas anymore." (For those of you who go with "Toto, I don't think we're in Kansas any longer" that's cool; we all fudge on our favorite quotes over time without realizing it.)
The thing about that particular line we love best is it was uttered in Culver City. So if you say the line while you're actually in Culver City, say, while you're running by the grocery store for a forgotten pint a milk on the commute home, it totally fits.
LA is Oz, in short -- cheers, Australia, but you know what we mean -- and when "The Wizard of Oz" screens in a historic local theater, the Toto buffs and Scarecrow aficionados come out in happy force. That's going to happen again on Saturday, June 30 at the Saban Theatre on Wilshire Boulevard as part of the LA Conservancy's Last Remaining Seats summer movie series.
Member tickets go on sale on Wednesday, March 28. Are we about to tell you that tickets for both the matinee and evening screenings of "The Wizard of Oz" will fly faster than a certain pointy-hatted character on her broomstick? They will. It's practically local law.
There are other great films showing during the May-June film series -- "Tootsie" and "Robin Hood" are on the list -- but "The Wizard of Oz" is the only movie not showing downtown. It's like it is migrating closer to its Culver City birthplace.
Okay, it is a stretch, but we're talking about one of the most famous flight-of-fancy films of all times. What? Movies don't want to go home again, too? Someone make a movie about that.
General public sales start on Wednesday, April 11.
Oh, and the Saban was once called the Fox Wilshire. And, yep, it was open during the time "Wizard" filmed nearby. Think the cast members ever met there for a show after the day of shooting wrapped? We do.
Follow NBCLA for the latest LA news, events and entertainment: Twitter: @NBCLA // Facebook: NBCLA
Copyright FREEL - NBC Local Media