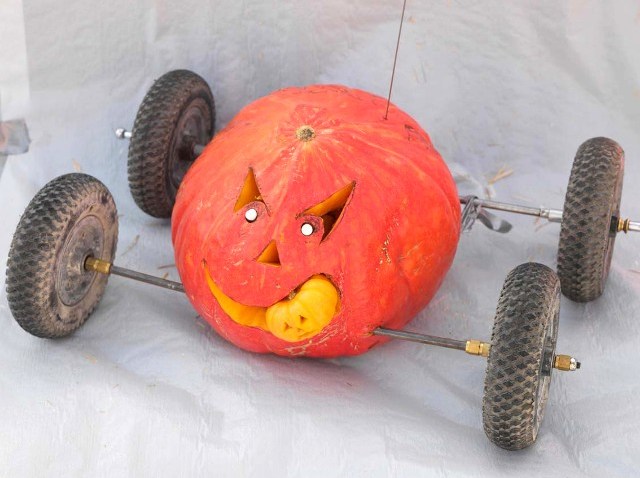 A mobile pumpkin is not an unusual pumpkin. We've all picked up one of those little jobbies in the produce section at the grocery store, only to suddenly drop it and have it roll over into the pharmacy, usually at an impressive speed.
But pumpkins usually move on account of their roundness, *not* because they have wheels attached. Wheels on a pumpkin is not a sight one spies in some autumnal patch. Humans have been meddling when wheels and an axel are present.
And the meddling gets mirthful, and highly photographable, in Manhattan Beach every fall. That's the location of the World Famous Pumpkin Race, which is happening on Sunday, Oct. 24 at Manhattan Beach Pier.
We'll attempt to be as quick as a tiny pumpkin rolling through the grocery store: Competitors show with decorated, wheel-sporting gourds. The pumpkin-wielding participants' sole purpose is to race them down the pier. Well, there are other purposes, too, like delighting the crowds.
There are rules, there are tips, and there are truly chuckly categories, like Best Crash. We want to see some sticky pulp and seeds on the pier, and you do, too.
The championships roll, literally, at 4 p.m. on Oct. 24, but there will be qualifying earlier in the afternoon. Go, gourd, go.
Copyright FREEL - NBC Local Media