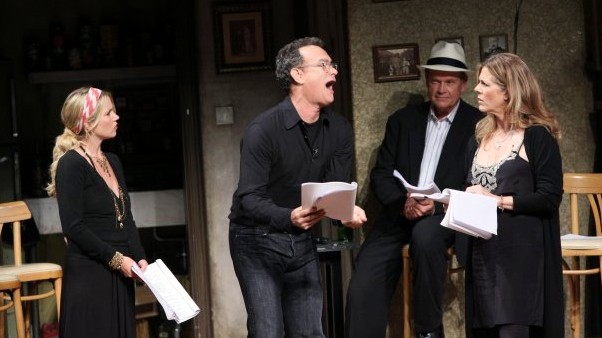 The Shakespeare Center has been Barding up these parts for lo a quarter century now, and its annual fundraiser is nearly as famous as the center itself.
Why, pray tell? Stars. Big stars. The kind of stars that make you think, hmm. Shouldn't that person be on an exotic set somewhere, starring in a big blockbuster? But they're not. They're giving their time to the important cause of raising money for an important part of LA's cultural scene.
The 2011 Simply Shakespeare night will bring those not-on-a-set stars. Rita Wilson and Tom Hanks, who are again co-chairing the night, will be on the stage. So will Eric Idle, Kenneth Branagh, Martin Short, Christina Applegate, Faith Hill.
And William Shatner. William. Shatner.
Now you can buy tickets for the May 9 Royce Hall lark -- the play is the mirthful "The Merry Wives of Windsor," by the by -- or you can bid for a walk-on part. Bidding opens on April 21 and closes on May 1, giving you nine days to brag to everyone you know if you are the auction winner.
We're already pre-nervous for the auction victor. In a good way, of course. Because you also get to go to a VIP party after the show. Oh, there's a rehearsal, too. You and Kenneth Branagh, rehearsing (we don't know if your speaking part would be with the great thesp, but we're fantasizing here).
Oh, "Wives" is going cowpoke for this outing, so you best start modeling neckerchiefs and such, if you're going to be bidding.
Copyright FREEL - NBC Local Media