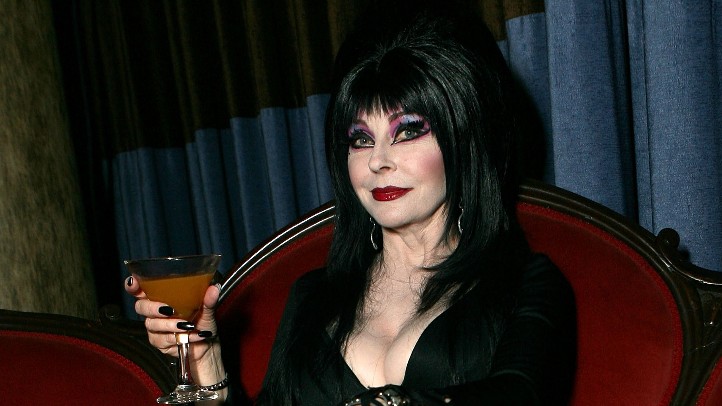 If you've ever gone to a Halloween-themed attraction in another city -- we're talking creepy mazes and fun houses and such -- you've likely seen a woman dressed rather Elvira-like. You instantly recognize the character, even in the low-lit maze; the high bouffant hair, the impressive cleavage, the long eyelashes, the sultry dress.
But in LA? Our Halloween attractions don't simply boast an Elvira lookalike, they boast Elvira. Don't be jealy, people everywhere; that's how we roll here in starry, spooky Los Angeles. And things will definitely be rolling on Saturday, Oct. 6 when the Mistress of the Dark herself swings by the Los Angeles Haunted Hayride for an eerie night ride.
Tickets are a hundred bucks and will include a meet-and-greet and photo op, plus a hayride ride with the sassy celebrity through the Old Zoo Area of Griffith Park. There are a few other adds, too, for the night.
If you can't make the Elvira night -- and we expect you'll definitely try, because, uh, Elvira -- know that the LA Haunted Hayride regularly draws the actors and famous types; Chris Colfer, Nikki Reed, and Ryan Gosling have all showed up for some hayridin' in the past.
In addition to the hayride there's a sideshow area and some other chilling to-dos.
LA Haunted Hayride opens Friday, Oct. 5 -- call it Elvira Eve -- and wends its way into the trees through Halloween night. It's not happening every October night, but a goodly number; still, advance tickets are recommended.
Follow NBCLA for the latest LA news, events and entertainment: iPhone/iPad App | Facebook; | Twitter; | Google+; | Instagram; | RSS; | Text Alerts | Email Alerts
Copyright FREEL - NBC Local Media