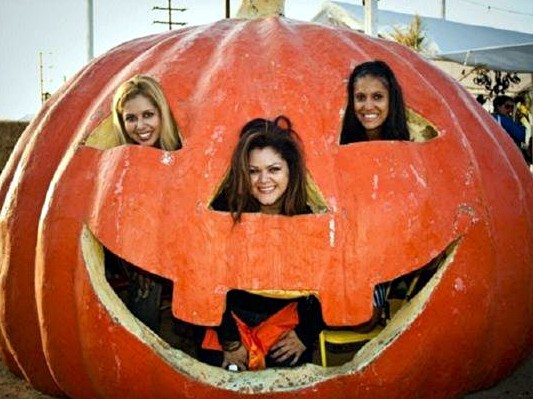 You've probably driven by it a dozen times over the years. A hundred times? We're talking about the picturesque, crawl-inside pumpkin that took up residence at the corner of Third and Fairfax every October, courtesy of the Lopez Ranch Pumpkin Patch. Seems like everyone, big and small, got his or her picture taken inside that pumpkin at some point.
But if you've driven by the corner lately, you've noticed. Well. It is distinctly pumpkin-less. Distinctly Lopez Ranch-less, too. And you may have wondered what in the great gourd is up. And we're guessing that many people will be wondering what is up in the coming days, what with the big Farmers Market Fall Festival happening just across the street on Oct. 16 and 17.
Fear not, first off: Lopez Ranch has moved just a pip up the way, to Sunset Boulevard, with its much-photographed pumpkin in tow, along with hundreds of real pumpkins for purchase. The corner of Third and Fairfax has a new development coming (Curbed LA had some info awhile back), and the Lopez family needed a new area for its gourd-y goodness. And for its December tree lot, another seasonal sight.
The new address is 8950 Sunset Boulevard, which is near Doheny. If you're wondering, Chango also made the trip -- no way are we explaining this longtime Lopez staple, you have to see for yourself -- and all the other seriously sweet and charming googly-scary stuff the Lopezes hang up, year after year.
Plus Diego, the family mascot. If you haven't met this Brussels Griffon, he is one of the star dogs of Los Angeles, paws down. Make sure to go back in December, when Diego is in full elf regalia. Someone get that dog an agent.
Copyright FREEL - NBC Local Media