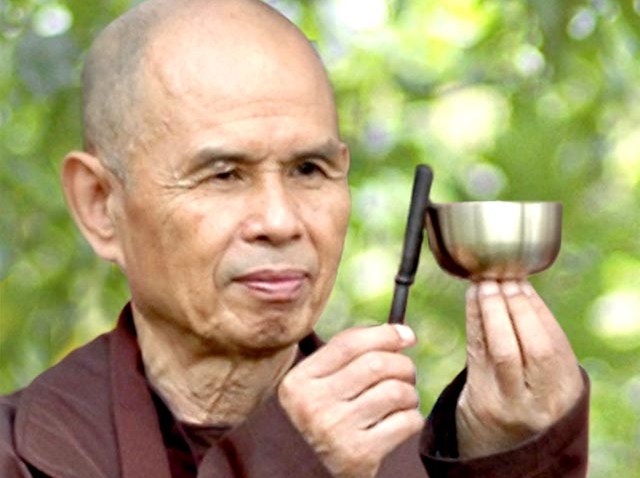 He has been called one of the world's foremost spiritual leaders: Vietnamese monk Thich Nhat Hanh will give a public talk in Pasadena on Sept. 19.
Nhat Hanh is the author of more than 100 books on Buddhism, which have sold more than a million copies worldwide.
The talk at the Pasadena Civic Auditorium, titled "Our True Agenda -- Tending to the Space Inside," will explore how mindfulness practice and meditation can bring about inner peace and affect the people around you, the environment, and the caffeinated, multi-tasking world of our times.
Nhat Hanh is making this rare appearance as he recovers from a bout with lung infection. Recently recovered, this will be the first time he is speaking publicly in Southern California in two years.
He will also lead two retreats at Deer Park Monastery in Escondido, one of the few mindfulness centers in the United States to convert to 100 percent solar energy.
Nhat Hanh was exiled from his native Vietnam for helping to lead a non-violent resistance movement opposing the U.S.-Vietnam War, and calling for reconciliation and ceasefire between the warring parties. In 1967, Dr. Martin Luther King Jr. nominated him for the Nobel Peace Prize. Since his days in Vietnam, Thich Nhat Hanh has been a leading proponent of "engaged Buddhism," a way of life and a spiritual practice that works actively in the world to relieve suffering.
Tickets can be purchased at the Pasadena Civic Auditorium Box Office at 626-449-7360, online with Deer Park Monastery or via Ticketmaster.
"Our True Agenda -- Tending to the Space Inside,"
Pasadena Civic Auditorium
300 East Green Street, Pasadena, CA 91101
Saturday, Sept. 19
Event begins at 4 p.m. (Doors open at 3:15 p.m.)
$25 for general admission
$20 for students/seniors