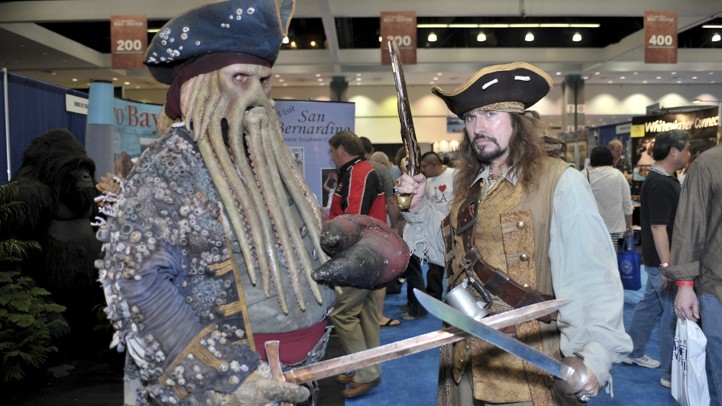 Do you always feel -- what's the word? -- a bit deflated when, returning home from a trip, you spy the maps and brochures still spread out on your coffee table?
Sure, you had a wonderful time; but the run-up and anticipation to your big adventure was just as rewarding. If you're a trip-planning enthusiast, and you believe that poring over train schedules and hotel photos is truly half the fun, then we know exactly where you'll be on either Saturday, Jan. 28 or Sunday, Jan. 29: The Los Angeles Times Travel Show.
The mega hotel-cruise-destination-expert-a-thon once again lands at the Los Angeles Convention Center, and, hoo, it well fills it out; you'll be strolling by a lot of booths and chatting with many a visitors bureau rep. There are brochures and booklets and giveaways, so you'll leave with stuff. Best do a few bench presses beforehand. Not even joking.
There's even a mobile guide to help you keep things orderly and straight. Helpful.
And the experts? They're plentiful. Lisa Ling will speak, as will Arthur Frommer, just to name two headliners. Rick Steves'll be in the house -- er, convention center -- too. We sat in on his presentation a few years ago. Wowza. Our fandom was already high for Mr. Steves, but his talk contained several concrete and usable action items for planning a successful European trip. Full of platitudes and airy info, he was not.
A ticket is ten bucks. You have a kitty going for your next trip? Stick your hand in the jar and fish out ten ones. It's well worth it, and our favorite part is that what we usually come looking for is not what we end up leaving with. We may arrive wanting only to know more about New England spas but we leave with solid info on the restaurants of Morocco, and Tokyo's top budget hotels, and, and, and...
Follow NBCLA for the latest LA news, events and entertainment: Twitter: @NBCLA // Facebook: NBCLA
Copyright FREEL - NBC Local Media