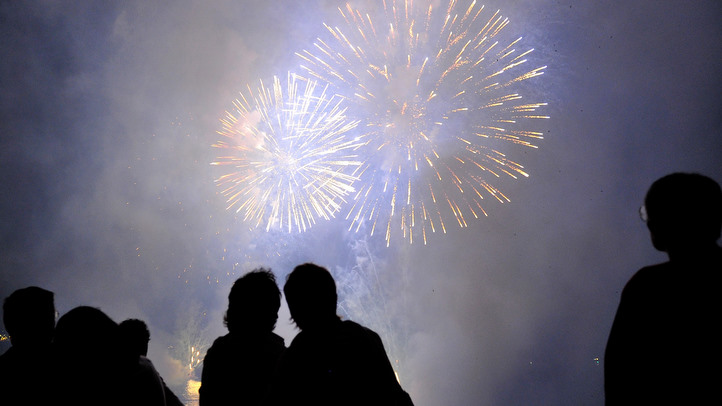 There will be many spots around Southern California to watch patriotic pyrotechnics. Here are some of the ooh-and-aah-iest, and all take place on Monday, July 4 unless otherwise noted. Note also that some events are ticketed, so you may want to check out admissions and info in advance.
AMERICAFEST 2011: The annual Honda-sponsored Rose Bowl show will once again being doing an afternoon- and evening-long program, complete with a concert by Dean Torrence of Jan & Dean and mariachi music. Party starts at 6 p.m. (although revelers'll be celebrating outside the gates starting at 2 p.m.) and the fireworks are at 9:05 p.m. Oh, and one last note? This year marks Pasadena's 85th Fourth of July celebration. Right on.
HOLLYWOOD BOWL: You know the be-shelled, be-picnic'd landmark'll be doing it up large-style for the holiday ("large-style"=fireworks). But did you know that Hall & Oates will be this year's featured act? Oh yeah. They will be making dreams come true. Also making dreams come true? There are three nights: July 2-4. Sara smiles, and we do, too.
SALUTE TO AMERICA: The Starlight Bowl production will have several goodies in store, including a fly-over. Surfin' USA and the Burbank Phil will also be on the stage. And Hansen Dam will be celebrating "Hometown Heroes" (and also staging a boom-boom sky show).
H2O-CLOSE FIREWORKS: There are a number of Pacific-pretty displays to take in. The Queen Mary has a stompin' night planned, complete with zydeco. Huntington Beach has a weekend full of events, including a parade, a breakfast, and a 5K run. Get parking info and various dates on what's happening when. And Redondo Beach is putting on the sparkly stuff at Seaside Lagoon.
EXPOSITION PARK: The Fourth of July celebration is a year away from hitting its decade anniversary. If you want to get your holiday going early, get there at noon, when the kidly to-dos kick off. And the Dodgers face the Mets on Monday, July 4, with a grand fireworks finale.
EVEN MORE: Fireworks shows are also scheduled for the following Los Angeles County locations, all beginning at 9 p.m.:

Angels Gate Park, 3601 S. Gaffey St., San Pedro;
Barnes Park, 350 S. McPherrin Ave., Monterey Park;
Fairplex, 1101 W. McKinley Ave., Pomona
Los Angeles Memorial Coliseum, 3911 S. Figueroa St.;
Memorial Park, 840 N. Indian Hill Blvd., Claremont
Rosewood Park, 5600 Harbor St., Commerce;
Rowley Park, 13220 S. Van Ness Ave., Gardena;
Smith Park, 6016 Rosemead Blvd., Pico Rivera;
Veterans Memorial Stadium, 4901 E. Conant St., Long Beach;
Warner Center Park, 5800 Topanga Canyon Blvd., Woodland Hills, and
CBS Studio Center, (gates open at 4:30 p.m.) 4200 Radford Ave., Studio City.
Wilshire County Club, 301 N. Rossmore Ave
Copyright FREEL - NBC Local Media