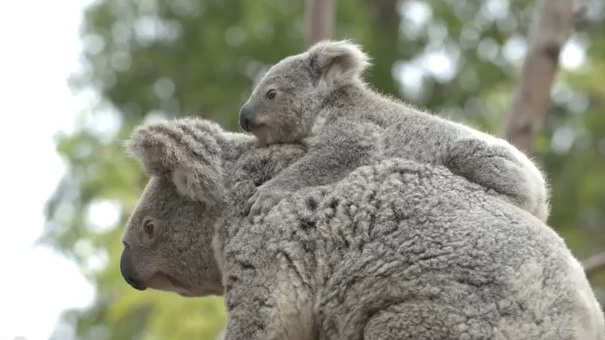 IT'S A VERY COMMON QUESTION... whenever people hit an all-you-can-eat joint, the kind of place where you're invited to pile up your plate with ribs, macaroni salad, pasta. When diners reach the cashier, and the final scale, they very often ask this: Is the plate's weight subtracted from the food? This is so frequently asked by customers that restaurants tend to hang a sign nearby saying "yes, the weight of the plate is removed from the final tally." Now picture that very same principal at play, or nearly, in how a baby koala -- yep, a joey -- is weighed. Can you picture it?
THE SAN DIEGO ZOO... has given us some video assistance, and it is pretty unbelievably cute. Staffers recently wanted to see how young Burra -- it means "big fella," says the zoo's Facebook page -- was growing, so they lifted both Burra, who was on his mother's back, and mother Tonahleah down from a branch. Burra was cuddled by a keeper while Tonahleah was weighed on a nearby scale, then Burra was returned to his mother's back for the final tally. And voila! Subtract one weight from the other and the zoo can see just how plump little Burra's becoming.
Want to see the process in action? There's video. Want to see Burra in person? Or koala, rather? He's in the zoo's Australian Outback. Prepare to awww aloud, animal lovers.
Copyright FREEL - NBC Local Media