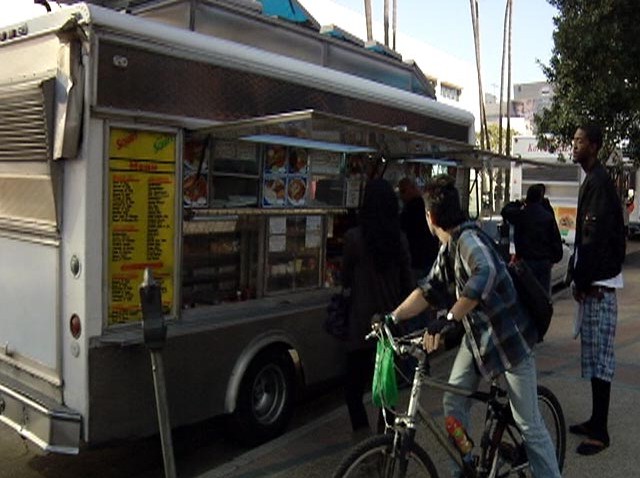 That taco truck on the corner may now have a Zagat rating.
The newly released results of the Los Angeles survey, compiling reviews from more than 10,000 hungry Angelenos, has added food truck reviews to its list of restaurants. Top spots were taken by LA favorites like gourmet Mexican truck Border Grill, Asian-French fusion truck Flying Pig, Vietnamese truck Phamish and Korean BBQ truck Kogi.
"Great tacos, awesome ceviche cones, and the churro bites are to die for!" said reviewer DanS3665 about Border Grill on Zagat's website.
"Nice option if in your vicinity for Vietnamese style baguette sandwiches" said reviewer MarkM9737 of Phamish.
The guide revealed that 28 percent of people surveyed frequented gourmet food trucks. From Zagat:
Food trucks, including Border Grill, Flying Pig and Phamish, as well as the pioneering Kogi, show no signs of slowing down, with 28% of surveyors frequenting gourmet food trucks. And other kinds of transient dining seem to be on the rise, with 58% reporting they've sampled a pop-up such as the red-hot LudoBites.

Bolstering the food truck boom, Zagat has also started featuring a new and notable food truck each week. This week, the bacon-themed Lardon takes the spotlight, with its bacon filled brioche French toast, bacon-flavored Nutella brownies and of course, a signature BLT.
Zagat's inclusion of food trucks in Los Angeles only solidifies their newfound recognition as "legitimate" eateries. Also recognizing this, the LA County Department of Public Health has recently proposed to Los Angeles County supervisors to extend their restaurant letter grading system to LA trucks, affecting some 10,000 vendors.
"People were asking us, 'We go to a restaurant. We like the grading system. But what about all these trucks that are coming? How do we know?'" said LA Public Health director Dr. Jonathan Fielding to the LA Times."(There) have been certainly a number that we've had to close, and we have had problems in a number of cases."
Currently, followers track their favorite trucks via Twitter. Zagat has even started their own Twitter food truck tracker, compiling tweets from some 60 of the most popular food trucks in Los Angeles.