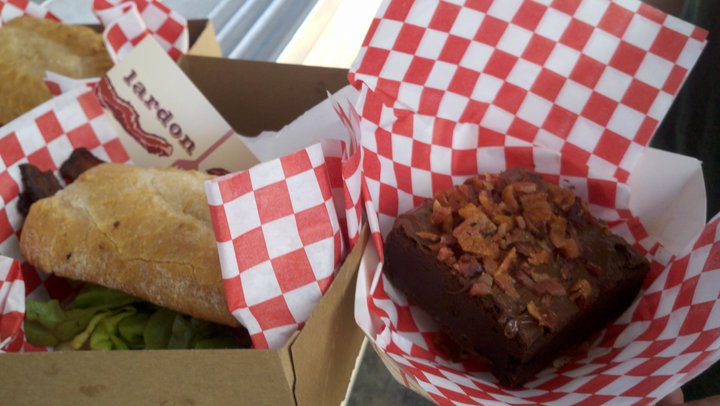 There's a new food truck in town that is asking you to "get your lardon." Lardon, French for bacon, sells everything bacon.
"There's nothing like the scent and sizzle of bacon in the early morning," said Heather Crowley, who runs the business with her husband Jeremiah Crowley. "We felt it could and should be eaten anytime, anywhere."
The menu has it all, from brownies with bacon nutella spread to bacon pancakes with bacon bourbon maple syrup.
The food truck opened last month and has already created a cult following amongst bacon-lovers. With more than 2,259 followers on twitter, a 4.5 out of 5 rating on Yelp and 1000 friends on facebook. It appears Lardon is a hit with local Angelenos.
"If you love bacon, then you'll love this truck," said Lara Larapanget , an avid customer of Lardon. "I can eat the bacon and the brownie with bacon everyday until I die. I'll probably die really young, but I would be really happy."

A Lardo representative says the dish that brings most people back is "the baco."
The baco is also known as the "baco taco," it's made from a bacon shell and filled with potatoes, cheddar cheese and horseradish bacon sour cream.
"The Baco is just an absolute must-have item," said Gigi Henderson, who reviews food trucks on yelp. " It's only $4 and it is the perfect mouth-watering, tasty, bite of bacon goodness."
Prices at Lardon range from $3-$6.
You can follow Lardon on Twitter and stake out their next location.