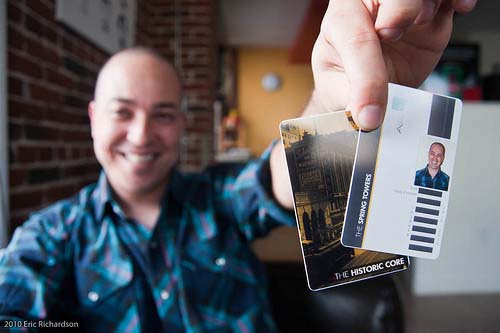 Downtown Los Angeles residents can now get customized photo ID cards to receive discounts at neighborhood businesses.
"I found that places in Downtown really wanted to provide benefits to Downtowners and loyal customers -- especially the places that were inside residential buildings -- but there was no good way to do it short of having people bring bills," Josh Gray-Emmer told blogdowntown.
You may remember Gray-Emmer, founder of AP Consulting LA, as the brains behind an "Alcohol, Tobacco & Firearms Party" at the Factory Place Arts Complex.
His latest pro-downtown project doesn't involve discounts on firearms, but there are certainly discounts on alcohol. Cardholders can get 10 percent off bottles of wine at Bottle Rock, half-price beer and sake at Takami Sushi & Robata, and discount tickets to the City of Angels Wine Fest.
The complete list of discounts, including savings at the Los Angeles Athletic Club and the LA Film Festival, is available online.
Downtown hotspot LA Café, located at 639 S. Spring St., is holding sign-ups May 10 to May 16 between 11 a.m. to 7 p.m. The 24-hour eatery offers cardholders a free bakery item with every entry between 12 a.m. and 6 a.m.
Gray-Emmer says that so far, no business has said no the DTLA Resident Card program, and more than a dozen businesses are listed as "Coming Soon" on the program's website.
Perhaps that's a lesson for all of us. In an era when thousands are deleting their Facebook profiles over privacy concerns and an entire city is boycotting Arizona for asking residents for identification, a few good discounts can go a long way.