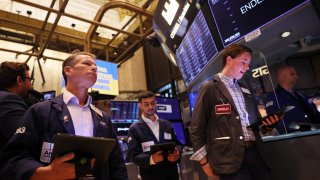 Treasury yields rose again on Thursday, continuing to climb into territory not seen in more than a decade.
The benchmark 10-year Treasury yield climbed 10 basis points 4.23%, at one point hitting 4.239% for its highest level since 2008. The yield on the policy-sensitive 2-year Treasury traded up five basis points to 4.608%.
Yields and prices move in opposite directions and one basis point equals 0.01%.
"I think 4% was reasonable," said Wells Fargo's Michael Schumacher. "4.22% has become unanchored. We don't need the 10-year to act like a meme stock. That is not healthy."
Many investors have been concerned about the economy contracting as the Federal Reserve has been hiking interest rates to fight persistent inflation. Another 75 basis point hike is expected from the central bank at its next meeting on Nov. 1 and 2.
On Thursday, Philadelphia Fed President Patrick Harker said that the Fed would continue raising rates.
"Given our frankly disappointing lack of progress on curtailing inflation, I expect we will be well above 4% by the end of the year," Harker said.
The 10-year yield moved to new highs after Harker's remarks. Fed funds futures for next May crossed 5% for the first time on Thursday.
On the economic front, initial jobless claims came in at 214,000, below the 230,000 expected by economists according to Dow Jones. However, the Philadelphia Fed manufacturing index showed a larger than expected decline.
U.S. housing starts and building permits data for September came in below expectations on Wednesday, which investors widely understood as a sign of recession in the housing sector.
In Europe, U.K. Prime Minister announced her resignation. The British pound rose against the dollar on the news.
— CNBC's Patti Domm and Jeff Cox contributed to this report.
Copyright CNBC