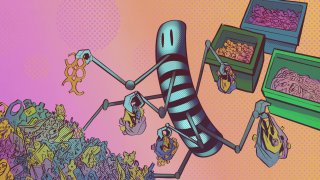 Founder: Matanya Horowitz (CEO)
Launched: 2014
Headquarters: Louisville, Colorado
Funding: $77.8 million
Valuation: N/A
Key technologies: Artificial intelligence, deep learning, machine learning, robotics
Industry: Recycling
Previous appearances on Disruptor 50 List: 0
For all the feel-good good recycling in blue bins does for your soul, the economics of recycling — especially the global scourge of disposable and single-use plastic — remains a challenge to make work as a business model.
It is not an exaggeration to say the global recycling industry has been in a crisis. And that crisis has been profiled everywhere from NPR to John Oliver. Low oil prices have major implications for the plastics sector, and in the past few years, China led a move by many nations to put restrictions on imports of recyclables, a big blow to the sector.
The more recent crisis of Covid-19 has not helped. Municipal budget cutbacks, corporate finance officers looking for every last non-essential line item to cut, and waste management companies forced to keep workers away for health safety — all occuring while consumers were using more disposable packaging than ever.
AMP Robotics thinks that technology, specifically AI and robotics, is a big part of the answer to making the sustainability-minded business of recycling one that is economically sustainable.
More than $200 billion in recyclables is wasted every year as a result of an inefficient process for sorting and recovery of materials including paper, plastics, and metals.
The Colorado-based company has hundreds of systems installed across three continents and in 20 U.S. states designed to extract more material value from recyclables in the separate and enhancement process, and identify new markets for the recycled. Its robotic systems use computer vision and deep learning to recognize and sort recyclables by color, size, shape and opacity, and its robots are learning about the waste stream as it goes by, recognizing consumer brands and items like disposable coffee pods.
For the circular economy to work, recycling isn't enough. It's what happens at waste management facilities and consumer goods companies. Late last year, AMP inked a deal with Waste Connections for 24 of its AI-guided robotics systems, the company's largest contract to date. It also has large consumer products companies, including Keurig Dr Pepper, among its clients. In January, the company raised $55 million, more than triple its first fundraising, including Alphabet's venture arm GV as a new investor.
—Contributed by Eric Rosenbaum
SIGN UP for our weekly, original newsletter that goes beyond the list, offering a closer look at CNBC Disruptor 50 companies, and the founders who continue to innovate across every sector of the economy.
Copyright CNBC