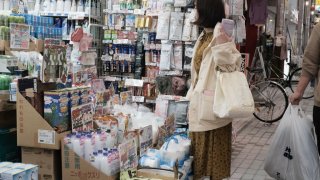 This is CNBC's live blog covering Asia-Pacific markets.
Shares in the Asia-Pacific traded lower on Friday as investors weigh inflation data from several economies.
The Nikkei 225 in Japan slipped 0.43% to 26,890.58 and the Topix lost 0.71% to 1,881.98. Japan's yen weakened further to touch 150.45 after breaching 150 against the dollar on Thursday.
In Australia, the S&P/ASX 200 fell 0.8% to 6,676.80. South Korea's Kospi was down 0.22% at 2,213.12, and the Kosdaq shed 0.88% to 674.48. MSCI's broadest index of Asia-Pacific shares was 0.73% lower.
Hong Kong's Hang Seng index gave up gains to fall 0.38% in the final hour of trade. The Shanghai Composite in mainland China bucked the region trend to gain 0.16% to 3,039.81 and the Shenzhen Component was 0.423% lower at 10,918.97.
Japan's core consumer prices for the month of September rose 3% compared to a year ago and Malaysia's inflation came in at 4.5%. Hong Kong is slated to release its inflation data later in the day.
U.S. stocks fell on Thursday as investors digested earnings and rising Treasury yields. The Dow Jones Industrial Average dipped 90.22 points, or 0.30%, to 30,333.59. The S&P 500 shed 0.8% to 3,665.78. The Nasdaq Composite lost 0.61% to close at 10,614.84.
The benchmark 10-year Treasury yield marked a high of 4.272%, trading at levels not seen since 2008.
— CNBC's Jesse Pound and Sarah Min contributed to this report.
The pound is limited by uncertainties ahead: Medley Global Advisors
The British pound's recovery is capped by uncertainties that remain after U.K. Prime Minister Liz Truss' resignation, said Ben Emons, managing director at Medley Global Advisors.
He said it would be a "volatility event" if former Finance Minister Rishi Sunak or ex-PM Boris Johnson become the new U.K. leader, and that a Labour Party win would bring "uncertainty."
"I think other issues will come along now in terms of the agreement with Ireland and the ongoing negotiation over Brexit, that will start feeding the pound again," he said. "I think this is why it couldn't really break out of the 1.13 level or so today."
Cable briefly rallied and traded above $1.12 overnight, but was last at $1.1183.
— Abigail Ng
U.S. Treasury yields notch new decade-highs
The U.S. 10-year Treasury yield moved up as high as 4.272%, after topping 4.2% for the first time since 2008.
The policy-sensitive 2-year Treasury yield also rose to 4.639%, at its highest levels in 15 years.
The yield on the 30-year Treasury soared to a new 11-year peak of 4.266%.
Yields and prices move in opposite directions and one basis point equals 0.01%.
–Jihye Lee
Malaysia's inflation eases slightly in September
Consumer prices in Malaysia rose 4.5% in September, slightly slower than the 4.7% reported in August and the 4.6% expected by analysts polled by Reuters.
The increase in food prices rose 6.8%, a slower rate than 7.2% seen in August, according to Malaysia's statistics department.
Restaurants and hotels prices rose 6.9% for the month, while transport prices increased 5.3%.
— Abigail Ng
CNBC Pro: Stay invested in chip stocks, one fund manager reveals how he's trading the sector
The MSCI Semiconductor Index, down by 43% this year, reflects the market's sentiment toward a potential slowdown in economic growth.
In such an environment, should investors hold or sell the sector? Fund manager Brian Arcese shares with CNBC Pro Talks the one chip maker to hold.
CNBC Pro subscribers can read more here.
— Ganesh Rao
Elderly vaccination key to China's opening up, economist says
Low vaccination rates among the elderly is the main driver behind China's reopening being gradual, according to Societe Generale's greater China economist Michelle Lam.
"If you look at the vaccination rate for the elderly population right now, it is still 70% so it's far from the acceptable level for them to consider open up," Lam told CNBC's Squawk Box Asia on Friday.
"China needs to have a very high vaccination rate, especially for the elderly people for them to consider opening up," said Lam.
Commenting on reports saying Chinese officials are debating whether to reduce quarantine for travelers, Lam said it suggests that "policymakers are preparing for a timeline" for a reopening.
— Su-Lin Tan
CNBC Pro: Goldman Sachs says these stocks could beat an increasingly likely recession
"The macro picture is arguably more challenging than it has been for some time," says Goldman Sachs, which is favoring a barbell strategy for the recession jitters.
The bank named several buy-rated stocks it thinks could do well against the current macro backdrop.
Pro subscribers can read more here.
— Zavier Ong
China markets struggle for direction at the open before falling
Stocks in Hong Kong and Shenzhen swung between positive and negative territory in the first minutes of trade.
The Hang Seng index rose as much as 0.48% before giving up those gains. It was last 0.42% lower.
Mainland China's Shenzhen Component also hovered around the flat line before falling 0.14%. The Shanghai Composite initially gained 0.45% and last traded 0.37% higher.
— Abigail Ng
South Korea's trade deficit reaches $4.95 billion for October so far
South Korea's trade deficit for the first 20 days of October widened to $4.95 billion, data from the customs agency showed, after recording a deficit of $4.1 billion for the same period in September.
Exports for Oct.1.-20 dropped 5.5% compared to a year ago, less than the 8.7% drop in September from the same period in 2021.
Imports rose 1.9% annually, after rising 6.1% last month.
—Jihye Lee
Early trade: Where Asia-Pacific markets started the day
The Nikkei 225 in Japan slipped 0.24% in early trade and the Topix lost 0.33%.
In Australia, the S&P/ASX 200 fell 0.68% in its second hour of trade.
South Korea's Kospi dipped 0.23% and the Kosdaq shed 0.37%.
MSCI's broadest index of Asia-Pacific shares was 0.43% lower.
— Abigail Ng
Core consumer prices in Japan rose 3% in September
Core inflation in Japan rose 3% in September from a year ago, government data showed. That's in line with analyst expectations and a slight increase compared to August's 2.8% rise.
The index for core inflation excludes volatile fresh food, but includes fuel costs.
The headline inflation also came in at 3% in September, above the Bank of Japan's 2% target and the highest since September 2014.
Excluding fresh food and energy, core consumer prices increased by 1.8% in September from the same period a year ago.
— Abigail Ng
CNBC Pro: Here's what to invest in as yields rise again, BlackRock and others say
Yields are rising again, and the path of interest rate hikes seems set to continue.
For investors, that means that they should seize the opportunity now to put their cash in bonds or Treasurys – particularly the ones with the shortest durations, analysts said this week.
Wells Fargo said investors should seize the somewhat of a short-lived nature of this opportunity now.
—Weizhen Tan
Stocks fall for second day
Stocks finished in the red on Thursday, but did manage to close above their lows of the session even with a sharp afternoon rise for Treasury yields. The Dow, S&P 500 and Nasdaq Composite are all up more than 2% of the week even after two straight negative sessions.
— Jesse Pound
Bond market spooked by market bet that Fed will raise rates to 5% or more
The jump to 5% in May fed funds futures Thursday rattled Treasurys, and sent yields higher across the curve.
"It's the speed of this move that is most jolting, " said Peter Boockvar of Bleakley Advisory Group. For instance, the 10-year Treasury yield leapt to 4.22% Thursday afternoon, from a low of about 4% Wednesday morning.
Strategists said markets are fearing a more aggressive Fed, and the move in fed funds futures to a 5% terminal rate shook bond investors. The May contract was pricing the terminal rate at 5.01% Thursday afternoon.
The terminal rate is the level where the Fed would stop raising interest rates.
—Patti Domm
10-year Treasury yield shoots higher, becomes "unanchored"
The benchmark 10-year Treasury yield hit 4.22% Thursday after, jumping more than 20 basis points in two sessions.
Bond strategists say the move has been too quick, and the 10-year should start to find a stopping point. (A basis point equals 0.01 of a percentage point)
"I think 4% was reasonable," said Wells Fargo's Michael Schumacher. "4.22% has become unanchored. We don't need the 10-year to act like a meme stock. That is not healthy."
The yield, which moves opposite price, has been screaming higher on concerns the Federal Reserve will be even more aggressive, and that central banks will stay in tightening mode well into the future.
Gargi Chaudhuri, head of BlackRock's iShares investment strategy in the Americas, said as long as yields continue to move higher stocks will suffer.
"Can we see another 25 [basis points] or so? I think maybe. We're getting to levels where we could peak but markets could extend," said Chaudhuri. "The market is overextending but things get exaggerated to both sides...especially as we go into the remainder of the year and quantitative tightening continues to happen."
Fed funds futures, for the first time Thursday, rose above 5% for next May, signaling traders expect the Federal Reserve to raise its fed funds target rate to that level before stopping. That helped drive Treasury yields higher across the curve.
--Patti Domm
Sterling buoyant and gilt yields lower as UK PM Liz Truss resigns
Sterling is up 0.5% to trade at around $1.1214 early afternoon following the resignation of Liz Truss as U.K. Prime Minister. Government bonds also reacted positively to the news, with 10-year gilt yields falling four basis points to 3.842%.
— Hannah Ward-Glenton
UK Prime Minister Liz Truss resigns
Liz Truss announced she is resigning as British Prime Minister as she was elected "with a mandate for change" but was not able to "deliver that mandate."
Read the full story here.
— Hannah Ward-Glenton
Copyright CNBC