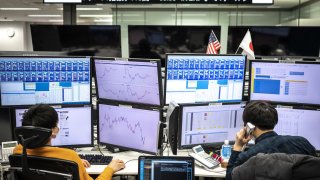 Chinese stocks turned around from early declines on Tuesday after plunging the previous day, despite Covid fears in China as Beijing expands mass testing.
Hong Kong's Hang Seng index jumped 1.86% after dropping more than 3% the previous day.
In earnings, HSBC reported its first-quarter results which showed pretax profit slumped 27% compared to the year before, to $4.2 billion.
SINGAPORE — Mainland Chinese stocks struggled for direction Tuesday, wavering between gains and losses as Covid fears took hold with Beijing expanding mass testing.
By the close, the Shanghai composite plummeted 1.44% to 2,886.43, while the Shenzhen component fell 1.66% to 10,206.64. The CSI 300 finished 0.81% down to 3,784.12.
Hong Kong's Hang Seng index was near flat in the final hour of trading, after dropping more than 3% the previous day. The Hang Seng Tech index was up almost 3%.
Top gainers in Hong Kong included ZTE, which jumped 7.5%.
Earlier, China's central bank released comments from an interview with the Financial Times saying it has noticed recent "fluctuations" in the country's stock markets, which it said were mostly caused by investor sentiment.
"At present, my country's economic fundamentals are sound, the potential for endogenous economic growth is huge, and substantial progress has been made in preventing and defusing financial risks," according to the English comments. The People's Bank of China added that it will increase support for the economy, especially for industries severely affected by the pandemic.
Mainland and Hong Kong stocks had tumbled Monday as worries over a Covid surge and potential lockdowns in Beijing took hold. Beijing also announced late Monday that mass testing will be expanded to another 10 districts and one economic development area, according to Reuters.
"Markets reacted negatively to news that COVID is spreading more rapidly in China, prompting fears of additional lockdowns and reduced output. This directly impacted Asian markets and also rippled through global financial markets," ANZ Research analysts Brian Martin and Daniel Hynes wrote in a Tuesday note.
Zhang Zhiwei, chief economist at Pinpoint Asset Management, said he sees risks that China's GDP may shrink in the second quarter.
"Many high frequency indicators such as mobility, truck cargo, power plant coal utilization show negative growth. It is not clear where the bottom of this economic slowdown is without a change of the zero tolerance policy," he said.
Other Asia markets mixed
Japan's Nikkei 225 rose 0.41% to close at 26,700.11, while the Topix was up 0.11% to 1,878,51. South Korea's Kospi rose 0.42% to finish at 2,668.31.
Australian stocks however fell as trading resumed from a holiday on Monday. The S&P/ASX 200 was lower by 2.08% to 7,318.
Major miners slumped, as Rio Tinto fell more than 4%, Fortescue Metals dived 6.88% and BHP plummeted nearly 6%.
In earnings, HSBC reported its first-quarter results which showed pretax profit slumped 27% compared to the year before, to $4.2 billion. Still, it beat the average estimate of $3.72 billion from 16 analysts compiled by HSBC, according to Reuters.
HSBC shares listed in Hong Kong fell 4.65% in the afternoon.
MSCI's broadest index of Asia-Pacific shares outside Japan was up 0.24%.
U.S. stocks were in negative territory earlier in the day, but recovered by the close. The Dow Jones Industrial Average cut a nearly 500-point intraday loss Monday, rising 238.06 points, or 0.7%, to 34,049.46. The S&P 500 ticked up 0.6% to 4,296.12. The tech-heavy Nasdaq Composite gained 1.3% at 13,004.85.
Currencies and oil
The U.S. dollar index, which tracks the greenback against a basket of its peers, was at 101.839, extending its rise from levels just above 101.
The Japanese yen traded at 127.81 per dollar, firmer than levels above 128 earlier. The Australian dollar was at $0.7192, trading down from around $0.72 earlier.
Oil prices traded lower on Tuesday in Asia, following Monday's moves lower as the Covid situation in China raised demand fears.
U.S. crude futures traded 0.67% lower to $97.91 per barrel. International benchmark Brent crude futures slipped 0.49% to $101.80 per barrel.
Copyright CNBC