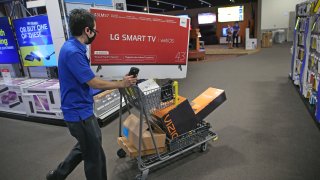 A scene playing out on Black Friday 2020: Hardly any lines, bare parking lots and more employees than customers in some stores.
"Consumers have adapted very quickly," said Coresight Research founder and CEO Deborah Weinswig. "I took a video in Bed Bath & Beyond, and there's nobody in the whole store."
Amid the coronavirus pandemic, the CDC is advising people to shop online the day after Thanksgiving, and to favor open-air shopping centers over enclosed malls.
Hardly any lines. Empty parking lots. More employees than customers in stores.
These are just some of the scenes playing out across the United States the morning of Black Friday 2020, a shopping holiday that in the past has drawn hoards of people to stores to score doorbuster deals before daylight even breaks.
But this year Black Friday looks a lot different. The coronavirus pandemic has instilled in many consumers a heightened sense of anxiety around going to stores. Most retailers had their doors closed on Thanksgiving, and opened at later hours the morning of Black Friday, as they moved more doorbuster deals online to allow people to shop safely from the comfort of their home.
Even the Centers for Disease Control and Prevention has advised consumers to shop deals online on Black Friday, to use curbside pickup if they are venturing to stores, and to favor open-air shopping centers over enclosed malls.
"This is really happening ... there are not huge lines wrapped around buildings. Consumers have adapted very quickly," said Coresight Research founder and CEO Deborah Weinswig. "I took a video in Bed Bath & Beyond, and there's nobody in the whole store."
"Walmart had no holiday decor, no Christmas music ... you wouldn't have known it was Black Friday," she added about one store she visited.
Some people took to Twitter on Friday morning to share photos of almost empty malls, including the Mall of America.
"People are not out," said David Bassuk, a managing director at AlixPartners in New York. "I think people realize that they can get the deals at home."
And the people that are going out are using services like curbside pickup, he said.
Adobe Analytics said the number of orders fulfilled using curbside pickup have already seen more than 100% growth year over year through this week.
Meantime, online, Thanksgiving Day spending rose by nearly 22% year over year to $5.1 billion, hitting a record, according to Adobe data.
"If a store traditionally has relied on people walking by, and natural foot traffic, that's not going to be there as much this year," said Greg Portell, a lead partner in the global consumer practice of Kearney, a strategy and management consulting firm. "You're going to see much more purposeful shopping. And that means retailers are going to have to find a purpose for consumers to come to them."
A survey released by Sensormatic Solutions in October forecast that traffic in retail stores is expected to be down 22% to 25% year over year during the six key weeks of the holiday shopping season.
Still, lines were spotted at some stores including Victoria's Secret, for a sale on pajamas, and Lululemon.
When shopping for apparel during the pandemic, consumers have been flocking toward "comfort in uncomfortable times," ditching dresses and high-heels in favor of leggings and slippers. Items including sweatshirts and sweatpants are expected to account for 31% of total U.S. apparel spending this holiday season, according to data from The NPD Group.
Outdoor centers appeared to be more crowded than indoor shopping malls on Friday, especially as more shoppers started to venture out later in the day.
Coresight's Weinswig said outlet centers, including one operated by Tanger, were chock full of shoppers by lunch time. "People seem much more comfortable shopping outside," she said. "Five Below was packed."
Some visitors also found store shelves bare of fleece hoodies, kitchen gadgets and gaming consoles, despite there not being the frenzy of shoppers that the day typically brings, signaling some companies either mismanaged their inventories or were not restocking shelves quickly enough.
Many retailers have culled their inventories through the year. One effect of the coronavirus pandemic has been canceled orders, or orders not arriving in time for key shopping moments.

Although retailers don't want to miss the sales they could have rung up, the tighter inventories do have an upside: Retailers are not under as much pressure to discount goods. That may also mean higher prices for shoppers.

Consumer demand looks a lot different, too, making inventory planning more difficult. Companies have had to gauge in real time what people are spending their money on, and much of that has been shifting away from apparel and into home, for example.
"There are gaps on the shelves for popular brands," Neil Saunders, managing director at GlobalData Retail, said about his store visits on Black Friday. "Inventory is looking a little bit slim."
Follow CNBC's updates on Black Friday here.
Copyright CNBC