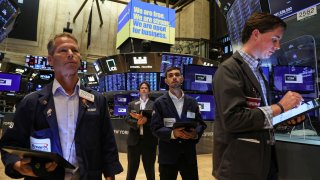 Bond yields gained on Thursday from the previous session after the European Central Bank hiked interest rates in an effort to tame high inflation.
The yield on the benchmark 10-year Treasury note was up nearly 5 basis points at 3.311% at around 4:00 p.m. ET. The yield on the 30-year Treasury bond was up nearly 6 basis points at 3.464%.
The yield on the 2-year Treasury traded nearly 6 basis points higher at 3.506%. The short-term note rose to 3.55% last week, reaching its highest level since 2007. Yields move inversely to prices, and a basis point is equal to 0.01%.
Yields ticked up after the European Central Bank early Thursday morning hiked interest rates by 0.75 percentage point, raising its deposit to 0.75% from zero, in a largely expected move to tamp down inflation.
The Federal Reserve released its Beige Book on Wednesday, which showed a still high but cooling inflation outlook and weak U.S. growth. It also saw continued weakening in the residential real estate market.
Despite Wednesday's market gains, stocks are still broadly on a downtrend as investors remain wary of a slowing economy and the Fed's next moves on rate hikes.
Copyright CNBC