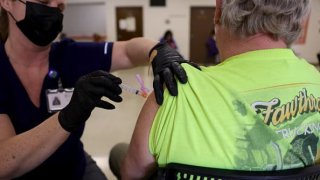 The coverage on this live blog has concluded.
The World Health Organization on Monday said most regions of the world are seeing an increase in new Covid-19 cases as highly contagious variants spread. Public health officials have expressed concern about countries reopening too quickly as the rise of new, highly contagious variants could reverse progress in the global pandemic.
Here are some of the biggest developments Tuesday:
The U.S. is recording at least 53,400 new Covid-19 cases and at least 970 virus-related deaths each day, based on a seven-day average calculated by CNBC using Johns Hopkins University data.
The following data was compiled by Johns Hopkins University:
Global cases: More than 123.98 million  
Global deaths: At least 2.72 million
U.S. cases: More than 29.91 million
U.S. deaths: At least 543,621
Georgia opening up vaccines to all adults beginning Thursday
The list of states opening up vaccine eligibility for all adults continues to grow.
Georgia will allow all adults to book vaccine appointments beginning Thursday, Gov. Brian Kemp said in a tweet. The expansion applies to residents ages 16 years and older, the Atlanta Journal-Constitution reported.
Residents can book an appointment at the Georgia Department of Public Health website.
—Chris Eudaily
Navajo Nation reports no new coronavirus cases, deaths for the first time this year
The Navajo Nation reported zero new coronavirus cases and deaths for the first time since Sept. 8, when four people died of the virus.
With five rounds of funding under the CARES Act, the Navajo Nation was able to fully vaccinate 38% of its citizens. More than half of its citizens have received at least one dose. About 173,000 tribe members live on the reservation.
The tribe still has a mask mandate and curfew in place, but some businesses have begun to reopen at 25% capacity with parks and lakes opening soon to Navajo citizens only.
"Covid-19 will also be defeated, because we are strong warriors and we have the armor and weapons to fight this modern day monster," Navajo Nation President Jonathan Nez said in a live town hall address.
–Rich Mendez
Puerto Rico cracks down on tourists defying Covid restrictions
Authorities in Puerto Rico have arrested nearly a dozen tourists in less than a week for openly defying Covid-19 regulations implemented by the U.S. territory, The Associated Press reports.
Among those arrested were three men from New York who were not wearing masks and got into an argument at a popular beach on the island, the report said, citing authorities. Most of the arrests have taken place in the San Juan metro area, the AP said.
By law, travelers visiting Puerto Rico must present a negative Covid test upon arrival or self-quarantine for two weeks until they get a negative result. However, statistics from the island's health department show only about 30% of travelers have presented a negative test, the AP said.
"After months of complaints, we finally see that action is being taken," Joaquín Bolívar, president of the board of directors of Puerto Rico's Association of Hotels and Tourism, told the AP.
—Fred Imbert
Disney to debut 'Black Widow,' 'Cruella' in theaters and Disney+
Disney made some major changes to its summer film slate.
The studio announced Tuesday that "Cruella" and "Black Widow" will be released in cinemas and on Disney+ with premier access and its Pixar film "Luca" will head straight to Disney+.
In shifting its release strategy, "Cruella" will debut as planned on May 28 and "Black Widow," originally set for May 7, is now debuting July 9. Both titles will also be available on Disney+ for an additional $30 rental fee.
"Luca," which was initially slated for theatrical release will stream directly on Disney+ as part of the traditional subscription. In markets where Disney+ is not available, "Luca" will be released theatrically.
—Sarah Whitten
CDC will likely extend eviction ban
The national ban on evictions is scheduled to expire at the end of this month — but there are early signals it's likely to get extended.
The Centers for Disease Control and Prevention sent a proposal to the Office of Management and Budget for regulatory review, which experts say indicates that the health agency is taking steps to extend the protection as coronavirus cases surge in many states and millions of Americans remain behind on their rent.
Housing experts say that to truly stop evictions during the public health crisis, the eviction ban needs to not only be extended but also improved. Despite the law, many landlords have pushed out tenants anyway. Property owners say they cannot continue housing people for free.
–Annie Nova
43% of Americans 65 years of age and older are fully vaccinated
New numbers show that 43% of Americans ages 65 and older are fully vaccinated, according to the Centers for Disease Control and Prevention.
More and more states are opening up vaccines to all adults and as of Tuesday, 128 million doses have been administered in the U.S., CDC data shows. About 18% of the population ages 18 and older are now fully vaccinated.
The vaccine developed by Pfizer and BioNTech is the most-administered in the country, with 64.7 million shots given. Moderna is nearly as prevalent, with 61 million shots given, while 2.5 million Johnson & Johnson shots have been used.
—Chris Eudaily
Texas opens vaccines eligibility to all adults beginning March 29
Texas will open its Covid-19 vaccine eligibility to all adults ages 16 and older starting on Monday, the state's health department announced in a statement, over a month ahead of President Joe Biden's May 1 deadline.
"We are closing in on 10 million doses administered in Texas, and we want to keep up the momentum as the vaccine supply increases," Imelda Garcia, the associate commissioner for laboratory and infectious disease services at the Texas Department of State Health Services, said in a statement.
Texans age 50 and older are now eligible for a vaccine. The state's health department said in the statement that medical providers should continue prioritizing older adults, advising them to move people ages 80 and older to the front of the line even if they don't have an appointment.
—Noah Higgins-Dunn
Pfizer begins early-stage trial testing oral antiviral drug
Pfizer said it has begun an early-stage clinical trial of an experimental oral antiviral drug for Covid-19.
The phase one trial of the drug – called PF-07321332 – is being conducted in the United States, the company said. The drug is part of a class of medicines called protease inhibitors and works by inhibiting an enzyme that the virus needs to replicate in human cells.
The trial comes as Pfizer is also working on an intravenously administered protease inhibitor, known as PF-07304814. That drug is currently in a phase 1b clinical trial in patients hospitalized with Covid-19.
Because it is taken by mouth, the drug could be used outside of hospitals for people who are newly infected with the virus. Researchers hope the drug will keep the disease from progressing.

—Berkeley Lovelace Jr.
Gift cards, cash and free Krispy Kreme — perks for getting inoculated pile up
Businesses have begun offering incentives to encourage more people to get vaccinated.
AT&T, Instacart, Target, Trader Joe's, Chobani, Petco, Darden Restaurants, McDonald's and Dollar General are among a growing list of companies giving workers time off and extra money to get their Covid vaccine.
Kroger is also giving employees a $100 in-store credit in addition to a one-time $100 payment. Publix said it will give associates a $125 gift card to the store after they get both vaccine doses. 
Employed or not, Krispy Kreme is offering anyone with proof of a Covid-19 vaccination free doughnuts, and medical and recreational cannabis dispensary Greenhouse of Walled Lake in Michigan is giving anyone over the age of 21 with proof of vaccination a free pre-rolled joint.
A recent survey by Blackhawk Network found that this strategy could be effective. More than two-thirds of workers said they would accept a monetary incentive ranging from as little as $10 to as much as $1,000.
—Jessica Dickler
Penn National Gaming's casinos seeing recovery as vaccinations proceed, CEO says
Penn National Gaming is seeing a strong recovery at its properties as coronavirus vaccinations continue to roll out across the country, CEO Jay Snowden told CNBC.
Initially, when the casino operator reopened its locations, Snowden said attendance was well below pre-pandemic levels — although those who did show up were spending enthusiastically.
"What we're seeing now is the spend per visit was still much higher than it was pre-Covid, but visitation levels now in the month of March look a lot like they did in 2019, so you have those two things working together," Snowden said on CNBC's "Squawk Box." "We had one of the biggest weekends this last weekend that we have seen in years."
—Kevin Stankiewicz
Regal Cinemas to reopen theaters in the U.S.
As lockdowns ease, Regal Cinemas will reopen in the U.S. after six months of being shuttered in the midst of the pandemic.
The movie theater chain owned by Cineworld is set to reopen around 500 locations on April 2 at limited capacity based on local guidelines. In most cases, attendance is capped at 25% to 50% capacity.
Cineworld also struck a deal with Warner Bros. to ensure that after 2021 there will be a longer time period between a film's release in theaters and its availability in the home market.
Warner Bros. and Cineworld signed a multi-year agreement that begins in 2022 and stipulates that Warner Bros.′ features will have to play in theaters for 45 days before moving to streaming platforms or video on-demand.
—Sarah Whitten
Citigroup CEO Jane Fraser addresses pandemic fatigue with Zoom-Free Fridays
Citigroup CEO Jane Fraser told staff that she is banning internal video calls on Fridays, encouraging staff to set boundaries for work-life balance and instituting a firm-wide holiday as pandemic fatigue takes a toll on employees.
Fraser, who took over for predecessor Mike Corbat this month, told staff of the changes in a memo sent Monday afternoon to her 210,000 employees around the world, according to a person with knowledge of the matter.
″The blurring of lines between home and work and the relentlessness of the pandemic workday have taken a toll on our well-being," Fraser said in the memo. "It's simply not sustainable. Since a return to any kind of new normal is still a few months away for many of us, we need to reset some of our working practices."
The Citigroup memo was sent the day after Goldman Sachs CEO David Solomon was forced to address his staff after an internal survey of first-year analysts, reported by CNBC last week, went viral. The survey detailed brutal working conditions at the premier investment bank, including employees' health concerns about working more than 100 hours a week, as well as more mundane issues like junior bankers being ignored in meetings.
Fraser said that while Zoom meetings with clients and regulators will still happen on Fridays, employees will conduct meetings over the telephone to give workers a break from non-stop videoconferences. She also designated Friday, May 28, as a firm-wide holiday called Citi Reset Day and encouraged employees to only schedule calls on what would be considered traditional working hours.
—Hugh Son
NATO prepares for a 'virus-free' zone for 2021 summit
NATO is planning to get ahead of the European Union's vaccine program and ensure that its staff is "virus-free" for its summit in June, the military alliance's first face-to-face meeting of ministers since 2019, Reuters reported.
On Thursday, medical personnel will begin vaccinating roughly 4,000 people who work at NATO headquarters with around 3,500 AstraZeneca vaccines, the wire service said.
U.S. Secretary of State Antony Blinken and his counterparts will meet in person today at NATO headquarters to prepare for the summit, according to Reuters.
—Terri Cullen
U.S. health agency says AstraZeneca may have included 'outdated information' in vaccine trial
Results from a highly anticipated trial of AstraZeneca's Covid vaccine may have included "outdated information," according to a U.S. health agency.
The announcement came just one day after the findings of a large U.S. trial showed that the shot provided strong protection among adults of all ages.
The Data Safety Monitoring Board "expressed concern that AstraZeneca may have included outdated information from that trial, which may have provided an incomplete view of the efficacy data," the U.S. National Institute of Allergy and Infectious Diseases said in a statement.
In response, AstraZeneca said: "We will immediately engage with the independent data safety monitoring board (DSMB) to share our primary analysis with the most up to date efficacy data. We intend to issue results of the primary analysis within 48 hours."
—Sam Meredith
75% of vaccine-eligible population in U.S. could get shots by mid-summer: Morgan Stanley
In an interview with CNBC's "Worldwide Exchange," top-rated biotech analyst Matthew Harrison of Morgan Stanley discusses the pace of the Covid-19 vaccine rollout in the U.S., and concerns about the spread of virus variants.
Putin due to get a Covid shot Tuesday, but Kremlin doesn't say which one
Russian President Vladimir Putin is expected to receive a coronavirus shot on Tuesday, but the Kremlin has not confirmed if he will receive the Sputnik V shot.
There are three Russian vaccines and Putin's spokesman on Monday said the president would be vaccinated with one of them.
The vaccination comes as the spotlight falls on the country's vaccine strategy. On Monday, Putin lauded multimillion dollar international sales of Russia's Sputnik V Covid vaccine. But the country's own rollout appears sluggish and contrasts sharply with the high numbers of vaccines destined for the international market.
There have been reports that Russia's own production capacity is low. Putin appeared to concur, saying Monday that Russia needed to ramp up vaccine production for domestic use and that supplying domestic needs was a priority, according to Reuters.
—Holly Ellyatt
UK reflects on losses and lockdowns a year later
Most would have struggled to conceive that 12 months on, restrictions on public and private life would still be in place across the U.K.
With that reality, there are increasing signs the British public is growing frustrated with the constraints, such as anti-lockdown protests hitting the capital at the weekend.
While the U.K. has laid out a roadmap for the lifting of restrictions — the government aims to ease most Covid curbs by June 21 — there have been signals over the last few days that the government doesn't expect normal life to resume even then.
—Holly Ellyatt
It's highly unfair to accuse the EU of vaccine nationalism, trade chief says
The European Union is "facing a serious situation" in rolling out Covid-19 shots, but it is "highly unfair" to be accused of vaccine nationalism, the region's trade chief told CNBC.
The EU has faced a slew of criticism in recent months, such as being too slow to approve vaccines and blocking exports of Covid-19 shots. At the same time, delivery issues with the AstraZeneca vaccine have hit deployment of shots during the first quarter and there are concerns about whether contractual commitments will be fully respected in the next three months.
"Clearly we are facing a serious situation in vaccine rollout," Valdis Dombrovskis, the EU's trade chief, told CNBC's "Squawk Box Europe." He added, however, that the EU is one of the biggest exporters of Covid-19 vaccines worldwide.
—Silvia Amaro
Read CNBC's previous live coverage here:
Covid updates: More states expand vaccine eligibility; WHO warns of rising cases in most regions
Copyright CNBCs - CNBC