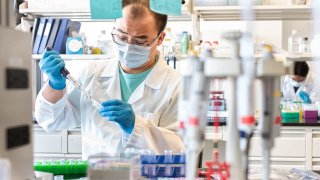 The coverage on this live blog has ended — for up-to-the-minute coverage on the coronavirus, visit CNBC's latest live blog.
The U.S. on Monday surpassed 18 million coronavirus cases, according to the latest data from Johns Hopkins University.
Congress on Sunday finally reached a deal for a $900 billion coronavirus relief package that would send new federal assistance to households, small businesses and health-care providers. Lawmakers are expected to pass the proposal, along with a full-year government spending bill, Monday.
Also over the weekend, several countries announced plans to shut their borders to Britain as news of a highly contagious new variant of the coronavirus led the British government to backtrack on plans to let families mix over Christmas. The U.K. is locking down London and other areas in southern England where infections by the Covid mutation are heavily concentrated.
The U.S. is recording at least 215,700 new Covid-19 cases and at least 2,600 virus-related deaths each day, based on a seven-day average calculated by CNBC using Johns Hopkins University data.
The following data was compiled by Johns Hopkins University:
Global cases: More than 77.29 million 
Global deaths: At least 1.70 million
U.S. cases: More than 18 million
U.S. deaths: At least 319,190
Singapore receives first shipment of Pfizer-BioNTech vaccines
Singapore on Monday became the first Asian country to receive shipment of the Pfizer-BioNTech corovanirus vaccines.
The delivery followed Prime Minister Lee Hsien Loong's announcement last week that the country has approved the vaccine. Lee said the vaccines will be free to all long-term residents — regardless of nationality — and taking the shots will be voluntary.
In addition to the Pfizer-BioNTech vaccine, Singapore has also made down-payments for other candidates by Moderna and Sinovac, Lee said. The country plans to have enough vaccines for everyone by the third quarter of 2021, he added.
In a Facebook post on Monday, the prime minister said the health ministry will announce details on the vaccine rollout in due course. Priority will be given to health-care workers and the elderly, he added.
— Yen Nee Lee
United Airlines says furloughed workers would return only 'temporarily' if Congress passes additional aid
Billions in additional federal aid set for airlines would allow carriers to call back more than 32,000 furloughed workers, but their jobs may only be safe for a few months, United Airlines executives say.
The bill would give U.S. passenger carriers $15 billion in additional coronavirus relief on the condition that they keep current and furloughed workers on payroll until the end of March. Lawmakers could pass as early as Monday night.
United furloughed about 13,000 employees this fall as the last round of coronavirus aid, a $25 billion package for U.S. carriers, expired. Airlines were required to keep workers on payroll.
United CEO Scott Kirby and President Brett Hart told workers Monday that if the bill passes employees can "temporarily come back to United through March 2021."
"This is certainly good news for our economy, our industry, and our airline - but it's especially good news for those who have been without a paycheck, and we can't wait to welcome them back," said the staff note.
But the United executives cautioned that they don't expect a rebound in travel demand between now and the end of the first quarter.
"The truth is, we just don't see anything in the data that shows a huge difference in bookings over the next few months," they wrote. "That is why we expect the recall will be temporary."
—Leslie Josephs
U.S. plans to study allergic reactions from Covid vaccine
The U.S. is looking at why a handful of people have suffered from severe allergic reactions shortly after receiving Pfizer's vaccine, a U.S. health official told CNBC on Monday.
The study – which is still in the early planning phases – is expected to include "several hundred" people who have a history of severe allergic reactions, said Alkis Togias, chief of the National Institute of Allergy and Infectious Diseases' Allergy, Asthma, and Airway Biology Branch.
His department will lead the study, which researchers hope to begin in a matter of weeks, though the timing isn't guaranteed. While the reactions have been reported by people who got Pfizer's shot, the study may look at the vaccines made by both Pfizer and Moderna.
"We are a little bit concerned that people who have had a lot of allergies who have had reactions like this to all kinds of things, not just vaccines, may be afraid to get vaccinated now," Togias told CNBC. "We just don't want that to happen. We want to find a way for them to get vaccinated," he added.
–Berkeley Lovelace Jr.
Nets CEO says NBA expecting bumpy road for 2020-21 season
The National Basketball Association is bracing itself for disruptions due to Covid-19 as their 2020-21 regular season campaign starts on Tuesday.
Brooklyn Nets CEO John Abbamondi joined CNBC's "Squawk Box" on Monday and said the league fully expects "there will be bumps along this road" as it attempts to complete a shortened 72-game schedule.
"Nobody has an illusion that you're going to stop cases from occurring," Abbamondi said. "I think the key is how you handle it, and we have robust protocols in place to isolate those individuals, get them treatment, and prevent a larger outbreak."
The NBA was praised for the handling of its nearly perfect testing record during its bubble in Orlando over the summer. But a return to in-market contests, where players and staff aren't isolated, will be a different challenge. The NBA said 48 players have tested positive in its Dec. 2 return-to-market testing report. Since then, nine more cases were revealed, with only one in the most recent report on Dec. 16.
On the financial side, most NBA teams will continue to face revenue losses as only six clubs will start the season with spectators. Abbamondi said gameday revenue makes up for 40% of league income. If Covid-19 vaccines are widely available, Abbamondi said attendance measures could change in the postseason, allowing clubs to capitalize on gameday playoff revenue.
"We are optimistic that before this season is over, which will be in the summer of next year, things are going to look very different," Abbamondi said. "There is a lot of caution, but there's also a sense of optimism, and I think all Americans share that."
--Jabari Young
WHO says Covid is mutating at slower rate than flu
World Health Organization officials said the coronavirus is mutating "at a much slower rate" than seasonal influenza, even as officials in the U.K. announced this weekend that a new mutation of the virus is allowing it to spread more easily.
Seasonal influenza mutates so often that scientists have to regularly develop new vaccines to inoculate the population against the virus every year. All viruses naturally mutate, WHO officials noted, and most do not significantly alter how the virus spreads or the disease it causes. But the significance of the mutation in the U.K. is not yet known.
"SARS-CoV-2 is mutating at a much slower rate than influenza," WHO chief scientist Soumya Swaminathan said at a press briefing. "And so far, even though we've seen a number of changes and a number of mutations, none has made a significant impact on either the susceptibility of the virus to any of the currently used therapeutics, drugs, or the vaccines under development, and one hopes that that will continue to be the case."
—Will Feuer
President-elect Biden receives Covid vaccine on live television
President-elect Joe Biden received a Covid-19 vaccine on live television in a demonstration intended to encourage Americans to receive shots of their own when they can.
"I am doing this to demonstrate that people should be prepared, when it's available, to take the vaccine. There's nothing to worry about. I am looking forward to the second shot," Biden said from a hospital in Wilmington, Del., reports CNBC's Tucker Higgins.
Jill Biden, the incoming first lady, received a dose of the vaccine earlier in the day.
—Melodie Warner
British Airways will require negative Covid test for JFK-bound passengers
British Airways will start requiring passengers bound for New York's John F. Kennedy International Airport to have tested negative for Covid-19 before boarding, as a highly contagious strain of the coronavirus spreads through the U.K.
The measure was in response to a request from New York Gov. Andrew Cuomo, the airline said. Cuomo said he also asked Delta and Virgin Atlantic to take similar measures.
U.S. and foreign carriers have already cut much of their international service because of Covid-19 and travel restrictions. Since March, for example, the U.S. has barred most foreigners who have been in the European Union or Britain from entering the country.
This week there are 122 flights between the U.K. and the U.S., down from 752 last year, according to flight data provider OAG.
—Leslie Josephs
Trump vaccine czar says Pfizer and Moderna shots should prevent new strain
President Donald Trump's coronavirus vaccine czar, Dr. Moncef Slaoui, said that he expects Pfizer's and Moderna's Covid-19 shots will be effective against a new mutation of the virus found in the U.K.
The vaccines induce an immune response against several structures found around the spike protein, a multifunctional mechanism that allows the virus to enter the host, Slaoui told reporters during a press briefing. The chances one set of mutations would completely alter those structures "are extremely low," he added.
Slaoui said he spoke with U.K. health regulators earlier in the day about the new strain. He said to date, there is no "hard evidence" the virus is more easily transmitted than the original strain of the disease.
"There is clear evidence that there is more of it in the population," he said, adding the emergence of the new strain could also be due to the fact that scientists are now able to track variants of the virus more quickly. Before U.K. scientists may have not been looking for this variant and infections happened in the "shadows" he said.

–Berkeley Lovelace Jr.
Covid relief bill includes more PPP loans, deductions for battered businesses
Small businesses can expect a fresh lifeline from this latest round of Covid relief.
Lawmakers reached an agreement over a $900 billion rescue measure on Sunday.
Of that sum, $284 billion has been set aside for forgivable loans through the paycheck protection program, according to a joint statement from House Speaker Nancy Pelosi and Senate Minority Leader Chuck Schumer.
In general, borrowers are eligible for PPP loan forgiveness if at least 60% of the proceeds are applied toward payroll.
Legislators are also allowing small businesses to take a second PPP loan if they have fewer than 300 employees and can prove that their revenue has dropped by 25%, according to a summary from the House Small Business Committee.
Finally, PPP borrowers will be able to claim tax deductions for expenses covered by PPP loan proceeds.
"Congress also agreed to reinstate the tax deductibility on the PPP expenses, so that'll be additional relief for small businesses," said Treasury Secretary Mnuchin on CNBC's "Squawk on the Street."
It's an about-face from where Treasury and the IRS have stood on deductibility and PPP. Just a month ago, the agencies said that business owners who "reasonably believe" their loans will be forgiven can't deduct the expenses.
—Darla Mercado
Congress pushes to pass $900 billion Covid relief plan
Congress aims to pass a coronavirus relief package and government spending bill in the coming hours.
Lawmakers were once again rushing, as they had not released legislation with about 12 hours to go until the federal government shuts down. The more than $2 trillion package includes a $900 billion coronavirus rescue plan and $1.4 trillion to fund the government through Sept. 30, 2021.
Republicans and Democrats finally reached a deal on an emergency assistance plan after months of failure to send more help during a health and economic crisis. The legislation contains a $300 weekly unemployment supplement through mid-March, $600 direct payments for most adults and children, nearly $300 billion in Paycheck Protection Program small business loans and $8 billion for Covid-19 vaccine distribution, among a bevy of other measures.
Once lawmakers finalize the bill, the House will move to pass it first.
—Jacob Pramuk
HHS, CDC chiefs subpoenaed by a congressional panel
A House panel investigating the Trump administration's response to the Covid pandemic said it has subpoenaed U.S. Health and Human Services Secretary Alex Azar and the director of the Centers for Disease Control and Prevention, Dr. Robert Redfield.
Rep. James Clyburn, chairman of the Select Subcommittee on the Coronavirus Crisis, issued the subpoenas Monday, ordering the two officials to produce by Dec. 30 documents that Clyburn said show political interference that hindered the nation's response to the pandemic.
"The subpoenas were necessary because the Select Subcommittee's investigation has revealed that efforts to interfere with scientific work at CDC were far more extensive and dangerous than previously known," Clyburn said in a statement.
The subcommittee also released new emails that show political appointees at HHS attempting to interfere with the publication of the CDC's prestigious Morbidity and Mortality Weekly Reports, or MMWRs. 
—Will Feuer
Stimulus checks to hit bank accounts next week, Treasury Secretary Mnuchin says
Treasury Secretary Steven Mnuchin said Monday that stimulus checks included in Congress' new, $900 billion stimulus bill will hit American bank accounts as soon as next week.
"The good news is this is a very, very fast way of getting money into the economy. Let me emphasize: People are going to see this money at the beginning of next week," Mnuchin told CNBC.
The newest coronavirus relief bill includes popular items from the original CARES Act, the $2.2 trillion relief package U.S. lawmakers approved in March. U.S. lawmakers are expected to pass the latest bill on Monday.
Individuals, including children, will receive $600 in direct payments. A family of four could end up with $2,400. If passed, the legislation would also include a $300 federal weekly unemployment supplement.
—Thomas Franck
European medicines regulator authorizes Pfizer vaccine for use in the EU
The European Medicines Agency authorized Pfizer and BioNTech's Covid-19 vaccine for conditional use, less than two weeks after the vaccine was approved for use in the U.K. and the U.S., CNBC's Natasha Turak and Katrina Bishop report.
Europe is on track to start vaccinations within a week, and authorities in several EU countries including France, Italy, Austria and Germany have said they aim to begin inoculations on Dec. 27, regulators said.
The vaccine needs to be endorsed by the European Commission before it can be distributed, and a decision is expected shortly.
The EMA said in a statement that it had recommended granting conditional marketing authorization for the vaccine in people aged 16 years and over.
"EMA's scientific opinion paves the way for the first marketing authorization of a Covid-19 vaccine in the EU by the European Commission, with all the safeguards, controls and obligations this entails," the agency said.
—Terri Cullen
Relief deal extends jobless benefits for 11 weeks, pays extra $300
A Covid relief deal reached by Congress on Sunday would extend unemployment benefits for 11 weeks and pay an extra $300 a week to all recipients of jobless aid.
The additional unemployment benefits offered by the package will last until mid-March.
The $900 billion compromise legislation, the full text of which hasn't yet been released, comes ahead of a benefits cliff this weekend. Millions of workers will lose jobless benefits through two expiring CARES Act programs unless Congress passes the measure.
Self-employed workers with mixed income would also get an extra $100 a week in aid to counteract low benefit levels.
—Greg Iacurci
About $8 billion for vaccine distribution part of stimulus package
The Covid-19 relief bill expected to be passed on Monday includes between $8 billion and $9 billion for vaccine distribution, according to summaries released by Democratic and Republican lawmakers.
Those figures — Republicans say $8 billion; Democrats say "nearly" $9 billion — are both higher than the $6 billion allocated in previous proposals, and may meet the $8.4 billion demand made by outside groups representing local health officials.
Funding for the distribution of Covid-19 vaccines is a critical element of the country's effort to inoculate the public against the deadly disease, which has already claimed more than 300,000 lives in the U.S.
The vaccination campaign began in earnest this month after federal regulators approved drugs made by Pfizer and Moderna. As many as 20 million people may be vaccinated by the first week of January, health officials have said.
The stimulus bill also contains $20 million to procure vaccines, which will be provided to the public at no cost, and about $20 billion in funding to states for testing and other Covid-19 mitigation programs.
—Tucker Higgins
Gottlieb says existing Covid vaccines likely to protect against new U.K. virus strain
The existing Covid-19 vaccines will likely provide immunity against the new variant of coronavirus spreading in the United Kingdom, according to Dr. Scott Gottlieb.
The virus mutation seems to be more contagious than prior strains, Gottlieb told CNBC's "Squawk Box." But the former FDA chief cautioned, "It doesn't seem to have mutated the surface proteins of the virus in a way that they would slip past our vaccines or prior immunity. In fact, we don't think that that's the case."
Gottlieb, also a board member of Pfizer, which makes a Covid-19 vaccine, said the mere fact the coronavirus has evolved during the pandemic is not a surprise.
"Some viruses, like flu, evolve their surface proteins very quickly, and that's why we need a different flu vaccine every season," he said. "Some viruses can't really change their surface proteins, like measles. This [coronavirus] seems to fall someplace in between. It's not going to change its surface proteins very rapidly, that spike protein, but it will change it over time."
— Kevin Stankiewicz
Disclosure: Scott Gottlieb is a CNBC contributor and is a member of the boards of Pfizer, genetic testing start-up Tempus and biotech company Illumina. Gottlieb also serves as co-chair of Norwegian Cruise Line Holdings′ and Royal Caribbean's "Healthy Sail Panel."
Dow drops at open as new U.K. virus strain spooks investors
U.S. stocks opened lower as worries over a new Covid strain in the U.K. offset optimism from a coronavirus stimulus deal in the U.S., reports CNBC's Yun Li.
The Dow Jones Industrial Average lost 320 points at the open. The S&P 500 shed 1.2% and the Nasdaq composite fell 0.9%.
—Melodie Warner 
President-elect Joe Biden to receive Covid-19 vaccination today
President-elect Joe Biden and his wife, Jill Biden, are scheduled to receive their first doses of the Covid-19 vaccine in public on Monday afternoon.
Vice President-elect Kamala Harris and her husband, Doug Emhoff, will receive their first doses of the vaccine a week after the Bidens do. The timeline is consistent with national security protocols designed to avoid a scenario in which both the president-elect and the vice president-elect experience side effects at the same time.
On Friday, Vice President Mike Pence and second lady Karen Pence became the highest-ranking U.S. officials to receive the vaccine so far.
—Christina Wilkie
Zoom confident it can meet Covid-fueled Christmas Day demand
With travel restrictions in place around the world, Zoom is gearing up for what could end up being its busiest day ever: Christmas Day.
A spokesperson for Zoom indicated that the company was confident its servers will be able to cope with the demand, reports CNBC's Sam Shead.
"We operate our own global (co-located) data centers around the globe, providing significant control and flexibility when it comes to routing both audio and video traffic," they told CNBC. "In addition, we work with public cloud providers to help with increased demand."
Zoom said on Dec. 16 that it would remove its 40-minute limit over the holidays for those that don't pay for the service, helping it to compete with other video conferencing platforms like Skype, Google Meets, FaceTime, Messenger, and WhatsApp. The free Zoom period includes Christmas Eve, Christmas Day, New Year's Eve and New Year's Day, and the last day of Hanukkah.
—Melodie Warner 
Shippers prepare to move both Pfizer and Moderna vaccines
The first doses of Moderna's coronavirus vaccine are being shipped around the U.S. after the FDA approved it for emergency use late Friday. CNBC's Frank Holland reports how FedEx is playing a key role in its distribution and how this rollout differs from that of Pfizer's vaccine.
—Melodie Warner 
Experts expect vaccines to protect against the UK's new Covid strain
Existing vaccines for Covid-19 will be effective in fighting off infection from new strains of the coronavirus, multiple experts told CNBC on Monday.
Vin Gupta, an affiliate assistant professor from the University of Washington's Institute for Health Metrics and Evaluation, said the vaccine frontrunners from Pfizer and BioNTech, Moderna and Oxford/AstraZeneca would be able to ward off the new strain since it is genetically "very similar" to prior strains.
Danny Altmann, professor of immunology at Imperial College London, told CNBC's "Squawk Box Europe" that although the new strain has "more mutations than any variant we've seen before," the variety of neutralizing antibodies induced by the main vaccine frontrunners means it is unlikely that the new strain will be resistant to inoculation.
Andrew Freedman, a researcher in infectious diseases at Cardiff University, also told CNBC's "Street Signs Europe" that because "the vaccine provides immunity to different regions of the spike protein, not just the one where the mutations are," it is likely to work against the new strain.
—Elliot Smith
Read CNBC's previous live coverage here:
Covid updates: Trump signs funding to avoid shutdown, Congress vote on stimulus deal expected Monday
Copyright CNBC