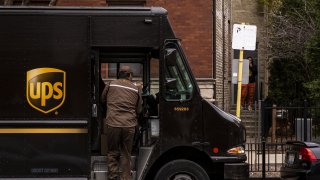 (This article was sent first to members of the CNBC Investing Club with Jim Cramer. To get the real-time updates in your inbox, subscribe here.)
What I am looking at December 23, 2021
Paychex (PAYX)...how can this company continue to be ignored by the analysts... Barclays raises price target from $115 to $140, citing nice beat and raise... I think much better than that, tremendous hiring binge and new company creation...
JD.com (JD)... Tencent disposes 457 million shares, reducing stake from 17% to 3%... this is punishment for antitrust behavior, they have a big slug of Pinduoduo (PDD) too-they have 18 million shares of  the on-line bazaar company...
Where are the test kits –the 500 million?... I don't think White House has them...
Why is the White House not invoking the Defense Production act to make more pills?
Japan says it needs more data for Aduhelm – the Biogen (BIIB) Alzheimer's drug. ... I continue to like the odds of Eli Lilly (LLY)...
Peloton (PTON)... price target cut $55 to $38 at Citi... that November equity raise was a bummer...
Bernstein likes both United Parcel Service (UPS) and FedEx (FDX) and raises PT... looking for nice holiday upside for UPS-expansion.. It is a club number one pick...
The CNBC Investing Club is now the official home to my Charitable Trust. It's the place where you can see every move we make for the portfolio and get my market insight before anyone else. The Charitable Trust and my writings are no longer affiliated with Action Alerts Plus in any way.
 As a subscriber to the CNBC Investing Club with Jim Cramer, you will receive a trade alert before Jim makes a trade. Jim waits 45 minutes after sending a trade alert before buying or selling a stock in his charitable trust's portfolio. If Jim has talked about a stock on CNBC TV, he waits 72 hours after issuing the trade alert before executing the trade. See here for the investing disclaimer.
 (Jim Cramer's Charitable Trust is long LLY, UPS.)
Copyright CNBC