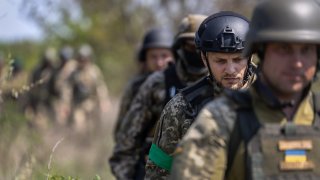 This has been CNBC's live blog covering updates on the war in Ukraine. [Follow the latest updates here.]
Ukrainian President Volodymyr Zelenskyy said Russia's strategic defeat is "already obvious," accusing the Kremlin's forces of trying to hide the truth with missile, air and artillery strikes.
His comments come as Russia is seen investing "significant effort" around the cities of Izium and Severodonetsk in a bid to achieve a breakthrough in eastern Ukraine, according to U.K. military intelligence.
A Russian soldier is due to stand trial on Friday for killing an unarmed Ukrainian citizen. It marks the first alleged war crime since Russia's invasion of Ukraine began on Feb. 24.
Meanwhile, top diplomats from the Group of Seven (G-7) wealthy nations gathered in northern Germany on Thursday for a three-day meeting centered on Russia's invasion.
Rigged referendums are 'central part' of Russian strategy in Ukraine, says UK ministry
A request from authorities in Kherson, Ukraine, to join the Russian Federation is part of Moscow's strategy to use rigged votes to place Ukrainian regions under Russian control, the U.K. Defence Ministry said Saturday.
"A central part of Russia's original invasion plan was highly likely to use rigged referendums to place the majority of Ukraine's regions under long-term pro-Russian authority," the ministry said in a regular intelligence update.
Kherson's administration, which was imposed by Russia after its troops took over the city in March, this week formally requested that the Kherson Region be made part of Russia.
"The fact that Russia has only succeeded in imposing a pro-Russia local leadership in Kherson highlights the failure of Russia's invasion to make progress towards its political objectives in Ukraine," the British ministry said.
Russia will "almost certainly" manipulate the results of any referendum held in Kherson to decide whether to leave Ukraine, the Defence Ministry said.
Russia's defense ministry was unavailable for immediate comment.
Kherson lies on the Dnipro River near the Black Sea, only about 60 miles (97 km) from Crimea, which Russia took over the last time it invaded Ukraine in 2014.
Invading Russian troops took control of Kherson in the early part of the current war, but the Ukrainians who live there have carried out public protests against the occupation regardless.
Ukraine's military said in March that Russian troops used stun grenades and gunfire to break up at least one of those protests.
Moscow claims its troops do not target civilians, despite overwhelming proof that they have done so in Ukraine.
— Ted Kemp
Ukraine war is about 'the future' for Western countries, Zelenskyy says
President Volodymyr Zelenskyy said although Ukrainians are doing everything they can to drive out the Russians, "no one today can predict how long this war will last."
"This will depend, unfortunately, not only on our people, who are already giving their maximum," he said in his nightly video address to the nation. "This will depend on our partners, on European countries, on the entire free world."
He said he was thankful to all those who are working to strengthen the sanctions on Russia and increase military and financial support to Ukraine. "This is the only recipe for protecting freedom in the face of the Russian invasion. And for Western countries, this is not simply an expense. This is not about accounting, it's about the future."
Zelenskyy said Ukraine on Friday shot down the 200th Russian aircraft of the war and he noted Russia's heavy losses in tanks, armored vehicles, helicopters and drones.
"And for what? So that the Lenin statue can stand for a bit longer in temporarily occupied Genichesk? There is and can be no other result for Russia."
Russian forces in April restored the Lenin statue in Genichesk, a town in the southern Kherson region.
Zelenskyy said Ukraine was engaged in "very difficult negotiations" to try to evacuate the wounded fighters trapped in the Mariupol steelworks. "We're talking about a large number of people. Of course, we are doing everything to evacuate all of the rest, each of our defenders. We have already brought in everyone in the world who can be the most influential mediators."
Zelenskyy said Ukrainian forces have retaken towns and villages from Russian troops. He said work was underway to restore electricity, running water, telephone communications and social services.
— Associated Press
Russia to halt electricity exports to Finland
Russian state-owned utility company Inter RAO will halt exports of electricity to Finland starting Saturday, the company's Finnish subsidiary said.
RAO Nordic, the subsidiary that imports electricity from its Russian parent company, said that it will stop supplying Finland because it hasn't received payment from Finnish sources in recent days.
"We are forced to note that for the volumes which have been sold on Nord Pool exchange since the 6th of May funds have not yet been credited to our bank account," the company said in a statement. "This situation is exceptional and happened for the first time in over twenty years of our trading history."
Power imports to Finland will be halted from 1 a.m. local time on Saturday "for the time being," Finnish grid operator Fingrid said in a separate statement, citing RAO Nordic.
"The lack of electricity import from Russia will be compensated by importing more electricity from Sweden and by generating more electricity in Finland," said Reima Päivinen, senior vice president of power system operations at Fingrid.
Fingrid, a state-owned business, said imported electricity from Russia has covered about 10% of Finland's total consumption. The stoppage comes as Finnish leaders warm up to the idea of joining NATO in response to Russia's aggression in Ukraine.
— Thomas Franck
Russian forces are at least two weeks behind schedule in eastern Ukraine, U.S. Defense official says
The Pentagon said Russian forces are still about two weeks behind schedule in their assault on the Donbas in eastern Ukraine.
The official said that in recent days, the Kremlin has moved more Russian troops into Ukraine but that those forces are "not making any major gains" in the eastern Donbas region. The forces have regressed in other parts of the country, the person said.
"We've basically assessed that the Ukrainians continue to make progress in reclaiming towns and villages around Kharkiv," the official, who declined to be named, said on a call with reporters. "We have seen some progress by them pushing Russian forces closer to the border and away from Kharkiv."
— Amanda Macias
Biden speaks with Finnish and Swedish leaders, as countries inch closer to potential NATO membership
U.S. President Joe Biden spoke with Prime Minister Magdalena Andersson of Sweden and President Sauli Niinisto of Finland, as the two countries inch closer to potentially joining NATO.
Biden "underscored his support for NATO's Open Door policy and for the right of Finland and Sweden to decide their own future, foreign policy, and security arrangements," according to a White House readout of the call.
Earlier this week, Niinisto and Finnish Prime Minister Sanna Marin said the country should apply to join NATO "without delay," the strongest indication that Finland will make a formal application to join the 30-member alliance.
"They reiterated their shared commitment to continued coordination in support of Ukraine and the Ukrainian people affected by the war," the White House statement added.
— Amanda Macias
Here's a breakdown of the high-tech weapons the U.S. is shipping to Ukraine
UN says 3,573 killed in Ukraine since start of war, warns death toll is likely higher
The United Nations has confirmed 3,573 civilian deaths and 3,816 civilian injuries in Ukraine since Russia invaded its ex-Soviet neighbor on Feb. 24.
The Office of the U.N. High Commissioner for Human Rights said the death toll in Ukraine is likely higher, because the armed conflict can delay reports.
The international body said most of the civilian casualties recorded were caused by the use of explosive weapons with a wide impact area, including shelling from heavy artillery and multiple launch rocket systems, as well as missiles and airstrikes.
— Amanda Macias
Kyiv mayor announces relaxing of curfew hours
Kyiv will be starting its evening curfew one hour later, at 11 p.m. rather than 10 p.m. beginning Sunday, the city's mayor Vitali Klitschko announced via messaging app Telegram. Its end time of 5 a.m. will remain unchanged. Public transport hours will also be extended beginning Monday.
"Subway - from 06:00 a.m. to 10:00 p.m. Ground public transport - from 06:00 a.m. to 10:30 p.m. Observe the curfew rules," Klitschko's message read.
"And also - do not neglect air raid signals! Threat of missile attacks on Kyiv remains."
Foreign diplomats have been returning to Kyiv and reopening their embassies there in a show of support for Ukraine and confidence in the city's ability to defend itself, though it continues to receive sporadic rocket attacks.
— Natasha Turak
Britain and Norway sign joint declaration enhancing cooperation following Sweden and Finland agreements
U.K. Prime Minister Boris Johnson met with Norwegian leader Jonas Gahr Stoere in London, signing an agreement to enhance bilateral cooperation in a number of areas including climate and defense, and declaring that both countries "underscored their full support for any sovereign choice made by Nordic partners to enhance their security," a statement from Johnson's office said.
"The Prime Minister and Prime Minister Stoere agreed that neither NATO nor the Nordic region posed a threat and that the longstanding policy of 'High North, low tension' had created decades of stability and prosperity for the area," the statement said.
The meeting followed Johnson's signing of security agreements with both Sweden and Finland, pledging to come to one another's aid militarily if it is requested. The two Nordic countries are on the cusp of applying for NATO membership, having seen a surge in popular support for joining the defense pact in the wake of Russia's invasion of Ukraine. Norway is already a NATO member.
— Natasha Turak
U.K. sanctions President Putin's rumored girlfriend and others accused of benefiting from Putin's wealth
The U.K. government put sanctions on Alina Kabaeva, a former Russian Olympic rhythmic gymnast, who many Western governments suspect to be Vladimir Putin's girlfriend. The Kremlin denies any romantic relationship between the two.
The U.K. also sanctioned other associates of Putin who are believed to have benefited from his vast wealth or helped him hold it, as his official possessions according to Russian records are very sparse.
"In reality, Putin relies on his network of family, childhood friends, and selected elite who have benefited from his rule and in turn support his lifestyle," the U.K. government said in a statement. "Their reward is influence over the affairs of the Russian state that goes far beyond their formal positions."
The sanctions also targeted two of Putin's cousins, one of his close friends, and the grandmother of Kabaeva.
— Natasha Turak
Pentagon chief urges cease-fire in call with Russian defense minister, their first talk since February
U.S. Defense Secretary Lloyd Austin pushed for a cease-fire in Ukraine during a phone call with Russian Minister of Defense Sergei Shoigu, the Pentagon said.
The call marked the first time the top defense officials in the U.S. and Russia have spoken since Feb. 18, Pentagon press secretary John Kirby said in a statement.
Austin on that call "urged an immediate ceasefire in Ukraine and emphasized the importance of maintaining lines of communication," Kirby's statement said.
— Kevin Breuninger
Erdogan says Turkey doesn't support Sweden, Finland joining NATO
Turkish President Recep Tayyip Erdogan has voiced opposition to Sweden and Finland's potential NATO membership, just as both countries are on the verge of applying to join the alliance in the wake of Russia's invasion of Ukraine.
"We are following the developments regarding Sweden and Finland, but we don't hold positive views ... It is not possible for us to be in favor," Erdogan told press in Istanbul on Friday. He cited the Nordic countries' relations with Kurdish militant groups that Ankara classifies as terrorists.
NATO ascension for a new member state requires consensus approval from all existing members. Turkey joined NATO in 1952, and has the second-largest military in the 30-member alliance after the United States.
— Natasha Turak
Failed Russian river crossing reveals pressure its commanders are under, U.K. MoD says
The failure by Russian troops to cross a river in Ukraine's eastern Donbas region demonstrates the risks its commanders are willing to take to try and make territorial gains amid slower-than-expected progress, the U.K.'s Ministry of Defense said in its daily intelligence update.
"Conducting river crossings in a contested environment is a highly risky manoeuvre and speaks to the pressure the Russian commanders are under to make progress in their operations in eastern Ukraine," a tweet from the ministry read.
"Russian forces have failed to make any significant advances despite concentrating forces in this area after withdrawing and redeploying units from the Kyiv and Chernihiv Oblasts."
Ukrainian forces on Wednesday released images of Russian tanks sinking into muddy riverbanks of what they said was the Siverskyi Donets river, and Ukraine's defense ministry said that Russia "lost significant armoured manoeuvre elements of at least one Battalion Tactical Group."
— Natasha Turak
Brittney Griner's pre-trial detention in Russia extended by a month, lawyer says
WNBA star Brittney Griner's pre-trial detention in Russia was extended by a month during a Friday court appearance, her lawyer told The Associated Press.
Griner's lawyer Alexander Boikov told the outlet the short extension may indicate that her case will go to trial soon.
Griner, a star center for the Phoenix Mercury basketball team, was arrested in February on drug charges after a search of her luggage at the Sheremetyevo airport near Moscow turned up vape cartridges containing oil derived from cannabis, authorities said. 
The offense could carry a maximum sentence of 10 years in prison.
— NBC News
U.N. human rights chief details cases in Ukraine that 'may amount to war crimes'
United Nations human rights chief Michelle Bachelet said her office is investigating human rights violations in Ukraine, "many of which may amount to war crimes."
"These killings of civilians often appeared to be intentional, carried out by snipers and soldiers. Civilians were killed when crossing the road or leaving their shelters to seek food and water. Others were killed as they fled in their vehicles," Bachelet said before the UN Human Rights Council in Geneva.
"Unarmed local men were killed because Russian soldiers suspected them of supporting Ukrainian forces or otherwise being a potential threat and some were tortured before being killed," she added.
Bachelet also said her office was looking into allegations of sexual violence and so far, the UN has verified a dozen cases across the country.
— Amanda Macias
Russia is still making a lot of money from oil and gas sales to Europe: Ukrainian FM Kuleba
Ukrainian Foreign Minister Dmytro Kuleba spoke to G-7 leaders in Weissenhaus, Germany, stressing that a major issue that needed addressing is the billions in revenue that Russia is still receiving from its major oil and gas customer: the EU.
"As long as Russia continues to sell gas and oil to the European Union, their pockets will be full enough to continue fighting the war," Kuleba said. "The ridiculousness of the situation now is that Ukrainian economy suffers much more from the Russian aggression and destruction than Russian economy suffers from the sanctions imposed on it," he told CNBC's Steve Sedgwick.
"I'm not trying to say that sanctions are not working — sanctions that were already imposed make a lot of sense in the mid-term perspective," Kuleba added, saying that sanctions on Russia's defense industry for instance are important in preventing Russia from producing more advanced weaponry.

"But Russia is making a lot of money selling oil and gas to Europe; this must stop," the minister said.
The EU in total imports about 40% of its natural gas and 36% of its oil from Moscow, sending it billions of dollars per week. The bloc is currently working on a sanctions package to end the buying of Russian oil, but Hungary, which relies heavily on Russian energy and whose leader is on friendly terms with Putin, has so far been blocking the measure.
"The solution for oil is near, and I see that European countries are working hard on finding a solution for gas. I'm very cautiously optimistic after my visit to Berlin yesterday because I saw the commitment to find a solution to break the dependence of Germany on Russian gas," Kuleba said. "If that happens, everything else will be easier. Takes some time, but it is important to move in that direction."
European oil executives have stressed the difficulty and near impossibility of weaning the bloc off of Russian oil and gas anytime soon.
— Natasha Turak
Ukraine counteroffensive near Kharkiv starting to look similar to gains made in the west, think tank says
Ukraine's counteroffensive near the northeastern city of Kharkiv "is starting to look very similar to the counteroffensive that ultimately drove Russian troops away from Kyiv and out of western Ukraine entirely," the Institute for the Study of War has said in its latest assessment of the conflict.
The U.S. think tank said it is too soon to tell whether Russian forces will make a similar decision, however.
It added that Russian forces are likely to launch a ground offensive on or around Severodonetsk, an eastern city in the Luhansk Oblast, in the coming days.
— Sam Meredith
Russian soldier to go on trial in first war-crimes case
A Russian soldier is scheduled to go on trial Friday in the killing of an unarmed Ukrainian civilian, marking the first time since the start of the invasion that a member of the Russian military will be prosecuted for a war crime.
Sgt. Vadim Shyshimarin stands accused of shooting the 62-year-old man in the head through an open car window in the northeastern village of Chupakhivka. He faces up to life in prison under the penalties spelled out in the section of the Ukrainian criminal code that addresses the laws and customs of war.
— Associated Press
Russia investing 'significant effort' in bid to achieve eastern Ukraine breakthrough, UK says
Russian forces are investing "significant effort" around the Ukrainian cities of Izium and Severodonetsk in an attempt to achieve a breakthrough toward the eastern regions of Slovyansk and Kramatorsk, the U.K.'s Ministry of Defence has said.
In its latest intelligence update, the U.K. ministry says the Kremlin's primary objective is to envelop Ukrainian forces in the Joint Forces Operation area, referring to the eastern line of contact between the separatist-held areas of Donetsk and Luhansk.
It said Ukrainian forces had successfully prevented an attempted Russian river crossing in the Donbas, noting that such a maneuver is "highly risky" in a contested environment and speaks to the pressure Russian commanders are under to make progress in eastern Ukraine.
— Sam Meredith
Ukraine's Zelenskyy says Russia lacks courage to admit 'obvious' strategic defeat
Ukraine President Volodymyr Zelenskyy said Russia's strategic defeat is already obvious, saying in his nightly address that the Kremlin "simply lacks [the] courage to admit it."
Zelenskyy accused Russian forces of being "cowards," adding that they are seeking "to hide the truth behind missile, air and artillery strikes."
Russia's embassy in London was not immediately available to comment.
— Sam Meredith
G7 foreign ministers meet to discuss Ukraine war, impact
Top diplomats from the Group of Seven wealthy nations gathered in northern Germany for a three-day meeting centered on Russia's war against Ukraine and the wider impact it is having around the world, particularly on food and energy prices.
German Foreign Minister Annalena Baerbock, the meeting's host, said the conflict already had become a "global crisis" because shipments of staple crops are stuck in Ukraine, a major agricultural exporter.
"Twenty-five million tons (27.5 million U.S. tons) of grain are currently blocked in Ukrainian ports, particularly Odesa," Baerbock said. "Grain that's food for millions of people around the world, and which is needed particularly urgently in African countries and the Middle East."
"That's why we are discussing how the grain blockade exerted by Russia can be unblocked, how we can get the grain out to the world," she added.
— Associated Press
Read CNBC's previous live coverage here:
Ukraine warns countries about buying its stolen grain; U.S. $40 billion aid to Ukraine faces delay
Copyright CNBC