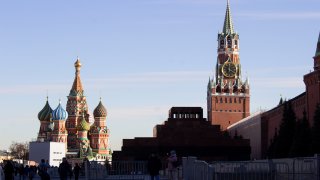 This has been CNBC's live blog covering updates on the war in Ukraine.
U.S. President Joe Biden has pledged to provide financial and military aid for as long as necessary to prevent Ukraine's defeat, he told reporters at the conclusion of the NATO summit in Madrid.
Ukrainian President Volodymyr Zelenskyy thanked Ukrainian troops following Russia's withdrawal from the strategic Snake Island in the Black Sea, which it captured in the early days of the war. Ukrainian forces say they drove the Russians out, while Moscow insists it was a voluntary act of goodwill.
Meanwhile, NATO states plan to send hundreds of thousands more troops to Eastern Europe to bolster the region's security.
Zelenskyy thanks Biden for latest security package worth $820 million
Ukrainian President Volodymyr Zelenskyy thanked U.S. President Joe Biden for authorizing a new security assistance package that includes air defense systems.
"Thank you @POTUS for your continued leadership and support of UA in its fight against the aggressor," Zelenskyy wrote on Twitter.
Biden announced the security assistance package on Thursday at the conclusion of the NATO summit in Madrid.
— Amanda Macias
U.S. approves 14th security assistance package for Ukraine
The Pentagon announced a new security assistance package for Ukraine worth $820 million.
The 14th drawdown of equipment from U.S. military inventories includes additional ammunition for the High Mobility Artillery Rocket Systems, or HIMARS.
Read more: Here's a look at the firepower the U.S. has committed to Ukraine in its fight against Russia
The Pentagon will also provide Ukraine with two National Advanced Surface-to-Air Missile Systems, or NASAMS, as well as up to 150,000 rounds of 155 mm artillery ammunition and four additional counter-artillery radars.
The new package brings the U.S. commitment to approximately $6.9 billion since the beginning of Russia's unprovoked invasion on Feb. 24.
— Amanda Macias
More than 5.7 million school-aged children in Ukraine affected by Russia's war
More than 5.7 million school-aged children have been affected since Russia invaded Ukraine, according to a new UN report.
"The ability to learn is severely affected by acute and ongoing exposure to conflict-related trauma and psychological stress leading to a risk of school dropout and negative coping mechanisms," the UN researchers wrote in a report assessing the situation.
The Ukrainian Ministry of Education and Science has previously reported that more than 1,970 education facilities have been damaged and approximately 200 destroyed.
The report also found that a lack of access to high-speed internet and technological devices are also obstacles for remote online learning.
— Amanda Macias
Top U.S. military officer speaks with Ukrainian counterpart
America's highest military officer spoke to his Ukrainian counterpart on the heels of the NATO leader summit in Madrid.
The call between Chairman of the Joint Chiefs of Staff Gen. Mark Milley and Commander-in-Chief of the Ukrainian Armed Forces Gen. Valery Zaluzhny is the second known discussion this week.
"They discussed the unprovoked and ongoing Russian invasion of Ukraine and exchanged perspectives and assessments," wrote Joint Staff spokesperson U.S. Army Col. Dave Butler in a readout of the call.
"The Chairman once again reaffirmed unwavering support for Ukraine's sovereignty and territorial integrity," Butler added.
— Amanda Macias
Vast majority of debris cleared from shopping mall hit by Russian missile
Ukraine's emergency services said on the Telegram messaging platform that approximately 88% of the debris from a Russian rocket attack on a shopping mall in the city of Kremenchuk has been cleared.
The service said that 19 people were killed in the strike on Amstor shopping mall, 64 people were injured and 26 people were hospitalized.
On Monday, Ukrainian President Volodymyr Zelenskyy said on Telegram that more than 1,000 people were inside at the time of the Russian rocket attack, according to an NBC News report.
"This is not an off-target missile strike, this is a calculated Russian strike — exactly at this shopping mall," Zelenskyy said during his Monday evening address.
— Amanda Macias
Ukraine foreign minister says Kyiv filed claim with world court over Russia's war
Ukrainian Foreign Minister Dmytro Kuleba said that Kyiv submitted a filing to the International Court of Justice related to Russia's ongoing war in Ukraine.
"Ukraine submitted a major filing at the ICJ. We prove that Russia violated the Genocide Convention by justifying its aggression with a false pretext of a 'genocide' that never was," Kuleba wrote on Twitter.
"A critical step to hold Russia accountable and make Russia pay for the harm it has inflicted," he added.
The UN's 1948 Genocide Convention, to which Russia is a signatory, aims to prevent genocide and other atrocities committed during the Second World War.
 — Amanda Macias
More than 8.4 million people have fled Ukraine since Russia's war began
Since Russia invaded Ukraine in late February, more than 8.4 million people have fled across the country's borders.
More than 5.4 million people have registered for temporary refugee protection or similar safeguards in Europe, according to the latest data complied by the United Nations.
"Millions of refugees from Ukraine have crossed borders into neighboring countries and many more have been forced to move inside the country," UN researchers wrote in a report.
Here's a look at where Ukrainian refugees have fled:
 — Amanda Macias
NATO members are increasing investment to the alliance
NATO members are increasing their investment in the military alliance following Russia's late-February invasion of Ukraine.
In July 2018, only five NATO allies met the 2% GDP spending goal set at the 2014 NATO summit in Wales.
Today, nine allies meet those terms.
The alliance's newest members, Sweden and Finland, are currently not included in the latest defense expenditure data compiled by NATO.
 — Amanda Macias
Schools in Kyiv will reopen for classes in September, city officials say
Schools in the capital city of Kyiv will reopen for students on September 1, the city's authorities said, the first return to in-person teaching since Russian forces invaded Ukraine on February 24. Classes since then had switched to being online and then stopped for the summer break.
The most important priority is "the safety of students and teachers," said Olena Fidanyan, the head of Kyiv's education and science department, quoted by AFP.
Areas around the schools will be inspected for bombs, and school bomb shelters will be restocked with basic provisions like water and medicine, she said. Schools will also carry out training for both students and teachers on air-raid alert procedures. Students who fled Kyiv and are unable to return can still attend classes remotely, education officials said.
— Natasha Turak
Russian farmers create giant "Z" symbol in a field in support of Russian military
Farmers operating combines create symbols "Z" and "V" in a field in support of the Russian armed forces involved in a military conflict in Ukraine, during the start of wheat harvesting in the Rostov region.
-Reuters
Ukraine's grain exports have fallen 43% year-on-year, agriculture ministry says
Ukraine's grain exports have fallen by almost half, the country's agricultural ministry said, having crashed since its Black Sea ports were blocked due to Russia's invasion.
Just 1.41 million tons of grain were exported from the country in June, a 43% decrease from the prior year, dealing a blow to the major agricultural exporter as well as to the many countries that buy its produce, particularly in the Middle East and Africa, which are now facing potential food crises.
Kyiv has said that Ukraine's grain and oilseeds harvest, which amounted to 106 million tons in 2021, would likely only reach up to 65 million tons this year, due to land lost to Russian forces and lower crop yields.
Moscow blames Ukraine for the lack of exports, saying it's caused by Ukrainian forces mining their waters against Russian ships. Kyiv and its allies maintain that Russia's invasion and the Russian navy's control over crucial Black Sea shipping lanes is to blame.
— Natasha Turak
Boris Johnson pledges to increase U.K. defense spending to 2.5% GDP by end of decade
The U.K. will spend 2.5% of its gross domestic product (GDP) on defense by 2030, Prime Minister Boris Johnson said.
"We need to invest for the long term in vital capabilities like future combat air, whilst simultaneously adapting to a more dangerous and more competitive world," Johnson said at a news conference.
"The logical conclusion of the investments on which we propose to embark, these decisions, is that we'll reach 2.5% of GDP on defense by the end of the decade."
NATO member states are supposed to spend at least 2% of their annual GDP on defense, though not all states have followed this rule. Johnson has previously said he sees that 2% as a "floor" rather than a "ceiling."
Britain's defense spending is expected to reach 2.3% of GDP for 2022 because of its military support for Ukraine.
— Natasha Turak
Putin says pressure from West is pushing Russia and Belarus to integrate faster
Russia and its ally Belarus are furthering their economic and political integration as a result of Western sanctions and isolation, Russian President Vladimir Putin said via video message at a forum for the two countries.
"Russia and Belarus continue to grow in their cooperation in the political, trade, economic, cultural and humanitarian spheres," Putin said. "The unprecedented political and social pressure from the so-called collective West is pushing us to speed up the unification process."
"Together it is easier to minimize the damage from the illegal sanctions, it is easier to set up the production of demanded products, develop new competencies and expand cooperation with friendly countries," he said.
Russian troops have used Belarus as a staging ground for incursions into Ukraine, although Belarus says it has not sent any of its own troops into Ukraine. Belarusian President Alexander Lukashenko, while supported by Moscow and a close ally of Putin, has previously said he is against the war and that he did not expect it to "drag on" for so long.
— Natasha Turak
EU flag is hoisted in Ukraine's parliament in Kyiv
The EU flag was brought to the floor of the Ukrainian parliament in Kyiv and hoisted following a video address by European Commission President Ursula von der Leyen.
"You have gained the endorsement and respect of all EU member states," she said. "Ukraine now has a very clear European perspective, it is a candidate country for the EU."
Ukraine formally became a candidate country for the EU last week, a major step in joining the bloc as part of a process that President Volodymyr Zelenskyy said "should not take years or decades."
Matti Maasikas, ambassador of the European Union to Ukraine, tweeted a video of the flag-raising, writing, "Moving to tears - the EU flag is been brought to the plenary hall of @ua_parliament. To stay."
— Natasha Turak
At least 18 people dead after Russian strike on Odesa
A Russian missile strike in Ukraine's southern Odesa region killed at least 18 people, among them two children, the local governor said.
"As a result of a night missile strike by Tu-22 strategic aircraft from the Black Sea in the Belgorod-Dniester district of Odesa region, three X-22 missiles hit an apartment building and a recreation center," Odesa regional governor Maksym Marchenko wrote on his Telegram channel, according to a Google translation.
"As of 9am, 18 victims were identified, including 2 children, and 31 people were hospitalized, including 4 children and a pregnant woman. Another 8 sought medical help. 8 people were rescued from the rubble, including 3 children. Rescue work continues." he added.
CNBC has not been able to independently verify the information. Moscow has denied responsibility for the strike.
Odesa is a strategically important port city whereby much of Ukraine's exports are shipped out via the Black Sea. Those food exports have been paralyzed by Russia's navy which is controlling and blocking vital shipping routes, sending global food prices soaring.
— Natasha Turak
Russian trial for American basketball player Brittney Griner begins
American basketball player Brittney Griner, who has been detained in Russia since Feb. 17, arrived at a Moscow court for her trial. The Olympic gold medalist was accused by Russian authorities of having cannabis oil in her luggage and smuggling the narcotic material, a crime that could draw a 10-year jail sentence.
U.S. officials argue that Griner is being wrongfully detained. U.S. national security advisor Jake Sullivan said this week that the athlete is being "wrongfully detained, unjustly detained, and we have made that clear as an official determination of the U.S. government."
— Natasha Turak
An iron curtain is 'already descending' between Russia and the West, Russia says
An iron curtain between Russia and the West is essentially already here, Russian Foreign Minister Sergei Lavrov said, describing the political and economic wall that has formed following Russia's invasion of Ukraine.
"As far as an iron curtain is concerned, essentially it is already descending," Lavrov said after talks with Belarus's foreign minister, according to a translation by AFP.
He added that the EU made no effort to understand Russia's interests, saying it's "interested in what has been decided in Brussels. And what has been decided in Washington has been decided in Brussels."
Since early March and the imposition of numerous sanctions on Russia by the West, which cut off many travel, finance and business ties, many historians have invoked the so-called "iron curtain" in describing international relations.
The term was first popularized by former British Prime Minister Winston Churchill in 1946 to describe the political, military, and ideological barrier erected by the Soviet Union under Joseph Stalin to seal itself off from the West.
— Natasha Turak
Biden says U.S. will stick with Ukraine for 'as long as it takes'
U.S. President Joe Biden has pledged to support Ukraine for as long as necessary. He was speaking at the end of a NATO summit in Madrid that saw the alliance agree to massively ramp up its troop presence in eastern Europe.
When asked during a new conference Thursday if there was any limit to U.S. spending on aid for Kyiv, Biden replied, "We're gonna stick with Ukraine, and all of the allies will stick with Ukraine, as long as it takes, and in fact make sure they are not defeated."
Biden also announced a new $800 million military aid package for the country as the war enters its fifth month.
— Natasha Turak
Zelenskyy thanks Ukrainian troops following Russian withdrawal from Snake Island
Ukrainian President Volodymyr Zelenskyy thanked Ukrainian forces following the liberation of Snake Island, a remote island off the south of Ukraine.
"Undoubtedly, the main word today is 'Snake.' Apparently, there was just as much talk about Zmiinyi (Snake) Island only on the day when the Russian ship arrived there. Then the ship left forever and now the island is free again," Zelenskyy said via the Telegram messaging platform, according to an NBC News translation.
Ukrainian officials said earlier that Russian troops evacuated Snake Island, which was taken by Russian forces on the first day of the invasion. Russia's Ministry of Defense also confirmed the withdrawal.
 — Amanda Macias
Trudeau says Canada will increase its troop presence in Latvia
Canadian Prime Minister Justin Trudeau says his government will increase Canada's troop presence in Latvia as part of NATO's commitment to strengthen its deterrence measures along Russia's border.
Trudeau made the announcement at the close of the three-day NATO summit in Madrid. He did not give specific numbers.
Canada leads NATO's battlegroup in Latvia of around 2,000 soldiers in total. Albania, the Czech Republic, Italy, Montenegro, Poland, Slovakia, Slovenia and Spain also provide troops to the group.
"We will be bolstering our military deployment in Latvia and work with other allies to be able to rapidly augment our current strength to our combat capable brigade when required," Trudeau said.
Trudeau said his government also wants to send up to 39 armored combat support vehicles to Ukraine along with six additional drone cameras to help fight the Russian invasion.
— Associated Press
Read CNBC's previous live coverage here:
'Everything was going fine between us' Putin says of NATO expansion; Russian forces withdraw from Snake Island
Copyright CNBCs - CNBC