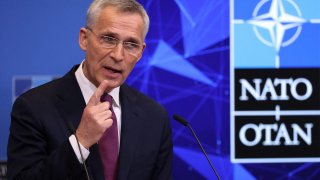 This was CNBC's live blog tracking developments on the war in Ukraine on Tuesday. See here for the latest updates. 
Ukraine said Russia's assault on the eastern part of the country is continuing, with 38 towns hit in the Luhansk and Donetsk areas on Monday, damaging civilian infrastructure.
Ukraine remains at the top of the agenda at the World Economic Forum in Davos. Ukrainian President Volodymyr Zelenskyy addressed leaders of the business and political world at the summit via video link on Monday.
He said the world is at a "turning point" and must decide whether it would allow Russia's "brute force" to win. Russian politicians, business leaders and academics are absent from the event this year.
Meanwhile, a Russian soldier was sentenced to life in prison on Monday in the conflict's first war crimes trial. As the war drags on, the United Nations said that more than 6.5 million Ukrainians have become refugees.
Russia approves bill that would allow the appointment of new management for foreign companies that exit the country
Russia's parliament approved a bill that would allow the government to appoint new management of foreign companies that exited the country due to "anti-Russian sentiment in Europe and the U.S.," the Associated Press reported.
Many foreign companies have exited Russia after it invaded Ukraine, including McDonald's, which officially left after 32 years in the country.
After two more readings of the bill in parliament, it will go to the upper house and then to President Vladimir Putin for his approval, the AP reported.
Ukrainian Foreign Minister Dmytro Kuleba said the new law is another reason for foreign companies to leave Russia, according to the AP.
"It's the last chance to save not only your reputation but your property," he said in a statement, the AP reported.
— Chelsea Ong
Zelenskyy says Russia is putting everything it has into Donbas fight
Ukrainian President Volodymyr Zelenskyy said Russia is using everything at its disposal in the fight for four cities in the eastern Donbas region.
"The situation in the Donbas now is very difficult," Zelenskyy said in his nightly address to the nation. "Practically the full might of the Russian army, whatever they have left, is being thrown at the offensive there. Liman, Popasna, Sievierodonetsk, Slaviansk – the occupiers want to destroy everything there."
Zelenskyy said the Ukrainian army is fighting back, but "it will take time and a lot more effort by our people to overcome their advantage in the amount of equipment and weapons."
He told Ukrainians they should be proud of having held off Russia for three months in a war that many in Russia and the West expected to last three days.
— Associated Press
European Council president spoke with Zelenskyy about more military, humanitarian aid
European Council President Charles Michel spoke with Ukrainian President Voldomyr Zelenskyy and reiterated the bloc's commitment to Ukraine's fight against Russia.
"As the war enters its fourth month, we discussed further humanitarian, financial and military assistance," Michel wrote in a tweet.
Michel added that the two discussed how the European Union could best support efforts to rebuild Ukrainian infrastructure destroyed by Russian forces.
"Also looked into global food security and efforts to unblock Ukraine's sea ports," Michel added.
— Amanda Macias
NATO chief warns Russia that an attack on one ally 'will trigger the full response from the whole alliance'
NATO Secretary-General Jens Stoltenberg said that while the 30-member military alliance has not put troops into Ukraine, a Russian attack "on one NATO ally will trigger the full response from the whole alliance."
"This is deterrence. The purpose is not to provoke conflict but to prevent conflict and preserve peace," Stoltenberg said at the World Economic Forum in Davos, Switzerland.
Since Russia invaded Ukraine in late February, NATO has increased its military presence in eastern parts of the alliance, Stoltenberg said.
"Now we have 40,000 troops in the NATO command. We have more naval, the air capabilities, especially in the eastern part of the alliance and we have 100,000 troops on heightened alert," he said. He added: "This is to send a very clear message to Moscow and leave no room for miscalculation or misunderstanding."
— Amanda Macias
Russia's risk of defaulting on its debt increases
The U.S. Treasury Department announced it would bar Russia from paying its bondholders through U.S. banks.
The move raises the risk that Moscow could default on its sovereign debt. The change will take effect Wednesday morning.
The Biden administration cut off transactions with the Russian central bank in late February, days after the country launched its brutal invasion of Ukraine. A carve out previously allowed U.S. banks to process Russian payments to bondholders.
— Jacob Pramuk
Premier League approves proposed Chelsea sale
The English Premier League board approved the proposed sale of Chelsea FC to a group led by U.S. businessman Todd Boehly.
The British government still has to approve the takeover, the Premier League said in a statement.
Russian oligarch Roman Abramovich put Chelsea up for sale in early March following outrage over Moscow's invasion of Ukraine. Days later, the U.K. sanctioned Abramovich — meaning a sale of the elite football club was subject to government approval.
The consortium led by Boehly, a part owner of Major League Baseball's Los Angeles Dodgers, agreed to pay £4.25 billion for Chelsea.
Officials are reportedly still deciding where Abramovich's proceeds from the sale will go.
— Jacob Pramuk
Russian parliament passes bill allowing Moscow to close Western news bureaus
Russia's parliament passed a bill giving prosecutors powers to shut foreign media bureaus in Moscow if a Western country has been "unfriendly" to Russian media, following the closure of some Russian state news outlets in the West.
The bill, passed in the first reading by the lower house of parliament, or Duma, also prohibits the distribution of articles or other materials from media that have been closed by the prosecutor's office. It needs to undergo two more readings, be reviewed by the upper house of parliament, and signed by President Vladimir Putin to become law.
The journalists of a media organization deemed to be an offender under the bill would have their foreign ministry accreditation withdrawn — meaning they could not work in Russia. The new bill adds to the challenges facing foreign media after Russia in March adopted a law which penalized what it termed spreading "fake" news about its army.
"In the current geopolitical situation, the mass media has become an instrument of influence on the informational state of society," the lawmakers said in an official explanatory note on the bill.
— Reuters
Top U.S. general and national security adviser speak with Ukrainian officials
Ukraine's top military officer and a top aide of Ukrainian President Voldomyr Zelenskyy spoke with Chairman of the Joint Chiefs of Staff U.S. Army Gen. Mark Milley and Jake Sullivan, President Joe Biden's national security adviser.
Andriy Yermak, the head of Zelenskyy's office, said the officials discussed the security situation in Ukraine and the course of the fighting.
"They discussed the unprovoked and ongoing Russian invasion of Ukraine and international support for the Ukrainian armed forces," Milley's spokesman, U.S. Army Col. Dave Butler wrote in a summary of the call.
"Sullivan and Gen. Milley reaffirmed the United States' steadfast support for Ukraine's sovereignty and territorial integrity," he added.
— Amanda Macias
Destroyed Russian tanks on display for public in city squares
Destroyed Russian tanks and military equipment on display for public at Mykhailivska Square in Kyiv, Ukraine on the 90th day of conflict with Russia.
— Anadolu Agency | Getty Images
Biden says Russia's war in Ukraine is a 'dark hour in our shared history'
President Joe Biden said the world was in the midst of navigating a "dark hour in our shared history."
Biden's comments came while meeting with fellow leaders of Australia, Japan and India, a security group known as the "Quad."
"This is more than just a European issue. It's a global issue," Biden said, urging leaders to embrace a shared responsibility to counter Russia.
"The world has to deal with it and we are," Biden added. 
India, a significant customer of Russian weaponry, is the only Quad member that has not yet clearly condemned the Kremlin's war in Ukraine.
— Amanda Macias
Blinken and Ukrainian Foreign Minister Dmytro Kuleba discuss security assistance
Secretary of State Antony Blinken spoke with Ukrainian Foreign Minister Dmytro Kuleba by phone about the ongoing global food security crisis triggered by Russian President Vladimir Putin's war.
For weeks, Russian forces have blocked roughly a dozen Ukrainian ports in the Black Sea and Sea of Azov.
"The secretary noted the global food security crisis resulting from president Putin's brutal war requires a global response and they discussed potential means to export Ukraine's grain to international markets," according to a State Department readout of the call.
Kuleba wrote in a tweet that the two leaders also discussed ways to "unblock Ukraine's exports and ensure global food security."
— Amanda Macias
UN says at least 3,942 killed in Ukraine since start of war
The United Nations has confirmed 3,942 civilian deaths and 4,591 injuries in Ukraine since Russia invaded its ex-Soviet neighbor on Feb. 24.
The Office of the U.N. High Commissioner for Human Rights said the death toll in Ukraine is likely higher, because the armed conflict can delay reports.
The international organization said most of the civilian casualties recorded were caused by the use of explosive weapons with a wide impact area, including shelling from heavy artillery and multiple launch rocket systems, as well as missiles and airstrikes.
— Amanda Macias
Global consequences of Russia's war on Ukraine will be 'severe,' Wladimir Klitschko says
Russia's unprovoked invasion of Ukraine will have far-reaching, severe consequences not only for Russia and Ukraine but also for the rest of the world, said Wladimir Klitschko, a Ukrainian former professional boxer and brother of Kyiv's Mayor Vitali Klitschko.
"We're going to have a food crisis, with Ukraine getting out of this chain of suppliers — we supply a lot of grains into Africa and Asia — and with the blocking of the Black Sea, it's not going to happen and the world is going to take those severe consequences," he said, speaking to CNBC's Hadley Gamble at the World Economic Forum.
"It's going to knock on every person's, every family's, every government's door if we don't stop it."
There is increasing alarm about the global rise in food prices, particularly of basic essential goods like wheat and cooking oil (Ukraine is a leading global producer of both wheat and sunflower seeds, used for oil), with Russia's war in Ukraine disrupting production and exporting. Russia has largely blocked exports of grain via the Black Sea, leaving Ukraine's Western allies to look for ways to get its produce out of the country.
— Holly Ellyatt
West is much stronger than Russia, NATO chief says
No one knows how long the conflict in Ukraine will last but NATO must stand together to support Ukraine, Secretary-General Jens Stoltenberg told CNBC.
"The West, NATO partners around the world, we are much stronger than Russia so as long as we support Ukraine and we're not directly involved in the war, we're not part of the war ... then we are able to stand out and to stand up against this invasion," Stoltenberg told CNBC's Hadley Gamble on the sidelines of the World Economic Forum in Davos, Switzerland.
Stoltenberg said that Russia must not be able to "get its way" in Ukraine as that would make the world "even more dangerous."
Russia's invasion of Ukraine has had several unintended consequences for Russia, with NATO looking stronger and more united than in recent years. It is also set to expand with Finland and Sweden announcing that they are applying to join the organization.
— Holly Ellyatt
Russia is weaponizing food supplies, EU's von der Leyen warns
Russia is using food supplies as a weapon as it has done with its energy supplies, the European Commission's President Ursula von der Leyen told global leaders gathered in Davos.
"We are witnessing how Russia is weaponizing its energy supplies. And this is having global repercussions. Unfortunately, we are seeing the same pattern emerging in food security," von der Leyen said at the World Economic Forum.
In Russian-occupied Ukraine, von der Leyen continued, "the Kremlin's army is confiscating grain stocks and machinery ... Russian artillery is bombarding grain warehouses across Ukraine – deliberately. And Russian warships in the Black Sea are blockading Ukrainian ships full of wheat and sunflower seeds."
She said the consequences of these "shameful" acts with global food prices rising — particularly the price of basic commodities such as wheat and cooking oil, both of which Ukraine is a massive producer and exporter — are obvious.
"Bread prices in Lebanon have increased by 70%, and food shipments from Odesa could not reach Somalia. And on top of this, Russia is now hoarding its own food exports as a form of blackmail – holding back supplies to increase global prices, or trading wheat in exchange for political support," she said. Such an act was tantamount to using hunger and grain to wield power, she said.
Russia has blamed the West for soaring food prices, saying on Monday that these are down to the West and its international sanctions.
— Holly Ellyatt
Putin is now getting 'more NATO' because of his invasion, alliance chief says
Russia's invasion of Ukraine has had unintended consequences for Russia's President Vladimir Putin, NATO Secretary-General Jens Stoltenberg has said.
"He wanted less NATO on his borders, now he's getting more NATO," Stoltenberg said in a special address to the World Economic Forum in Davos, Switzerland.
Stoltenberg's comments come as relations between Russia and the Western military alliance NATO remain tense after Finland and Sweden announced applications to join the organization.
Although the application process takes time for all existing NATO members to approve, and Turkey's objections have not yet been overcome, the expected expansion of NATO has irked Russia with President Putin calling it "a problem," although his foreign minister has tried to downplay the significance of the enlargement.
— Holly Ellyatt
UK looking at how to get grain out of Ukraine, warning of 'hunger and famine' if not
The U.K. is holding talks with Ukraine over how to get its grain out of the country, a British government minister said Tuesday.
Russia has blocked Ukraine's main sea ports, blocking exports of grain from the country — which is seen as one of the world's "bread baskets" as a massive exporter of agricultural products, from wheat to sunflower oil — and pushing up global food prices in the process.
U.K. Transport Minister Grant Shapps told Sky News that he was very concerned about the issue, saying more lives could be lost as a result of hunger.
"What really worries me is we've seen many lives lost in Ukraine and we could see even more lives lost in other places in the world through grain and food shortages which could be even greater than the lives lost in the war directly," he said.
Shapps said he'd met Ukrainian Infrastructure Minister Oleksander Kubrakov last week to discuss how to move grain out of the country, following reports that the U.K. and other willing allies could put in place a military escort to ensure ships carrying goods out of the port of Odesa were kept safe.
"We were discussing details which I can't go into but about how infrastructure could be in place to ensure the grain leaves," Shapps said Tuesday. "We're looking at all the different options ... there are lots of different potential ways to get grain and other goods out of the country," he said.
Shapps warned "there could be a lot of hunger and famine" if Ukraine's agricultural produce could not be exported.
— Holly Ellyatt
Moscow appears ready to sever ties with the West as China pivot continues
Russia's Foreign Minister Sergey Lavrov has said that Moscow would "seriously consider" whether it needs to re-establish relations with the West.
Speaking in a question and answer session at an event in Moscow Monday evening, Lavrov said
Western countries had espoused "Russophobia" since the Kremlin had launched what it calls a "special military operation" in Ukraine on Feb.24. The West considers it an aggressive, unprovoked invasion.
"If they want to offer something in terms of resuming relations, then we will seriously consider whether we will need it or not," he said, adding that Russia was developing its own system of import substitutions given the international sanctions on the country.
Russia should not be in any way "dependent on the supply of anything from the West to ensure the development of critical industries for the security, economy and social sphere of our motherland," Lavrov added.
His comments, which were posted on the foreign ministry's website, also signalled that Russia's pivot toward China would continue.
"Now that the West is in a dictatorial position, our economic ties with China will grow even faster," Lavrov said, adding that this also poses an opportunity to develop Russia's far east and eastern Siberia.
— Holly Ellyatt
Russia seeking to encircle Severodonetsk, UK says
Russia has increased the intensity of its operations in the Donbas as it seeks to encircle Severodonetsk, Lysychansk, and Rubizhne, the U.K.'s Ministry of Defence said in its latest intelligence update Tuesday.
"At present the northern and southern axes of this operation are separated by approximately 25 km of Ukrainian-held territory," the ministry noted.
While there has been strong Ukrainian resistance with forces occupying well dug-in defensive positions, Russia has, however, achieved some localized successes, due in part to concentrating artillery units, the U.K. noted.
Capturing what the British military called the "Severodonetsk pocket" (area) matters a lot to Russia, because "it would see the whole of Luhansk Oblast placed under Russian occupation."
Nonetheless, while currently Russia's main effort, this operation is only one part of Russia's campaign to seize the Donbas. 
"If the Donbas front line moves further west, this will extend Russian lines of communication and likely see its forces face further logistic resupply difficulties," the ministry noted.
— Holly Ellyatt
Russia has fired on 38 towns in Donetsk and Luhansk, Ukraine says
Ukraine has said that Russian forces have struck multiple towns in the Donbas region of eastern Ukraine, including civilian infrastructure.
"The occupiers fired on 38 towns in Donetsk and Luhansk oblasts," Ukraine's Joint Forces Task Force said in a Facebook post Tuesday, "destroying and damaging 62 civilian objects, including 53 houses, an agricultural enterprise, a kindergarten, a bank branch, a pharmacy and the national police administration building."
As a result of these shellings, at least seven civilians were killed and six others were injured, the update noted. CNBC was unable to verify the information.
Russian forces have been intensifying their assaults in the Donbas region in recent weeks, with fierce fighting seen around the city of Severodonetsk which is located between Donetsk and Luhansk, currently the most contested areas in the Ukraine war.
In a separate Facebook post, the General Staff of the Armed Forces of Ukraine said Russian forces are "exerting intense fire along the entire line of contact and in the depths of the defense of our troops in the Donetsk, Slobozhansky and Pivdennobuzhsky operational areas."
"The greatest activity of hostilities" is observed in the Donetsk operational district, the post noted, namely near Lysychansk and Severodonetsk.
— Holly Ellyatt
Kherson to accept both Russian rubles and Ukrainian hryvnyas, Russian official says
Moscow-appointed governor Vladimir Saldo in Ukraine's southern Kherson region says the region will officially accept both Russian rubles and Ukrainian hryvnyas, the Associated Press reported.
Saldo also said an office of a Russian bank will open in the region, the AP reported.
Kherson was the first city to fall fully under Russian control. A Russian official previously spoke of plans to request Russian President Vladimir Putin to annex the region and have it join the Russian Federation.
— Chelsea Ong
Turkey urges Sweden to alleviate its security concerns about the country's bid to join NATO
Turkey's President Recep Tayyip Erdogan called on Sweden to take "concrete steps" to ease Turkey's security concerns regarding Sweden's bid to join NATO, the Associated Press reported.
"We can in no way ignore the fact that Sweden is imposing sanctions against us," Erdogan said, according to the AP. "Turkey's rightful expectations concerning (an end to the) support to terrorism and sanctions must be met."
Turkey has said it opposes Sweden's application to join NATO, saying the country supports the Kurdistan Workers' Party, or the PKK – a Kurdish Marxist separatist movement that has been fighting Turkish forces on-and-off since the 1980s.
The PKK is classified as a terrorist organization by Turkey, as well as by the U.S., Canada, Australia and the European Union.
— Chelsea Ong
World Food Program chief presses billionaires 'to step up'
The head of the U.N.'s World Food Program is telling billionaires it's "time to step up" as the global threat of food insecurity rises with Russia's war in Ukraine, saying he's seen encouraging signs from some of the world's richest people, like Elon Musk and Jeff Bezos.
Agency Executive Director David Beasley built upon a social media back-and-forth he had with Musk last year, when the Tesla CEO challenged policy advocates to show how a $6 billion donation sought by the U.N. agency could solve world hunger.
Since then, "Musk put $6 billion into a foundation. But everybody thought it came to us, but we ain't gotten any of it yet. So I'm hopeful," Beasley told The Associated Press at the World Economic Forum in Davos, Switzerland, where some of the world's biggest elites and billionaires have gathered.
"I don't know what it's going to take," he said of Musk. "We're trying every angle, you know: Elon, we need your help, brother."
Musk and Bezos didn't immediately respond to emails or other messages seeking comment.
— Associated Press
EU will likely reach a Russia oil embargo deal 'within days,' German economy minister says
The European Union will likely agree to an embargo on Russian oil imports "within days", German Economy Minister Robert Habeck told broadcaster ZDF.
Habeck warned, however, that an embargo would not automatically weaken the Kremlin as rising prices were enabling it to rake in more income while selling lower volumes of oil.
Therefore, one consideration was to no longer pay "any price" for oil, but to agree on upper limits, he said. For that to work, however, many countries would have to get on board.
— Reuters
'Never have I been so ashamed of my country': Russian diplomat quits over Ukraine invasion
A Russian diplomat quit over his country's invasion of Ukraine, calling it "not only a crime against the Ukrainian people but also, perhaps, the most serious crime against the people of Russia."
"Never have I been so ashamed of my country as on Feb. 24 of this year," wrote Boris Bondarev, a counselor in Russia's mission to the United Nations in Geneva, in an email to other diplomats there.
"Those who conceived this war want only one thing — to remain in power forever, live in pompous tasteless palaces, sail on yachts comparable in tonnage and cost to the entire Russian navy, enjoying unlimited power and complete impunity," wrote Bondarev.
Bondarev wrote that during his 20 years in Russia's Foreign Ministry, "the level of lies and unprofessionalism" has increased, but in recent years "has become simply catastrophic."
"Today, the Ministry of Foreign Affairs is not about diplomacy. It is all about warmongering, lies and hatred."
— Dan Mangan
Read CNBC's previous live coverage here:
UN says 6.5 million Ukrainians have become refugees; Zelenskyy tells Davos the world is at a 'turning point'
Copyright CNBCs - CNBC