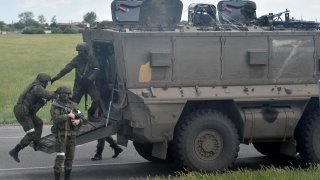 This has been CNBC's live blog covering updates on the war in Ukraine. [Follow the latest updates here.]
Russia pummels eastern towns in bid to encircle Ukraine forces
Russian forces stepped up their assault on the Ukrainian city of Sievierodonetsk on Saturday after claiming to have captured the nearby rail hub of Lyman, as Kyiv intensified its calls for longer-range weaponry from the West to help it fight back in the Donbas region.
Slow, solid Russian gains in recent days point to a subtle momentum shift in the war, now in its fourth month. The invading forces appear close to seizing all of the Luhansk region of Donbas, one of the more modest war goals the Kremlin set after abandoning its assault on Kyiv in the face of Ukrainian resistance.
Russia's defense ministry said on Saturday its troops and allied separatist forces were now in full control of Lyman, the site of a railway junction west of the Siverskyi Donets River in the Donetsk region that neighbors Luhansk.
However, Ukraine's deputy defense minister, Hanna Malyar, said the battle for Lyman continued, the ZN.ua website reported.
Sievierodonetsk, some 60 km (40 miles) from Lyman on the eastern side of the river and the largest Donbas city still held by Ukraine, was under heavy assault from the Russians.
"Sievierodonetsk is under constant enemy fire," Ukrainian police posted on social media on Saturday.
Russian artillery was also shelling the Lysychansk-Bakhmut road, which Russia must take to close a pincer movement and encircle Ukrainian forces.
"There was significant destruction in Lysychansk," the police said.
— Reuters
Pro-Moscow Kherson official sees decision 'towards next year' on joining Russia
A senior pro-Russian official in the occupied Ukrainian region of Kherson told Reuters on Saturday that nearby fighting could affect the timing of its formal bid to join Russia and a decision was likely "towards next year."
Kirill Stremousov, deputy head of the Russian-backed Kherson Military-Civilian Administration, also said in a video call that the process might involve a referendum, backtracking on previous comments that none would be needed.
Asked about the timetable for joining Russia, he replied: "It won't happen by autumn. We're preparing an administrative system and then towards next year we will see what the situation is like."
Stremousov told Russian state media on May 11 that Kherson, just north of Crimea and the only regional capital that Russia has captured in more than three months of fighting in Ukraine, would ask President Vladimir Putin to incorporate it into Russia by the end of 2022. He said at the time: "There will be no referendums."
In his interview with Reuters, however, he said there could be a vote.
"We'll announce later when some kind of vote or plebiscite is planned, but it won't be today and it won't be tomorrow because our first task is to restore order in the Kherson region," he said.
Ukrainian and Western intelligence agencies have since March predicted that Moscow would hold a referendum on incorporating Kherson into Russia, as it did after seizing Crimea in 2014.
Russia has said that the fate of the Kherson region is for local residents to decide. Ukraine has pledged to expel Russian forces from all the land they have seized.
A small-time local politician and anti-vaccine video blogger before the arrival of Russian troops, Stremousov, 45, has teamed up with pro-Russian former Kherson mayor Volodymyr Saldo, serving as his deputy in the region's Russian-appointed government.
Both Stremousov and Saldo are wanted for treason by Ukraine.
— Reuters
Putin says he's willing to discuss resuming Ukrainian grain shipments
Russian President Vladimir Putin told the leaders of France and Germany in a phone call on Saturday that Russia was willing to discuss ways to make it possible for Ukraine to resume shipments of grain from Black Sea ports, the Kremlin said.
Russia and Ukraine account for nearly a third of global wheat supplies, while Russia is also a key global fertilizer exporter and Ukraine is a major exporter of corn and sunflower oil.
"For its part, Russia is ready to help find options for the unhindered export of grain, including the export of Ukrainian grain from Black Sea ports," the Kremlin said.
It said he also informed French President Emmanuel Macron and German Chancellor Olaf Scholz that Russia was ready to increase its export of fertilizers and agricultural products if sanctions against it were lifted - a demand he has raised in conversations with the Italian and Austrian leaders in recent days.
Ukraine and Western countries have accused Russia of weaponizing the food crisis created by its invasion of Ukraine, which has sent the prices of grains, cooking oils, fuel and fertilizer soaring.
Russia has blamed the situation on Western sanctions against it, and on the mining of Ukrainian ports.
— Reuters
Putin says Kyiv is to blame for stalled talks in call with Macron, Scholz
Russian President Vladimir Putin held a call with French President Emmanuel Macron and German Chancellor Olaf Scholz.
The group discussed stalled negotiations between Russia and Ukraine, with the Kremlin saying Kyiv was to blame for the current impasse. Putin "confirmed the openness of the Russian side to the resumption of dialogue," Russia said in a read-out following the 80-minute call.
Scholz and Macron called on Putin "to engage in serious direct negotiations with the President of Ukraine and to find a diplomatic solution to the conflict," according to a read-out from the German Federal Government.
Putin also said the West delivering weapons to Ukraine could risk "further destabilization of the situation and the aggravation of the humanitarian crisis."
— Jessica Bursztynsky
Russia shows off Zircon hypersonic cruise missile in test-launch at sea
Russia successfully test-fired a hypersonic Zircon cruise missile over a distance of about 1,000 km (625 miles), the defense ministry said on Saturday.
The missile was fired from the Barents Sea and hit a target in the White Sea, it said. Video released by the ministry showed the missile being fired from a ship and blazing into the sky on a steep trajectory.
President Vladimir Putin has described the Zircon as part of a new generation of unrivaled arms systems. Hypersonic weapons can travel at nine times the speed of sound, and Russia has conducted previous test-launches of the Zircon from warships and submarines in the past year.
Russia's military has suffered heavy losses of men and equipment during its three-month invasion of Ukraine, which it calls a "special operation", but it has continued to stage high-profile weapons tests to remind the world of its prowess in missile technology.
Last month it test-launched a new nuclear-capable intercontinental missile, the Sarmat, capable of carrying 10 or more warheads and striking the United States.
— Reuters
Russia says eastern Ukraine town of Lyman is under its full control
Russia's defence ministry said on Saturday that the eastern Ukrainian town of Lyman had fallen under the full control of Russian and Russian-backed forces in the region.
Pro-Russian separatists from the self-proclaimed Donetsk People's Republic had said on Friday that they had fully captured the town, a railway hub west of Sievierodonetsk.
Ukraine said on Friday that Russia had captured most of Lyman but that its forces were blocking an advance to Sloviansk, a city 20 kilometres (12 miles) southwest.
Ukrainian and Russian forces have been fighting for Lyman for several days.
— Reuters
Images depict traces of Russia's onslaught over the last 24 hours
— Getty Images
Russian forces have likely captured most of the Ukrainian town of Lyman
Russian forces have likely captured most of the Ukrainian town of Lyman in the north of the Donetsk Oblast, according to the U.K. Defense Ministry. It is seen as likely to be a preliminary operation for the next stage of Russia's Donbas offensive.
"Lyman is strategically important because it is the site of a major railway junction, and also gives access to important rail and road bridges over the Siverskyy Donets River," the U.K. ministry said via Twitter.
"In the coming days, Russian units in the area are likely to prioritise forcing a crossing of the river. For now, Russia's main effort likely remains 40 km to the east, around the Sieverodonetsk pocket but a bridgehead near Lyman would give Russia an advantage in the potential next phase of the Donbas offensive, when it will likely seek to advance on key Ukrainian-held cities deeper in Donetsk Oblast, Sloviansk and Kramatorsk."
— Sam Meredith
Russian forces will struggle to advance rapidly in Severodonetsk, think tank says
Russian forces have begun direct assaults on built-up areas in Severodonetsk despite not yet having fully encircled the Ukrainian city, according to The Institute for the Study of War, a U.S.-based think tank.
In its latest daily assessment, the ISW said Russian forces were likely to struggle to take ground in Severodonetsk itself, citing a poor track record in operations in built-up areas in urban terrain throughout the war to date.
"Russian forces will likely continue to make incremental advances and may succeed in encircling Severodonetsk in the coming days, but Russian operations around Izyum remain stalled and Russian forces will likely be unable to increase the pace of their advances," the ISW said.
— Sam Meredith
Ukraine says Russian advances could force retreat in part of east
Ukrainian forces may have to retreat from their last pocket in the Luhansk region to avoid being captured, a Ukrainian official said, as Russian troops press an advance in the east that has shifted the momentum of the three-month-old war.
A withdrawal could bring Russian President Vladimir Putin closer to his goal of capturing eastern Ukraine's Luhansk and Donetsk regions in full. His troops have gained ground in the two areas collectively known as the Donbas while blasting some towns to wastelands.
Luhansk's governor, Serhiy Gaidai, said Russian troops had entered Sievierodonetsk, the largest Donbas city still held by Ukraine, after trying to trap Ukrainian forces there for days, though adding that Russian forces would not be able to capture the Luhansk region "as analysts have predicted".
"We will have enough strength and resources to defend ourselves. However, it is possible that in order not to be surrounded we will have to retreat," Gaidai said on Telegram.
Gaidai said 90% of buildings in Sievierodonetsk were damaged with 14 high-rises destroyed in the latest shelling.
— Reuters
Some 10,000 Russian troops estimated to be in Ukraine's Luhansk region
Luhansk regional governor Serhiy Gaidai has said there are approximately 10,000 Russian troops in Ukraine's eastern region.
"These are the [units] that are permanently in Luhansk region that are trying to assault and are attempting to make gains in any direction they can," Gaidai said on Ukrainian television.
CNBC was not able to independently verify this report.
— Sam Meredith
US wins latest legal battle to seize Russian yacht in Fiji
The United States won the latest round of a legal battle to seize a $325-million Russian-owned superyacht in Fiji, with the case now appearing headed for the Pacific nation's top court.
The case has highlighted the thorny legal ground the U.S. finds itself on as it tries to seize assets of Russian oligarchs around the world. Those intentions are welcomed by many governments and citizens who oppose the war in Ukraine, but some actions are raising questions about how far U.S. jurisdiction extends.
Fiji's Court of Appeal dismissed an appeal by Feizal Haniff, who represents the company that legally owns the superyacht Amadea. Haniff had argued the U.S. had no jurisdiction under Fiji's mutual assistance laws to seize the vessel, at least until a court sorted out who really owned the Amadea.
Haniff said he now plans to take the case to Fiji's Supreme Court and will apply for a court order to stop U.S. agents sailing the Amadea from Fiji before the appeal is heard.
As part of its ruling, the appeals court ordered that its judgment not take effect for seven days, presumably to give time for any appeals to be filed.
The U.S. argues that its investigation has found that behind various fronts, the Cayman Islands-flagged luxury yacht is really owned by the sanctioned Russian oligarch Suleiman Kerimov, an economist and former Russian politician.
— Associated Press
Read CNBC's previous live coverage here:
U.S. may send long-range rocket systems to Ukraine; Russia captures more villages in Donbas
Copyright CNBC