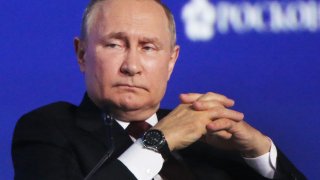 This was CNBC's live blog tracking developments on the war in Ukraine. See here for the latest updates. 
The Western military organization NATO has officially invited Sweden and Finland to join the alliance in a historic move on Wednesday. The development comes after the alliance reached a deal with Turkey to accept the membership bids from both countries after initial objections from Ankara.
The summit — arguably the most important meeting of the alliance in recent months, and perhaps years — has also seen the alliance reiterate its condemnation of Russia's invasion of Ukraine, pledge to beef up its defenses in Europe, and slam China as posing a "challenge" to its interests.
NATO's Secretary-General Jens Stoltenberg announced earlier in the week that the Western military organization would increase the number of troops within its rapid response force — which comprises land, air, sea and special forces units that are capable of being deployed quickly — to 300,000 from about 40,000 personnel.
Russia has issued an initial reaction to the NATO deal that allows its expansion to go ahead, roughly doubling the land border Russia will have to share with NATO members, with one official calling it "a purely destabilizing factor."
UK announces 1 billion pounds in military support to Ukraine
The U.K. will be providing an additional 1 billion pounds ($1.2 billion) in military support to Ukraine, Reuters said citing the British government.
The new funding will boost Ukraine's defense capability, including air defense systems, new electronic warfare equipment, and equipment for Ukrainian soldiers, the news agency said.
"UK weapons, equipment and training are transforming Ukraine's defences against this onslaught. And we will continue to stand squarely behind the Ukrainian people to ensure Putin fails in Ukraine," Prime Minister Boris Johnson said in a statement, according to Reuters.
This comes after Britain pledged a further 1.3 billion pounds ($1.6 billion) in military support and aid to Ukraine in May.
The UK also announced this month a new training program for Ukrainian forces with the potential to train up to 10,000 soldiers every 120 days.  
— Chelsea Ong
Russia has not shown meaningful attempt at diplomacy, Blinken says at NATO
Secretary of State Antony Blinken said that the U.S. has not seen meaningful Russian diplomacy in ending the war in Ukraine.
"We have not seen any interest on the part of Vladimir Putin in engaging in any kind of meaningful diplomatic initiative," Blinken said during the NATO Madrid Summit. "But in any event, as we've said from the start, it's really important that the Ukrainians define the terms of any potential negotiation," he added.
America's top diplomat said that the U.S. will continue to send security assistance to Ukraine in order to mitigate and repel Russian aggression.
"When a negotiating table eventually does emerge, which at some point it will, they [Ukraine] have the strongest possible hand to play at the negotiating table," he said.
— Amanda Macias
Putin says Russia will respond if NATO sets up infrastructure in Sweden and Finland
President Vladimir Putin said that Russia would respond in kind if NATO set up infrastructure in Finland and Sweden after they join the U.S.-led military alliance.
Putin was quoted by Russian news agencies as saying he could not rule out that tensions would emerge in Moscow's relations with Helsinki and Stockholm over their joining NATO.
Putin's comment came a day after NATO ally Turkey lifted its veto over Finland and Sweden's bid to join the alliance after the three nations agreed to protect each other's security.
— Reuters
'If Russia is not stopped in Ukraine, NATO will inevitably be drawn into the war,' Ukrainian official warns
Ukrainian official Andriy Yermak said that Russia will most likely push its war beyond Ukraine's borders into NATO-member territory, according to an NBC News translation.
"History has taught us that the aggressor's appetites grow with each concession," Yermak, the head of the office of Ukrainian President Volodymyr Zelenskyy, said on the Telegram messaging app.
"That is why the security of not only Europe but all of humanity is under threat. And we believe that if Russia is not stopped in Ukraine, NATO will inevitably be drawn into the war," he said, calling for more weapons and ammunition for Ukrainian forces.
"Russia is increasingly convinced that it cannot defeat Ukraine on the battlefield. That is why they increasingly resort to bloody terror and the killing of civilians and the destruction of civilian infrastructure," he added.
— Amanda Macias
Turkey optimistic about Ukraine grain exports
Turkish President Recep Tayyip Erdogan is expressing optimism that humanitarian corridors could be opened to enable the export of Ukrainian grain to the rest of the world amid Russia's war.
Tens of millions of people across the world are at risk of hunger as the four-month war has disrupted shipments of grain from Ukraine.
Speaking during a meeting with U.S. President Joe Biden on the margins of the NATO summit, Erdogan said, "We are trying to solve the process with a balancing policy. Our hope is that this balance policy will lead to results and allow us possibility to get grain to countries that are facing shortages right now through a corridor as soon as possible."
Turkey has played a central role in negotiations with Russia and Ukraine to try to reach an agreement that would allow for an increase of the amount of grain that can get out of Ukraine amid the conflict.
— Associated Press
Russia's imports drop more than 40% and car production is down by 60%, U.K. government says
The British government said that Russian imports have dropped more than 40% in the months after the Kremlin invaded Ukraine.
"Car production is also down by 60% and Russia's own Transport Minister has admitted that Russia's logistical infrastructure is now 'broken' as a result of sanctions," the British government wrote in a release on the effect of sanctions on Moscow.
To date, the United Kingdom has imposed sanctions on more than 1,000 people and on more than 120 businesses since the start of Russia's invasion. The British government added that stockpiles of vital imported manufacturing components "are likely to be depleted in the next three to six months."
"Nearly three-quarters of foreign companies have reduced operations in Russia, nearly a quarter of which have completely withdrawn," the British government wrote.
In the weeks since Russia invaded its ex-Soviet neighbor, the U.K., the U.S. and their allies have imposed rounds of coordinated sanctions that vaulted Russia past Iran and North Korea as the world's most-sanctioned country.
 — Amanda Macias
U.S. working with Turkey on F-16 deal, Biden administration official says
The U.S. will work with Turkey on modernizing Ankara's F-16 fighter jet fleet on the heels of a brokered deal to allow Finland and Sweden to join the NATO alliance, a senior Biden administration official said.
"The U.S. Department of Defense fully supports Turkey's modernization plans for its F-16 fleet. These plans are in the works. And, you know, they need to be worked through our contracting processes," Celeste Wallander, assistant secretary of Defense for international security affairs, told reporters on a call.
"The United States supports Turkey's modernization of its fighter fleet because that is a contribution to NATO security and therefore American security," she added.
Read more: NATO deal between Turkey, Sweden and Finland brings home wins for Erdogan — and a possible F-16 breakthrough
Previously, Turkish President Recep Tayyip Erdogan said he would not approve the NATO applications, citing Sweden and Finland's support for Kurdish organizations that Turkey considers security threats.
All 30 NATO members must approve a country's bid for it to be accepted into the alliance.
On Tuesday, NATO Secretary-General Jens Stoltenberg said that the world's most powerful military alliance reached a deal to admit the two countries.
— Amanda Macias
Biden thanks Erdogan for allowing Finland and Sweden to join NATO
U.S. President Joe Biden thanked Turkish President Recep Tayyip Erdogan for agreeing to allow Sweden and Finland into the NATO military alliance.
"I want to particularly thank you for what you did putting together with the situation with regard to Finland and Sweden and all the incredible work you're doing to try to get grain out of Ukraine, I was telling you, you're doing a great job. I want to thank you," Biden said alongside his Turkish counterpart.
Erdogan thanked Biden for renewed U.S. commitment to strengthening NATO and said the alliance will have to work together to resolve the mounting food crisis, Russian naval blockade of Ukraine's ports and issues related to oil and natural gas.
 — Amanda Macias
UK imposes sanctions on Russia's second-richest man
The British government imposed sanctions on billionaire Russian oligarch Vladimir Potanin, believed by the United Kingdom to be the second-richest man in Russia.
"Potanin continues to amass wealth as he supports [Russian President Vladimir] Putin's regime, acquiring Rosbank and shares in Tinkoff Bank in the period since Russia's invasion of Ukraine," the British government wrote in announcing the sanctions.
The British government also imposed sanctions on Anna Tsivileva, Putin's first cousin once removed and president of a prominent Russian coal mining company, JSC Kolmar Group. Her husband, Sergey Tsivilev, a local Russian governor, has also significantly benefitted from his relationship with Putin.
"As long as Putin continues his abhorrent assault on Ukraine, we will use sanctions to weaken the Russian war machine. Today's sanctions show that nothing and no one is off the table, including Putin's inner circle," a British government spokesperson wrote in a statement.
The new measures aim to prevent oligarchs from using U.K. trust services.
 — Amanda Macias
Separatist official says 144 prisoners swapped with Kyiv
The head of the self-proclaimed Donetsk People's Republic in eastern Ukraine said that it had carried out a prison exchange with Kyiv involving 144 fighters on each side.
"Today, we are returning home 144 fighters of the Donetsk People's Republic and the Russian Federation who were captured by the enemy," Denis Pushilin wrote on the Telegram messaging app. "We handed over to Kyiv the same number of prisoners from Ukrainian armed units, most of whom were wounded."
— Reuters
Pentagon's Austin reaffirms U.S. support to Ukrainian counterpart
U.S. Secretary of Defense Lloyd Austin spoke with Ukrainian Minister of Defense Oleksii Reznikov on the sidelines of the NATO Madrid summit, according to a Pentagon readout of the call.
Austin condemned Russia's recent missile strike on a shopping mall and offered his condolences to the families of the civilians killed.
"Secretary Austin provided an update on U.S. security assistance efforts and exchanged perspectives with Minister Reznikov on its impact on the battlefield. The leaders also discussed plans for the next Ukraine Defense Contact Group to be held virtually in July," according to a Pentagon readout of the call.
Austin and Reznikov agreed to remain in close contact.
 — Amanda Macias
Russian forces still beset by battlefield logistics issues, U.S. says
The National Security Council's John Kirby told MSNBC's "Morning Joe" that the Russian military is still beset by a slew of battlefield logistics problems as at least 50 countries ramp up support for Ukraine.
"The Russians for all the advantages that they have in terms of number still have not been able to overcome challenges to logistics, command and control, supply and unit cohesion," Kirby, a former Pentagon spokesman said.
"They are making some progress but it's not a lot. We are talking about kilometer by kilometer or street by street," he added.
Kirby's comments come as the NATO military alliance reached a deal to admit Finland and Sweden. Moscow, long wary of NATO expansion, has opposed the two nations' plans to join the alliance.
 — Amanda Macias
NATO welcomes Sweden and Finland to join and slams Russia ... and China
The Western military organization NATO has officially invited Sweden and Finland to join the alliance in a historic move on Wednesday.
NATO leaders, meeting in Madrid, have issued an official communique in which they said "the accession of Finland and Sweden will make them safer, NATO stronger, and the Euro-Atlantic area more secure," adding that the security of Finland and Sweden during the accession process is of "direct importance."
NATO reiterated that it condemned Russia's war of aggression against Ukraine in the strongest possible terms, calling it a "blatant violation of international law."
It added that "Russia's appalling cruelty has caused immense human suffering and massive displacements, disproportionately affecting women and children" and it blamed Moscow for intentionally exacerbating "a food and energy crisis, affecting billions of people around the world, including through its military actions."
The alliance also described China as being among those countries that, it said, "challenge our interests, security, and values and seek to undermine the rules-based international order."
NATO has announced that it will beef up its deterrence and defense assets, particularly in the Baltic states and eastern Europe. In its statement, it said "we will build on our newly enhanced posture, and significantly strengthen our deterrence and defence for the long term to ensure the security and defence of all Allies.  We will do so in line with our 360-degree approach, across the land, air, maritime, cyber, and space domains, and against all threats and challenges."  
Read the whole NATO communique here.
— Holly Ellyatt
Ukraine's first lady likens herself to a cupboard in a bombed-out building: 'We're holding on'
Ukraine's first lady Olena Zelenska has said she, like many Ukrainians, are holding out for life to return to some kind of normality in future and that she barely gets to see her husband, President Volodymyr Zelenskyy, since he was thrust into the unenviable position of wartime leader following Russia's brutal invasion.
"Fortunately those two months when I didn't see my husband at all, that's in the past, I can see him sometimes for a short time and not very often, but I can physically feel him next to me," Zelenska told CNN's Christiane Amanpour in an interview for the "New Day" show airing Wednesday.
"This isn't normal, it's not a normal relationship when children cannot see their father and have to talk to him on the phone. So our relationship is on pause just as it is for many — well, all Ukrainians."
She said her family, like millions of others "are waiting to be reunited, to be together again, to spend evenings, to have dinner together, to talk to the children about their things ... but we're hanging on."
Zelenska likened herself to a cupboard that was pictured still standing in a bombed-out building in Borodyanka, a settlement northwest of Kyiv. The image went viral, seen by many as a symbol ofUkrainians' resilience in the face of Russia's invasion.
"I like this image, we're holding on just like that cupboard in Borodyanka where the occupiers bombed all the buildings there and we saw this photo of one of the buildings and there was a wardrobe or a cupboard there that stood undamaged. So we are holding on ... I'm like that cupboard in Borodyanka," she said.
— Holly Ellyatt
Next year the situation could be worse for Ukraine — and some NATO countries, Zelenskyy says
Ukraine's President Zelenskyy issued a stark warning to the country's NATO allies, saying that the situation in his country could deteriorate and that hostilities could spread beyond Ukraine's borders.
"Next year the situation may be worse not only for Ukraine but also for several other countries, possibly NATO members, that may be under fire from Russia. Then it will be our common failure — both for Ukraine and for NATO," Zelenskyy said in a video address to the NATO summit currently taking place in Madrid.
"Please, look at our state — this is what it all can lead to in your countries," he said, arguing that Russia's tactics are very simple: "They destroy everything — houses, shopping malls, schools, hospitals. More than 2,800 missiles since February 24, and the vast majority on civilian targets," he said.
Zelenskyy posed the question to NATO leaders as to who's next for Russia: "Moldova? Or the Baltic countries? Or Poland? Answer: all of them," the president warned.
Ukraine's leader reiterated his call for more weaponry and modern missile and air defense systems, as well as financial aid and more sanctions on Moscow, and said there was an urgent need to break Russia's artillery advantage in the war that has allowed it to gain ground in eastern Ukraine.
"This is not a war of Russia only against Ukraine, this is a war for the right to dictate conditions in Europe. For what the future world order will be like," Zelenskyy said.
— Holly Ellyatt
Pope Francis deplores 'crazy war' and 'barbarous' shopping mall strike
Pope Francis has again called for an end to what he called the "crazy war" in Ukraine.
"Every day I carry in my heart the people in Ukraine who continue to be tormented by barbaric attacks such as the one that struck the Kremenchuk shopping center," the Pope told worshippers in Rome on Wednesday.
At least 20 people were killed on Monday in the strike on the Amstor shopping center in central Ukraine. Russia was accused of carrying out another war crime after the strike. Moscow denied it had targeted civilian infrastructure and falsely accused Ukraine of staging a "provocation."
Pope Francis said today he prays "this crazy war will soon end" and that the "paths of dialog" might soon open.
The G-7 called the strike a Russian war crime, while Ukrainian President Volodymyr Zelenskyy accused Russia of directly targeting civilians.
—Holly Ellyatt
Russia reacts to NATO expansion deal, calling it 'destabilizing'
Russia gave an initial reaction to the news that NATO reached a deal to admit Sweden and Finland to the alliance, after Turkey dropped its opposition to the expansion.
"We consider the expansion of NATO a purely destabilizing factor in international affairs," Russian Deputy Foreign Minister Sergei Ryabkov said, according to a report by Ria Novosti, a Russian state news agency.
Restating Moscow's "negative" view of the expansion, Ryabkov said it "does not add security" to either the prospective members nor the alliance as a whole, "nor to other countries that perceive the alliance as a threat," Ryabkov added.
The deputy minister said the enlargement continued what Moscow sees as NATO's "aggressive containment" strategy when it comes to Russia.
"We understand NATO's rhetoric. A new strategic concept will be adopted, where Russia is going to be called a threat to the alliance. This has nothing to do with real life. It is the alliance that poses a threat to us," Ryabkov said. 
"But we will do everything to ensure that our security and the security of our allies is ensured under any conditions, regardless of any expansionary waves, regardless of any agreements that could be reached on the eve of the Madrid summit between Ankara and Stockholm and Helsinki, in other formats," he said.
Ryabkov's comments come after the foreign ministers of Finland, Sweden and Turkey signed a memorandum on Tuesday to confirm that Ankara will back the Scandinavian countries' NATO bids during a summit in Madrid this week.
The move was widely anticipated as one that would anger Moscow as it roughly doubles the land borders that Russia will have with NATO countries. Finland and Sweden both said that Russia's invasion of Ukraine had changed the dial on membership and had reversed the rationale for their historically non-aligned statuses.
Russia has previously slammed the prospect of Finland — with whom it shares a 830 mile-long border —joining NATO, claiming it would "be forced" to retaliate if the long-neutral country joined the military alliance.
"Finland joining NATO is a radical change in the country's foreign policy," the Russian Foreign Ministry said in a statement in May. "Russia will be forced to take retaliatory steps, both of a military-technical and other nature, in order to stop threats to its national security arising."
— Holly Ellyatt
Russia's shortage of modern, precise strike missiles likely to cause more civilian deaths, UK says
Russia's shortage of more modern precision strike weapons and the professional shortcomings of their targeting planners will highly likely result in further civilian casualties like those caused by Russia's deadly strike on a Ukrainian shopping mall on Monday, the U.K. said on Wednesday.
The U.K.'s defense ministry said in its latest intelligence update that while there was a "realistic possibility" that Russia was targeting some kind of infrastructure target in the strike, it was not the first time that its targeting had been inaccurate, nor was it likely to be the last.
"Russia's inaccuracy in conducting long range strikes has previously resulted in mass civilian casualty incidents, including at Kramatorsk railway station on 9 April 2022," the ministry said on Twitter.
"Russian planners highly likely remain willing to accept a high level of collateral damage when they perceive military necessity in striking a target," it added, noting that "it is almost certain that Russia will continue to conduct strikes in an effort to interdict the resupplying of Ukrainian frontline forces."
The strike on the Amstor shopping mall in the Poltava province in central Ukraine on Monday killed at least 20 people and injured many others. Ukraine released footage of the strike last night:
It was decried as a war crime by the G-7 leaders who met earlier this week as the strike took place, but Russia said it was aiming at a nearby depot which is said contained Western arms given to Ukraine.
Ukrainian officials believe a Kh-22 missile was used in the strike although this has not been independently confirmed. Kh-22s are Soviet-era, long-range, anti-ship missiles that were first used in the 1960s. Military experts believe Russian forces could be turning to older, less accurate missiles as its stockpile of more modern ones runs low.
– Holly Ellyatt
Ukraine releases dramatic footage of shopping mall strike
Ukraine's government has released footage showing the missile that hit the Amstor shopping mall in the city of Kremenchuk in central Ukraine on Monday, a strike that killed at least 20 people and injured 59 others.
The video, which shows CCTV footage from a machinery plant near the mall on Monday, was shown in Ukraine's President Zelenskyy nightly address on Tuesday, and posted on Facebook.
CNBC has not been able to independently verify that the missile is a Kh-22 as stated in the tweet, and has been stated by several Ukrainian officials.
Kh-22 missiles are large, long-range anti-ship missiles that were developed by the Soviet Union and first used in the early 1960s, intended for use against U.S. Navy aircraft carriers in the Cold War.
The strike on the shopping mall was condemned as a war crime by Western leaders. For its part, Russia said it was targeting a depot of weapons donated by the U.S. and Europe that it said was located near the mall, a claim dismissed by Ukraine.
– Holly Ellyatt
At least 4,731 civilians have been killed in Ukraine during war, UNHCR says
At least 4,731 civilians have been killed since the beginning of Russia's invasion of Ukraine, though the actual figure is likely to be far higher given the difficult nature of gathering accurate data during periods of war.
Matilda Bogner, head of the U.N. Human Rights Monitoring Mission in Ukraine, said on Wednesday morning at a presentation on the human rights situation in the country that "civilians continue to bear the brunt of hostilities" in Ukraine.
Bogner said more than 10,000 people have been officially documented as being killed or injured, including several hundred children, between the start of the conflict on Feb. 24 and May 15. The data is largely based on field visits and interviews with victims and witnesses of human rights violations.
"I stress that the actual figures are considerably higher," she added.
Russia attacks on civilian infrastructure, from homes to educational and places of worship, did not comply with international humanitarian law, Bognor said. On a much lower scale, it also appears that Ukrainian armed forces did not comply with the law in eastern parts of the country, she added.
— Holly Ellyatt
What to expect from this NATO summit, and what's already happened
The NATO summit taking place in Madrid will be a historic one, its Secretary General Jens Stoltenberg said Wednesday, with a deal on the table to admit new members and a proposal of a new "strategic concept" which would be a blueprint to, he said, "take NATO into the future in a more competitive and dangerous world."
With the alliance set to shift its defenses, Stoltenberg said the summit would be a "historic and transformative" for the alliance.
NATO has already reached a deal to allow Sweden and Finland to join the alliance after Turkey dropped its opposition to the bid. It has also already announced that it will massively increase its rapid response force to 300,000, up from a current level of around 40,000 troops.
As he spoke to the press after arriving at the summit Wednesday, CNBC's Hadley Gamble asked Stoltenberg about the timeline and structure of those additional troops.
"I expect them to be available and ready next year, that's the plan. Those forces will be paid for and organized by the different allied NATO countries," he noted, and would then be pre-assigned to specific NATO territories, most in the eastern part of the alliance, where they would train and become experienced with that terrain.
Pre-positioned heavy equipment and pre-assigned forces in certain countries would allow NATO to strengthen its deterrents and defenses, Stoltenberg said.
— Holly Ellyatt
'Russian terror' responsible for the deaths of many innocent Ukrainian civilians, Zelenskyy says
Ukrainian President Voldymyr Zelenskyy has said Russia is responsible for "state terrorism" in Ukraine, with over 2,800 Russian missiles having hit its cities so far during the war.
In his latest address overnight, Zelenskyy said he had taken part in a special meeting of the U.N. Security Council, convened at the request of Ukraine on Tuesday, in order to "take advantage of all international levers to bring Russia to justice for state terrorism."
"For everything done by the Russian army against Ukrainians in Kremenchuk, in Ochakiv, in Lysychansk, in Kharkiv, in Dnipro, in many, many other cities of Ukraine. As of this evening, the total number of Russian missiles that have hit our cities is already 2,811. And there are many more air bombs, many artillery shells," he said.
The president noted that the U.N. Security Council today stood in silence to commemorate all Ukrainians killed by the Russian army so far during the conflict, noting that "the members of the Russian delegation looked at everyone present in the Security Council and also decided to stand up ... but everyone knows that it is Russian terror, it is the Russian state that is killing innocent people in this war waged against the Ukrainian people."
Russia has again been accused of war crimes after a Russian missile hit a shopping mall in Kremenchuk in central Ukraine. The strike killed at least 20 civilians shopping in the building and injured at least 59 people, with others still missing. Ukraine's interior minister said yesterday that there were no survivors under the rubble because of the fire that spread through the building after the missile strike.
Russia has repeatedly denied that it has targeted civilians or civilian infrastructure despite multiple instances refuting those claims. It has also spread falsehoods and disinformation about such attacks; on Tuesday, Russia said it was targeting a depot of weapons donated by the U.S. and Europe near the mall, a claim dismissed by Ukraine.
— Holly Ellyatt
'We are in a hybrid war,' German foreign minister says
Germany's Foreign Minister Annalena Baerbock has described the situation the country faces as a "hybrid war," with the conflict in Ukraine having deep implications for the energy landscape in Europe, and Germany having to put plans in place in case its gas supplies — which are supplied via Nord Stream 1 from Russia to Germany — are cut by Moscow.
"We are faced now in Germany with the question now that if there's no gas coming through Nord Stream 1 ... we have to decide which institution may be cut off the grid," Baerbock told CNBC's Hadley Gamble on Tuesday.
"We are in a time of war, in Ukraine people are dying, but we are in a hybrid war where the war is also being done [fought] by energy," Baerbock said.
Germany is particularly reliant on Russian gas supplies via its Nord Stream 1 pipeline. Before the war, there were plans for this supply to be doubled with a second pipeline, Nord Stream 2, despite misgivings about the pipeline from the United States, Ukraine and other countries in eastern Europe, particularly Poland.
The giant energy infrastructure project, while fully built and ready to function, has been put on ice — perhaps permanently — because of Russia's invasion of Ukraine.
— Holly Ellyatt
NATO strikes a deal with Turkey to allow Sweden and Finland to join
NATO Secretary-General Jens Stoltenberg said that the world's most powerful military alliance reached a deal to admit Sweden and Finland after resolving the concerns of holdout Turkey.
The push to add Sweden and Finland to the world's most powerful military alliance comes as Russia's assault on Ukraine amplifies fears of other countries in the region. Moscow, long wary of NATO expansion, has opposed the two nations' plans to join the alliance.
Both Finland and Sweden already meet many of the requirements to be NATO members. Some of the requirements include having a functioning democratic political system, a willingness to provide economic transparency and the ability to make military contributions to NATO missions.
However, all 30 NATO members must approve a country's bid for it to be accepted into the alliance.
— Amanda Macias
Satellite image shows destruction of shopping mall in Ukraine
A satellite image by Planet Labs shows the destruction of a shopping mall in Kremenchuk, Ukraine.
On Monday, Ukrainian President Volodymyr Zelenskyy said on the Telegram messaging platform that more than 1,000 people were inside at the time of the Russian rocket attack, according to an NBC News report.
"This is not an off-target missile strike, this is a calculated Russian strike — exactly at this shopping mall," Zelenskyy said in his evening address.
G-7 leaders condemned the Russian missile strike and pledged to hold "Russian President Putin and those responsible" to account.
The Kremlin has previously denied that it targets civilians.
— Amanda Macias
Europe needs 'contingency plans' in case Russia cuts gas supplies altogether
Italian Prime Minister Mario Draghi said the EU's stocks of gas are increasing as the bloc looks to other suppliers aside from Russia, but added that the region must have contingency plans in case Russia cuts its supplies.
"There will have to be — particularly if Russia decides to cut supply altogether — contingency plans but [gas] stocks are increasing nicely. We've reached a good level of stocks ... and if we complete the stocks we are able to manage this transition to the time when we will be completely independent from Russian gas," he told CNBC's Steve Sedgwick at a press conference.
Draghi said Europe had implemented measures to tackle the economic fallout of the conflict including diversifying its suppliers and investing in renewable forms of energy.
"We went all over [for other suppliers], and we've replaced a good deal of the Russia gas," he said, noting that 40% of the EU's gas supplies came from Russia last year, whereas now it was down to 25%.
A recession in Europe on account of the war in Ukraine is not an immediate forecast, Draghi also noted, saying: "For the time being, the economy of the euro area is slowing down but we don't foresee a recession now. The Italian economy is actually going better than we expected a couple of months ago."
— Holly Ellyatt
Read CNBC's previous live coverage here:
NATO strikes deal with Turkey to admit Sweden and Finland; Key G-7 countries ban Russian gold imports
Copyright CNBCs - CNBC