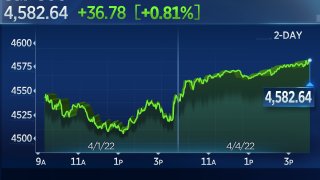 Stocks gained on Monday as traders shook off recession fears and bought technology shares that were beaten up in the first quarter.
The Dow Jones Industrial Average traded 103.61 points, or 0.3%, higher to close at 34,921.88 and the S&P 500 gained 0.81% to 4,582.64 with both benchmarks gaining for a second session in a row.
But the Nasdaq Composite was the big outperformer, advancing 1.9% to 14,532.55. The tech-heavy index was once in bear market territory earlier in the year but has clawed its way back to be down just about 10% from its previous record.
Tech shares, which were among the hardest-hit sectors in the first quarter, rose on Monday after one social media stock got a major endorsement from a notable entrepreneur and investor in Elon Musk.
Twitter shares surged more than 27% following news that Musk purchased a 9.2% passive stake in the company. It was the biggest pop in Twitter's history since its IPO as investors speculated Musk's move could lead to a buyout or other major changes, even if the stake is passive.
Musk's main stock also had a big day with Tesla shares gaining 5.6% on the back of its latest quarterly electric vehicle delivery figures on Saturday, which came in above the year-earlier period.
Technology companies including Apple, Amazon, Alphabet and Nvidia were also up more than 2%. U.S.-listed Chinese tech stocks, including Alibaba and JD.com, also rallied.
"Again, because tech really took it on the chin in the first quarter, it ends up being sort of a relief rally for tech at this point, as well as for the other growth-oriented sectors," said Sam Stovall, CFRA chief investment strategist. "The Nasdaq is obviously leading the way ... really because there's not a lot of new news to put additional pressure on the Nasdaq."
Investors shook off some lingering concerns as they bought tech shares. A key section of the yield curve remained inverted after the 2-year and 10-year Treasury yields shifted for the first time since 2019 Thursday evening. The 5-year note yield is also trading above its 30-year counterpart.
"It likely means that the shot clock to a potential recession has started," said Ryan Detrick of LPL Financial. "The good news, historically it can take upwards of a couple of years potentially for a recession to actually take hold."
Meanwhile, oil also moved higher with WTI crude jumping more than 4% and back above $100 a barrel, while Brent crude rose about 3%, further raising investor concerns about a possible recession.
Oil's gains came as investors continue to monitor developments in Ukraine. German Chancellor Olaf Scholz said Sunday that Western nations will impose additional sanctions on Russia in the coming days.
"Equity and bond markets continued to send conflicting signals about the economic outlook," UBS said in a recent note to clients. "We caution against over-interpreting either signal. Yield curve inversions have historically predicted recessions with a long and uncertain lag, while hopes over cease-fire talks have ebbed and flowed," the firm added.
Shares of Starbucks dipped 3.7% after the coffee chain suspended its share buyback program.
Wall Street has entered a seasonally strong period, with April typically being one of the best months for stocks.
According to data from MKM Partners' JC O'Hara, the S&P 500 has averaged a gain of 2.41% in April over the last 20 years. The data also shows that the S&P 500 has posted an April gain in 16 of the last 17 years.
Copyright CNBC