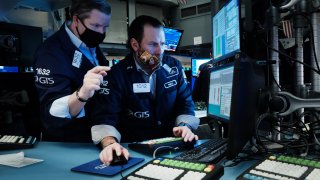 Treasury yields rose on Thursday, ahead of the long holiday weekend, as investors assessed the omicron threat.
The yield on the benchmark 10-year Treasury note rose 4 basis points to 1.498% at around 4:00 p.m. ET, while the yield on the 30-year Treasury bond ticked up 5.4 basis points to 1.911%. Yields move inversely to prices and 1 basis point is equal to 0.01%.
Bond markets are closed on Friday, Dec. 24 for the Christmas holiday.
Investors are taking encouragement from some positive news on the omicron Covid variant. A study from South Africa, published Tuesday, indicated that people infected with the omicron coronavirus variant were 80% less likely to be admitted to hospital than if they contracted other strains.
Elsewhere, studies from Scotland and England appear to back up the South Africa findings.
Meanwhile, the FDA authorized Pfizer's Covid treatment pill on Wednesday — making it the first oral antiviral drug cleared since the start of the pandemic.
Thursday's slew of economic data showed a stable economy with improving labor and spending trends, but inflation at high levels.
Jobless claims for the week ended December 18 came in roughly as expected at 205,000. Durable goods for November rose 2.5%, compared to the 1.5% Dow Jones estimate. Personal income and spending showed increases for November.
But on the inflation side, the Federal Reserve's closely watched core personal consumption expenditures index rose 0.6% in November from the month prior. Core PCE rose 4.7% year-over-year in November, higher than the 4.5% rate expected.
Auctions are slated to be held for 4-week and 8-week bills.
— CNBC's Tanaya Macheel contributed to this report.
Copyright CNBC