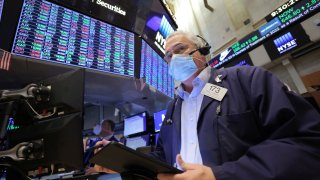 The U.S. 10-year Treasury yield finished 2021 above the 1.5% threshold in a year marked by the Covid pandemic and Federal Reserve policy.
The bond market closed at 2:00 p.m. ET on Friday for the New Year's Eve holiday.
The yield on the benchmark 10-year Treasury note was little changed at 1.512%. The yield on the 30-year Treasury bond dipped 2 basis points to 1.905%. Yields move inversely to prices and 1 basis point is equal to 0.01%.
The 10-year yield started the year at 0.91%. The yield hit a high of 1.776% in March.
"It's certainly been a roller coaster year," said Kathy Jones, Charles Schwab's chief fixed-income strategist.
The Covid-19 pandemic had the greatest influence on the bond market in 2021, according to Jones.
"Covid led to the fiscal and monetary policy responses and all of the volatility we saw in the economic data. That was the big story in the market," Jones said.
Treasury yields have moved throughout the year amid concerns about inflation and as the Federal Reserve eases off its pandemic-era easy monetary policy.
The central bank in January plans to accelerate the reduction of its monthly bond purchases. The Fed then expects to start raising interest rates after tapering concludes.
Many market strategists expect Treasury yields to creep higher in 2022.
"We expect interest rates to move modestly higher in 2022 based on near-term inflation expectations above historical trends and improving growth expectations once the impact of COVID-19 variants recede," said Lawrence Gillum, fixed income strategist for LPL Financial. "Our year-end 2022 forecast for the 10-year Treasury yield is 1.75–2.00%."
Copyright CNBC