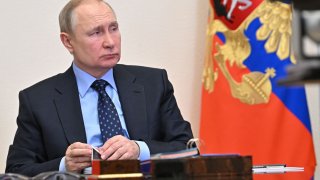 This has been CNBC's live blog tracking Sunday's developments in Russia's attack on Ukraine. Follow the latest updates here.
Russian President Vladimir Putin put his country's nuclear deterrence forces on high alert Sunday amid a growing global backlash against Russia's invasion of Ukraine. Despite the escalation, Ukraine's Defense Ministry said representatives for Ukraine and Russia have agreed to meet on the Ukraine-Belarus border "with no preconditions."
Meanwhile, the Russian advance into Ukraine continues. Russian military vehicles entered Ukraine's second-largest city Kharkiv with reports of fighting taking place and residents being warned to stay in shelters.
The capital of Kyiv remained under Ukrainian control, with a key official in Kyiv's city administration asserting that "the capital is completely controlled by the Ukrainian army and defense."
Here are links to additional CNBC coverage of the Russian invasion of Ukraine:
Ukraine general says Kyiv defenders inflict 'significant personnel losses' on Russian troops
Alexander Syrsky, the Ukrainian general in command of Kyiv's defense, said in a Facebook post that the "situation is under control" in the capital.
Syrsky's statement is corroborated by the most recent updates from U.S. Department of Defense and U.K. Defence Ministry.
"All attempts by the Russian Occupation Forces to achieve their goal failed. Convoys of occupiers' equipment were destroyed," he said, according to an NBC News translation.
"The enemy suffered significant personnel losses. Russian troops are demoralized and exhausted," Syrsky said. "We have shown that we know how to protect our home from uninvited guests."
Individual military accounts are difficult to confirm as much of Ukraine remains inaccessible and the situation on the ground shifts constantly.
—Ted Kemp
Support for Putin could wane if sanctions hit his inner circle hard, says analyst
Public support for Russian President Vladimir Putin will wane if people "wake up tomorrow or today and they see suddenly that their savings are worth a quarter of what they were on Friday. That has an impact," said Douglas Rediker, a nonresident senior fellow at Brookings Institute. 
Western nations could roll out further sanctions targeting the Russian leader's inner circle, such as the oligarchs, which could undermine his grip on power, said Rediker.
If the oligarchs are "never going to see their yachts" again or "never going to be able to go to that mansion"  — that potentially has "a chilling effect on their lives, their wealth accumulation, and their support for Putin," he noted. 
"I think you're certainly going to see more granularity than what was announced over the past seven years," he told CNBC's "Squawk Box Asia" on Monday. 
"You are going to see the list of banks that are included in the SWIFT sanctions protocol. You're going to see oligarchs that are named. I would look for some high-profile seizures of mansions and yachts and jets in the coming days," he added.
The U.S., European allies and Canada agreed Saturday to remove key Russian banks from the interbank messaging system, SWIFT, which serves as an internal messaging system between more than 11,000 banks and financial institutions in over 200 countries and territories. The move is an extraordinary step that will sever the country from much of the global financial system.
— Sumathi Bala
Zelenskyy is trying to 'play the long game' as Ukraine defends Kyiv, security expert says
Russia's invasion of Ukraine is a "race against time," said Fabrice Pothier of Rasmussen Global.
While Putin is trying to take Kyiv in order to dictate the terms of "surrender, territorial grab, and the kind of regime he would like to see", Pothier said Ukraine's Zelenskyy is trying to "play the long game."
The Ukrainian president is trying to delay Russia's takeover of Kyiv as much as possible in order to garner international support and possibly even military aid, explained Pothier, who is chief strategy officer of Rasmussen Global.
"I think the talks [between Russia and Ukraine] are more about also Zelenskyy showing that he's not giving up on diplomacy, even though he is very much focused on fighting back," he told CNBC's "Squawk Box Asia."
"We're still very much in a military competition," he said. "The question is, who is going to control time here?"
— Chelsea Ong
Ukraine defenders turn back Russian attacks at Kyiv, Kharkiv, Kherson
More than four days into Russia's invasion of Ukraine, the smaller country's defenders continue to frustrate Russian attempts on its major cities.
"Russian forces are continuing to advance into Ukraine from multiple axis but are continuing to be met with stiff resistance from the Ukrainian Armed Forces," the U.K. Defence ministry said.
Ukraine retains control of capital Kyiv and its second-biggest city, Kharkiv, despite heavy fighting, according to the latest intelligence update from the ministry, and others.
Ukrainian defenders also maintain their hold on Kherson, a third major city targeted by Moscow planners, a senior U.S. Defense official said Sunday on condition of anonymity.
Russian advances are being slowed by "fuel and logistics shortages, especially in Kharkiv, but also on the advance to Kyiv," the U.S. Defense official said.
Meanwhile, Europe and the United States show unified opposition to Vladimir Putin's designs on Ukraine, announcing economic sanctions and weapons shipments.
"Mr. Putin says he doesn't want a strong NATO on his western flank," said U.S. Secretary of Defense Lloyd Austin in a statement from the Pentagon on Sunday night ET. "He's getting exactly that."
—Ted Kemp
Google temporarily disables some Google Maps features
Google said it temporarily disabled some Google Maps features that provide live information.
Last week, a professor spotted a traffic jam on Google Maps at 3:15 a.m. local time on the road from Belgorod, Russia to the Ukrainian border. That observation came hours before news broke that Moscow had begun its assault.
Google said it disabled the traffic layer which displays real-time traffic conditions overlaid on top of the map. It said, however, traffic data is still available in navigation.
The company also said it disabled its "Live Busyness" feature which is typically used to determine how busy restaurants and shops are.
— Christine Wang
Olam International CEO says invasion will spur delays, disruptions for soft commodity supply chains
Russia's invasion of Ukraine will delay and disrupt soft commodity supply chains in Eastern Europe in the near term, said Sunny George Verghese, co-founder and group CEO of Olam International.
Ukraine and Russia's Azov Sea ports are closed and the countries account for 29% of the global wheat market, Verghese told CNBC's "Squawk Box Asia" on Monday.
He said, however, sanctions meant to pummel Russia are unlikely to include food as those measures could hurt the common man.
— Chelsea Ong
Dow futures open sharply lower amid uncertainty over the global economic fallout of Russia's attack on Ukraine
U.S. stock futures tumbled in overnight trading on Sunday amid jitters over the global economic fallout of Russia's attack on Ukraine.
Dow futures opened down more than 500 points before recovering a bit, while the S&P 500 futures sank 2.3% and Nasdaq 100 futures dropped 2.7%.
The losses came on top of volatile trading last week, as geopolitical tensions escalated and calls for harsh sanctions on Russia added to the uncertainty. Early Thursday local time, Moscow launched military action in Ukraine.
All eyes were also on the Russian ruble, which was set to plunge at least 19% as banks offered it at around 100 rubles per dollar on Sunday, according to Reuters. It closed Friday at 84 rubles per dollar.
—Terri Cullen
Ukrainian servicemen at a checkpoint in the city of Zhytomyr
As Russia advances, Ukrainian servicemen stand guard at a check point in the city of Zhtomyr.
Photo made by Reuters' Viacheslav Ratynskyi.
—Adam Jeffery
Ukrainian refugees cross border into Medyka, Poland
CNBC's Steve Sedgwick reports from Medyka, just a few hundred yards from the Ukraine-Poland border. Support mechanisms are being put in place for those fleeing the violence in the Ukraine-Russia war.
As the severity of the fighting in Ukraine intensifies, there are fears that an exodus from the war being measured, at the moment, in the thousands could tragically be measured in the millions within the coming days.
—Matt Clinch
Ukraine files genocide case against Russia with UN's top court
The U.N.'s top court confirmed Sunday that Ukraine has filed a case against Russia, accusing Moscow of planning acts of genocide against the nation.
Ukraine is asking the International Court of Justice, located in The Hague, to order "provisional measures" to halt Russia's invasion on the Eastern European nation. Ukraine is also seeking reparations from Russia, the court said.
Ukraine's case said Russia launched its attack based on false pretenses that the country was committing its own acts of genocide in the Luhansk and Donetsk regions of eastern Ukraine.
"Ukraine 'emphatically denies' that such genocide has occurred and states that it submitted the application 'to establish that Russia has no lawful basis to take action in and against Ukraine for the purpose of preventing and punishing any purported genocide,'" the court said in a press release.
It was not immediately clear when the case would be heard.
—Jessica Bursztynsky
Football teams across Europe stand with Ukraine
Teams from across football wear jerseys in support of Ukraine.
—Adam Jeffery
Kyiv mayor says city is 'encircled'
Kyiv is surrounded by Russian forces, Mayor Vitali Klitschko told the Associated Press on Sunday.
Asked by the news outlet if the Ukrainian capital planned to evacuate civilians if Russian troops took over, Klitschko said it wasn't possible.
"We can't do that, because all ways are blocked," he said. "Right now we are encircled."
So far, Ukrainian troops and citizens have withstood Russian force. The advance on the city has also occurred much slower than many experts had anticipated.
"We do assess that there is greater resistance by the Ukrainians than the Russians expected," a senior United States defense official told NBC News last week. "They are fighting for their country."
Nine civilians in Kyiv had been killed so far, including one child, the AP reported.
—Jessica Bursztynsky
BP exits its nearly 20% Rosneft stake, citing war
British energy giant BP said it was offloading its 19.75% stake in Rosneft, a Russian-controlled oil company. BP CEO Bernard Looney and former exec Bob Dudley are also resigning from Rosneft's board, effective immediately.
BP has worked in Russia for more than 30 years, but the Russian invasion of Ukraine led the company to reevaluate its stake.
"This military action represents a fundamental change," BP chair Helge Lund said in a statement. "It has led the BP board to conclude, after a thorough process, that our involvement with Rosneft, a state-owned enterprise, simply cannot continue."
As a result of offloading its stake, BP said it expects to report a material non-cash charge with its first-quarter 2022 results in May.
—Jessica Bursztynsky
Zelenskyy and a senior aide mark their 85th hour of resistance
Ukrainian President Volodymyr Zelenskyy and the country's defense minister, Oleksii Reznikov, marked the 85th hour of Ukraine's armed resistance to Russia's invasion on Sunday with a social media post that was notable for its relaxed portrayal of two leaders of a country at war.
The photo of Zelenskyy and Reznikov appears to have been taken on Sunday, suggesting the two men were together at some point in the day.
This latest image of Zelenskyy came as Russian troops amassed 15 miles outside of Kyiv, preparing what U.S. officials said was almost certainly a large-scale assault on the capital.
Zelenskyy's continued presence on social media and his refusal to flee Ukraine have taken on a heroic quality as tens of thousands of Russian troops advance on his country.
Zelenskyy's heroism has been burnished by the fact that U.S. intelligence indicates Russian troops would arrest or even assassinate him if they could locate him.
Sunday's casual selfie of Zelenskyy also offered a stark visual contrast to a newly released photo of Russian President Vladimir Putin, taken on the same day.
Putin met Sunday with his defense minister, Sergei Shoigu. An official photo of the meeting showed the two men seated at opposite ends of a 30 foot-long table.
—Christina Wilkie
Volunteers prepare Molotov cocktails to repel Russian advances on the fourth day of fighting
Local volunteers in Dnipro and Pravda prepare Molotov cocktails to combat Russia's advance into Ukraine.
—Adam Jeffery
Convoy of pro-Russian militia seen in Luhansk Region, Ukraine
Photos show a large convoy of pro-Russian armed forces of the separatist self-proclaimed Luhansk People's Republic (LNR) on a road in the Luhansk region, Ukraine.
—Adam Jeffery
Ukraine still holds all major cities and resistance has slowed Russian troops, says senior U.S. official
The Ukrainian military and its democratically elected government, led by President Volodomyr Zelenskyy, remained firmly in control of Ukraine's major cities on Sunday, a senior U.S. defense official told reporters on the fourth day of Russia's unprovoked invasion of Ukraine.
The latest U.S. military evaluation of who controlled the key cities of Kharkiv, Kyiv and Kherson was delivered on the condition of anonymity.
Russian forces advancing on these cities were being slowed by "fuel and logistics shortages, especially in Kharkiv, but also on the advance to Kyiv," the official said.
The official U.S. assessment corroborated scores of social media posts circulated in the past 24 hours, which claimed to show Russian tanks abandoned for lack of fuel but were hard to verify.
Defense officials also said they believe more than 50,000 Russian troops were fighting inside Ukraine on Sunday, two-thirds of the total force that Russian President Vladimir Putin deployed to the border earlier this year.
They cautioned, however, that Putin still had "an awful lot of combat power" that has yet to be unleashed.
One of the more concerning developments in the past 24 hours was the adoption by Russia of what appeared to be "siege tactics" around the city of Chernihiv, a small city north of Kyiv.
Should the Russian army adopt a siege strategy marked by missile attacks and a blockade, the civilian casualties in Chernihiv could soar, the official said.
Still, the Russian invasion is behind schedule compared to the Kremlin's original plan, a reality the official chalked up to fierce Ukrainian resistance and poor logistical planning by Moscow.
—Christina Wilkie
The many faces of the antiwar protests
Some of the faces taking part in anti-war protests across the globe.
—Adam Jeffery
Growing number of countries will restrict airspace to Russian aircraft
A growing number of countries announced on Sunday they're joining a string of nations in closing their airspace to Russian aircraft after Moscow began its invasion of Ukraine.
Officials for Canada, Sweden, Denmark, Belgium, France, Spain, the Netherlands, Italy, Austria and Iceland all announced the measures that would further isolate Russia. It follows similar restrictions from the U.K., Poland, Romania, Finland, Bulgaria, Germany, Latvia, Lithuania, Czech Republic and Estonia.
The moves by the nations put even more pressure on Russia, with countries banding together to impose wide-reaching sanctions on Russia and its elite. A ban means Russian aircraft can't fly over or land in the nations that impose the rules, which often means lengthy and costly reroutes.
—Jessica Bursztynsky
Russians continue antiwar protests in Moscow and St. Petersburg
Russian protests continue in St. Petersburg and Moscow as police try to crack down on the unauthorized rallies.
Ukrainian military holds its second-largest city, Kharkiv, after a fierce Russian assault
After a night of heavy fighting between Russian troops and Ukrainian forces in the streets of Ukraine's second-largest city, Kharkiv, the regional governor said Sunday that the city's defense held.
"The control over Kharkiv is completely in our hands! Armed forces of Ukraine, the national police, the territorial defense forces are working: they are clearing the city of the enemy," said Oleh Synyehubov in a statement translated by the BBC.
Social media posts verified by NBC News on Sunday appeared to corroborate this, showing burned-out Russian tanks abandoned inside Kharkiv, a city near the northeastern border with Russia.
The successful defense of Kharkiv could prove to be a potent morale booster for Ukraine's uniformed and volunteer armed forces, who are defending their country hour by hour against a Russian invasion force that outnumbers and outguns them.
Synyehubov, the regional governor, also claimed the Russian troops who entered Kharkiv on Sunday were "completely demoralized."
Reports of Russian vehicles running out of gas and getting lost on Ukraine's country roads have increased in the last 24 hours, but they are difficult to verify.
NBC's Richard Engel saw Ukrainian public works employees taking down road signs on Saturday in an effort to stall Russian vehicles.
—Christina Wilkie
Biden official calls Putin's nuclear deterrence alert 'escalatory and totally unnecessary': NBC News
A senior official in the Biden administration pushed back on Russian President Vladimir Putin's claim that he was placing his nuclear deterrence forces on high alert due to aggression from NATO.
"At every step of this conflict, Putin has manufactured threats to justify more aggressive actions," the official told NBC News. "He was never under threat from Ukraine or from NATO, which is a defensive alliance that will not fight in Ukraine.
"The only reason his forces face a threat today is because they invaded a sovereign country, and one without nuclear weapons. This is yet another escalatory and totally unnecessary step," the official said, NBC reported.
—Kevin Breuninger
Ukraine government raises $10 million in crypto donations
Ukraine's government has raised more than $10 million in cryptocurrency donations, turning to an unlikely crowdfunding method to help it get through a brutal invasion from Russia.
The official Twitter account of the Ukrainian government on Saturday posted addresses for two crypto wallets, one accepting only bitcoin and the other taking ether and tether, a token that tracks the value of the U.S. dollar.
As of Sunday, those wallets have attracted $10.2 million worth of crypto, according to research from blockchain analytics firm Elliptic. That's on top of the millions in digital currency donated to nongovernmental organizations supporting the Ukrainian military.
Total crypto donations to the Ukrainian government and NGOs supporting the military now stand at $16.7 million, according to Elliptic. The development shows how Ukraine is turning to crypto for assistance during Russia's military offensive in the country.
"Cryptoassets such as Bitcoin have emerged as an important alternative crowdfunding method," Tom Robinson, Elliptic's chief scientist, wrote in a blog post on Sunday.
"They allow quick, cross-border donations, which bypass financial institutions that might be blocking payments to these groups."
—Ryan Browne
Strict curfew empties the main arteries in and out of Kyiv
Photos show Ukrainians fleeing the capital city of Kyiv on Feb. 24, 2022. The same streets were empty on Feb. 27 after a strict curfew was instated across the city.
—Adam Jeffery
Ukraine and Russia delegations to meet 'with no preconditions': Ukraine Defense Ministry
Delegates representing the Ukrainian and Russian governments have agreed to meet on the Ukraine-Belarus border "with no preconditions," Ukraine's Defense Ministry said.
The meeting was agreed upon during a phone call between Belarus President Alexander Lukashenko and Ukraine President Volodymyr Zelenskyy, according to Kyiv.
Lukashenko, who initiated the call, "has taken upon himself the responsibility for all of the Belarus-based aircraft, helicopters, and missiles to stay grounded during the Ukrainian delegation passage, negotiations and return," the defense ministry said.
—Kevin Breuninger
Massive protest in Berlin in support of Ukraine.
Tens of thousands of people gather in Berlin's Tiergarten park to protest against the ongoing war in Ukraine.
—Adam Jeffery
Putin orders Russian nuclear deterrence forces on high alert, pointing to sanctions and 'aggressive' NATO statements
Russian President Vladimir Putin has put his country's deterrence forces, which reportedly include nuclear weapons, on high alert as the international backlash to Russia's invasion of Ukraine grows.
Putin, speaking in a meeting with his top defense officials, cited "aggressive statements" made against Russia by NATO countries, as well as the intensifying array of sanctions that they have imposed, which Putin called "illegal."
"As you can see, not only do Western countries take unfriendly measures against our country in the economic dimension — I mean the illegal sanctions that everyone knows about very well — but also the top officials of leading NATO countries allow themselves to make aggressive statements with regards to our country," Putin said on Russian state television, outlets reported.
—Kevin Breuninger
Donations flood in for Ukrainian refugees
Donations for Ukrainian refugees begin to pour in from cities across the world to help ease the suffering.
—Adam Jeffery
UN says Ukrainian refugee outflow now 368,000
The Ukrainian refugee outflow is now estimated to have hit 368,000 and is still rising, according to the U.N.'s refugee agency.
—Matt Clinch
Germany pledges defense spending increase
Germany is committing 100 billion euros ($112.7 billion) to a fund for its armed services, Chancellor Olaf Scholz said during a special session of the Bundestag on Sunday.
It has become clear that "we need to invest significantly more in the security of our country, in order to protect our freedom and our democracy," Scholz said.
Germany has been widely criticized for what many describe as meager investment in its military and its slow and lackluster response to Russia's military buildup around, and subsequent invasion of, Ukraine. The announcement Sunday followed the German government's decision Saturday to send weapons and other supplies directly to Ukraine.
—Natasha Turak
Zelenskyy calls Putin's actions in Ukraine 'a sign of genocide'
Ukrainian President Volodymyr Zelenskyy accused Russian leader Vladimir Putin of carrying out genocidal acts in his invasion of Ukraine, speaking in a video statement Sunday.
"They lied that they would not touch the civilian population, but from the first hours of the invasion, Russian troops were beating the civilian infrastructure," Zelenskyy said. "Kindergartens, houses. Everything is under attack every day. What the occupiers are doing to Kharkiv, Okhtyrka, Kyiv, Odesa and other cities and towns is drawing them to an international tribunal."
​"We have to call a spade a spade — Russia's criminal actions against Ukraine are a sign of genocide," the president added. "I spoke with the U.N. Secretary General. Russia is on the path to evil. The world must come to deprive Russia of its right to vote in the U.N. Security Council."
—Natasha Turak
British foreign minister fears protracted conflict
British Foreign Minister Liz Truss has been speaking to U.K. media on Sunday morning, telling Sky News that she fears the conflict in Ukraine could be protracted.
"This is not going to be, I fear, over quickly," she said. "We need to be prepared for a very long haul."
Speaking on Russia's offer of talks in Belarus, she said that Russians "need to remove their troops from Ukraine" if they are serious about negotiations.
"They cannot negotiate with a gun to the head of the Ukrainians ... So frankly, I don't trust these so-called efforts of negotiation," she said.
—Matt Clinch
Zelenskyy rejects Belarus as location for talks with Russia
Ukrainian President Volodymyr Zelenskyy rejected Russia's proposal of Belarus as a place for potential peace talks. He said in a video statement Sunday that his country is ready for talks, but not in Belarus, which served as a staging ground for Russian forces' invasion of Ukraine. Belarus is a close ally of Russia.
Zelenskyy suggested Warsaw, Budapest, Baku, Bratislava or Istanbul as alternative venues, adding that other options were also possible, but not Belarus.
A Russian delegation arrived in the Belorussian city of Homel on Sunday and are "ready for talks, and we are now waiting for the Ukrainians," Kremlin Spokesman Dmitry Peskov said.
—Natasha Turak
Kharkiv police warn of Russian troops inside city
Small groups of Russian troops have broken into the city of Kharkiv as fighting for Ukraine's second-largest city raged, local police said, as they warned residents to stay in shelters.
"Friends, citizens of Kharkiv! It is quite dangerous on the streets of the city now," a statement from the Chief of Kharkiv Police Volodymyr Tymoshko, via the Kharkiv Oblast Police Telegram channel, said.
"Stay in the shelters, do not go outside. Due to the small groups of the enemy who broke into the city, fighting continues. Our Armed Forces of Ukraine are giving a worthy rebuff to the invaders. Keep yourselves! Ukraine will win!"
—Natasha Turak
Zelenskyy appeals to foreign citizens
Ukrainian President Volodymyr Zelenskyy's office has sent out an appeal to foreign citizens to help Ukraine in fighting against Russia.
"The President of Ukraine Volodymyr Zelenskyy is addressing all citizens of the world, friends of Ukraine, peace and democracy. Anyone who wants to join the defense of Ukraine, Europe and the world can come and fight side by side with the Ukrainians against the Russian war criminals," the statement said.
—Matt Clinch
Kharkiv on the map
Ukraine's second-largest and key city of Kharkiv lies in the northeast of the country. It has a population of just over 1.4 million.
—Matt Clinch
Google blocks Russian state media from getting ad money on their sites
Alphabet's Inc.'s Google on Saturday announced it would block Russian state-owned media outlet RT and other channels from earning money on its websites, as well as on its apps and YouTube videos.

"Earlier today, we began pausing a number of Russian channels' ability to monetize on YouTube, including RT," YouTube's official Twitter account said in a tweet. "As always, it will take some time for our systems to fully ramp up and in the meantime, some users may see ads temporarily. We continue to monitor the situation closely."
The channels set to be barred include some Russian outlets linked with recent sanctions, like those by the European Union, according to Reuters. The move follow's Facebook parent Meta's decision to halt advertising on its platform by RT and other Russian state media.
— Natasha Turak
Russian troops enter Kharkiv, Ukraine's second largest city; civilians urged to stay indoors
Russian military vehicles entered Ukraine's second-largest city Kharkiv, in the country's north east, Ministry of Internal Affairs advisor Anton Gerashchenko said Sunday morning, reporting that fights were underway in the city center.

"Warning! Do not leave the shelters! The Armed Forces of Ukraine are eliminating the enemy. Civilians are asked not to go to the streets," a post from an official government Telegram account read. Telegram is being widely used across Ukraine as a means of communication between government bodies and citizens.

Kharkiv has a population of approximately 1.5 million people.
— Natasha Turak
Ukrainian forces hold Kyiv after a night of Russian missile attacks
The Ukrainian military remained in control of Ukraine's capital city of Kyiv as dawn broke on Sunday, ending a long night of Russian air attacks that had forced thousands of residents to seek safety in underground bunkers.
"The situation in Kyiv is calm, the capital is completely controlled by the Ukrainian army and defense. There were several clashes with sabotage groups at night," said Mykola Povoroznyk, the first deputy head of the Kyiv city state administration, on an official Telegram account.
Overnight, Russian troops attacked an oil storage tank south of the city, creating a huge explosion and filling the air with black smoke for miles around.
"Kyiv has not fallen and Ukraine fights on," tweeted Euan McDonald, the Kyiv based editor-at-large of "The New Voice of Ukraine," an English language Ukrainian news site.
On Saturday afternoon, U.S. officials said that the lion's share of the Russian troops who appeared to be closing in on Kyiv were still approximately 20 miles away.
It was unclear early Sunday what Kyiv would face next, but a strict curfew is in place through Monday morning for all of Kyiv.
"All civilians on the street during the curfew will be considered members of the enemy's sabotage and reconnaissance groups," said an official announcement of the curfew.
— Christina Wilkie
Separate blasts at oil facilities in Kharkiv and Vasylkiv risk causing environmental catastrophes
Two separate Russian missile attacks on oil and gas facilities in northern Ukraine late Saturday caused massive explosions and fires that could easily become environmental catastrophes, according to Ukrainian officials in the cities impacted by the blasts.
In Kharkiv, Ukraine's second-largest city, Russian troops fired a missile that hit a major gas pipeline late Saturday night, local officials said. The resulting blast was so massive that it prompted the government to specifically caution residents that what they had seen was not a nuclear bomb.
"This is NOT a nuclear strike, although the explosion is visually similar to it," the Kharkiv government Telegram channel warned, according to an NBC translation of the message.
The channel advised residents to close their windows, purify the air if possible and prepare to wear wet masks if they smelled smoke.
Around 250 miles west of Kharkiv, the same advisory was issued to residents in and near the Ukrainian capital of Kyiv after Russian troops blew up a fuel tank in Vasylkiv.
According to the regional governor of the state where Kyiv is located, the missile attack cut off Vasylkiv's gas supply and caused a fire so large that it could be seen 15 miles away in the capital. Fierce fighting between Russian and Ukrainian forces prevented first responders from extinguishing the fire, the governor said in a Telegram post.
"This night, the occupiers are causing man-made disasters," said the local government of Kharkiv.
The attacks on the fuel lines came as invading Russian troops encountered resistance Saturday and early Sunday from the Ukrainian military, which managed to hold all three of the cities Moscow had targeted: Kyiv, Kharkiv and Kherson.
U.S. officials said Saturday they believe Russian President Vladimir Putin was unprepared for the tenacity of Ukraine's military response.
They said Putin was mistakenly convinced that Ukraine's military would collapse within hours of a Russian invasion, and its president Volodomyr Zelenskyy would flee. Neither of these happened.
—Christina Wilkie
Over 240 civilians in Ukraine injured and 64 dead so far in Russian invasion, UN says
More than 240 civilians have been injured, including 64 who were killed, since Russia first invaded Ukraine on Thursday, the United Nations said Saturday.
Hundreds of thousands of people are without electricity or water following damage to civilian infrastructure. Homes, bridges and roads have been destroyed by shelling that cut off communities from markets, the United Nations High Commissioner for Refugees said.
The relief agency said over 160,000 people have been internally displaced, while more than 116,000 have fled into neighboring European countries. Ukraine's government estimates there could be some 5 million refugees in the worst-case scenario.
"UN agencies and humanitarian partners have been forced to suspend operations due to the deteriorating security situation," according to the agency's latest situation report.
—Joanna Tan
Inside a Kyiv residential building hit by a rocket
Photographs reveal the interior of apartments in a Kyiv building after a rocket hit it on Saturday. The Los Angeles Times' Marcus Yam made the pictures.
—Adam Jeffery
Copyright CNBCs - CNBC