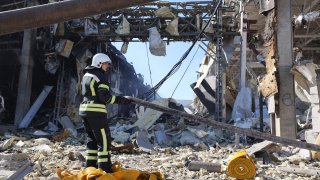 This was CNBC's live blog tracking developments on the war in Ukraine on Tuesday. See here for the latest updates. 
The U.S. House passed legislation that's set to deliver $40 billion in military and humanitarian aid to Ukraine.
The U.S. Department of Defense also announces it has committed more than $4.5 billion in security assistance to Ukraine since the start of the Biden administration. Of that, around $3.8 billion has gone to fund Ukraine's war efforts since Russia's invasion began on Feb. 24.
Meanwhile, the stark reality of Russia's invasion of Ukraine is becoming increasingly apparent.
The European Bank for Reconstruction and Development's latest forecasts are a sobering reminder of the war's economic impact on Ukraine, a significant agricultural exporter, particularly of wheat.
Russia's economy, hit by international sanctions, is expected to contract 10% in 2022 while the Ukraine invasion is forecast to cause Ukraine's economy to shrink by 30% this year, the EBRD said Tuesday.
U.S. House passes $40 billion aid package to Ukraine
The U.S. House passed a bill that's set to deliver $40 billion in military and humanitarian aid to Ukraine, according to a NBC News report.
The House voted 368-57 after President Joe Biden urged quick congressional action in stepping up support for Kyiv in its war against Russia, the report said.
All 57 no votes came from Republicans, according to NBC News.
Rep. Andy Biggs, R-Ariz., who opposed the measure, tweeted: "I oppose Russia's invasion of Ukraine, but we can't help Ukraine by spending money we don't have."
House Speaker Nancy Pelosi, D-Calif., praised the largely bipartisan vote, saying on Twitter that the package would build "on robust support already secured by Congress" and "help Ukraine defend not only its nation but democracy for the world."
— Weizhen Tan
U.S. has committed more than $4.5 billion to Ukraine since Biden became president
The U.S. has committed more than $4.5 billion in security assistance to Ukraine since the beginning of the Biden administration.
Of that amount, about $3.8 billion has been used to aid Ukraine since Russia's invasion of the country on Feb. 24.
Last week, the U.S. Department of Defense authorized the ninth drawdown of equipment from its inventories for Ukraine since August 2021, worth an additional $150 million.
U.S. President Joe Biden last month asked Congress to allocate $33 billion to fund humanitarian and military aid to Ukraine, after exhausting his remaining drawdown authority.
— Chelsea Ong
Leonid Kravchuk, independent Ukraine's 1st president, dies
Leonid Kravchuk, who led Ukraine to independence amid the collapse of the Soviet Union and served as its first president, has died, Ukrainian officials said Tuesday. He was 88.
Andriy Yermak, head of Ukrainian President Volodymyr Zelenskyy's office, confirmed Kravchuk's death on the social media app Telegram without giving details of the circumstances. Kravchuk had been in poor health and underwent a heart operation last year.
Kravchuk led Ukraine as its Communist Party boss in the waning years of the Soviet Union, and played a pivotal role in the demise of the USSR before holding the Ukrainian presidency from 1991 through 1994.
He was a driving force in Ukraine's declaration of independence from the Soviet Union in 1991 and later that year joined leaders of Russia and Belarus to sign an agreement on Dec. 8, 1991, which formally declared that the Soviet Union ceased to exist.
As president, Kravchuk agreed to transfer remaining Soviet nuclear weapons on Ukrainian territory to Russian control, in a deal backed by the United States.
— Associated Press
UK Defense Secretary Ben Wallace to meet DOD Secretary Austin, Pentagon says
British Defense Secretary Ben Wallace will meet Wednesday with his U.S. counterpart, Lloyd Austin, Pentagon spokesman John Kirby said during a daily press briefing.
The ongoing war in Ukraine is expected to take the lion's share of the discussion between the two leaders, Kirby said.
Earlier in the week, Wallace told an audience at the National Army Museum in London that Putin "must come to terms with the fact he's lost in the long run."
"He's absolutely lost the long run. You know, Russia is not what it was. It's lesser, not greater as a result of this," Wallace said, referencing the coordinated global sanctions on Ukraine.
— Amanda Macias
Russian forces are at least two weeks behind schedule in Donbas goals, U.S. Defense official says
The Pentagon said Russian forces are about two weeks behind schedule in their assault of the Donbas in eastern Ukraine.
Russian President Vladimir Putin "has not achieved any of the success that we believe he wanted to achieve, certainly not on a timeline," a senior U.S. Defense official said on a call with reporters.
The official, who declined to be named per ground rules established by the Pentagon, said that the U.S. assesses Putin's forces are "easily two weeks or even maybe more behind."
"We would not assess that the Russians have made any appreciable or significant progress," the official added.
— Amanda Macias
Germany becomes latest country to reopen embassy in Kyiv
German Foreign Minister Annalena Baerbock reopened Berlin's diplomatic mission in Kyiv after it was shut down for two months following Russia's invasion of Ukraine.
Baerbock said that while the German Ambassador to Ukraine Anka Feldhusen will initially work with a skeleton staff at the embassy, citizens should not travel to the war-weary country.
Baerbock also met with Ukrainian President Volodymyr Zelenskyy while in Kyiv and pledged additional support, including help with investigating and prosecuting war crimes.
Germany is the latest country to reopen its diplomatic mission in Ukraine's capital, following the Netherlands, France, Italy, Canada, the United Kingdom, Turkey, Lithuania, Slovakia, Slovenia, the Czech Republic, Portugal, Belgium and Austria. The European Union has also reopened its diplomatic mission in Kyiv.
On May 8, U.S. Embassy Chargé d'Affaires Kristina Kvien and a small group of U.S. diplomats returned to Kyiv for the first visit since Russia's invasion.
— Adam Jeffery and Amanda Macias
Russia has about 20 ships in the Black Sea but far from Ukrainian coast, U.S. Defense official says
The Pentagon said the Russian Navy has maintained a standoff position in the Black Sea since the sinking of the Moskva war ship.
A senior U.S. official, who spoke on the condition of anonymity in order to share updates on the ongoing war in Ukraine, said that Russia currently has about 20 vessels scattered in the Black Sea. The Moskva, a guided-missile cruiser carrying a crew of 510, was hailed as the crown jewel of Russia's Black Sea fleet before it sank on April 14.
"Since the sinking of the Moskva, they have not moved their ships closer towards Odesa," the senior U.S. Defense official said, adding that the Pentagon has indications that Russian forces appear to be risk-averse.
"It's pretty hard to do an amphibious assault if you can't put your Marines ashore and they're not showing any indication or willingness to do that," the official added when asked about the strategic port city of Odesa. The official said that Russian forces still have the capability to target Odesa by airstrikes or long-range standoff missiles.
— Amanda Macias
Ambassador McCain says Russian forces committing war crimes by weaponizing Ukraine's food supply
Ambassador Cindy McCain said that Russian forces are committing war crimes by attacking Ukraine's food supply and that the world is "extraordinarily close" to a new food crisis.
McCain, the U.S. Permanent Representative to the United Nations Food Agencies in Rome, told reporters on a conference call that Russia is using food and access to it as a weapon.
"We've heard they've been stealing grain. We've heard that they emptied some of the silos. The critically cruel thing they have done is they've put landmines in most of the agricultural fields," McCain said when asked to provide examples of Russian forces attacking Ukraine's food supply.
"I stand by what I said I think what they are doing is war crimes," she added.
McCain said that the targeting of rail lines into Ukraine and the bombardment around the country's ports have further exacerbated food security around the world.
— Amanda Macias
WHO says at least 3,000 have died in Ukraine due to lack of medical services
The World Health Organization's European chief said at least 3,000 people have died in Ukraine since Russia's invasion in February because they were unable to access treatments for chronic diseases.
So far, the U.N. health agency has documented some 200 attacks in Ukraine on healthcare facilities, and few hospitals are currently functioning, Hans Kluge told a regional meeting of WHO's 53 member states as well as senior agency colleagues.
"Forty percent of households have at least one member in need of chronic treatment that they can no longer find, resulting in an estimated at least 3,000 premature avoidable deaths," he said in a speech, mentioning diseases such as HIV/AIDS and cancer.
Matilda Bogner, head of the U.N. rights monitoring mission for Ukraine, said mortality rates have risen because of lack of access to care. In one cramped school basement in Yahidne, 10 older people died because it was unsafe to leave the shelter, she told a separate briefing.
— Reuters
EU and U.S. accuse Russia of cyber attack on internet satellite company ahead of invasion
The European Union and U.S. accused Russia of carrying out a destructive cyberattack that crippled the networks of internet satellite company Viasat.
"The cyberattack took place one hour before Russia's unprovoked and unjustified invasion of Ukraine on 24 February 2022 thus facilitating the military aggression," the European Union wrote in a statement. "This attack had a significant impact causing indiscriminate communication outages and disruptions across several public authorities, businesses and users in Ukraine, as well as affecting several EU Member States."
The company wrote in a March 30 statement that the malign cyber activity impacted several thousand customers located in Ukraine and tens of thousands across Europe. The European Union also warned that Russian cyberattacks targeting Ukraine's critical infrastructure could "spill over into other countries and cause systemic effects putting the security of Europe's citizens at risk."
Secretary of State Antony Blinken wrote in a separate statement that Russia carried out destructive cyber activities against Ukraine in the months leading up to its invasion.
— Amanda Macias
Global sanctions on Russia are working, top U.S. intel chief says
The nation's top intelligence chief told lawmakers that the global sanctions on Russia are crippling its economy and impacting the Kremlin's ability to finance its ongoing war in Ukraine.
"We're seeing close to about we predict approximately 20% inflation in Russia that we expect that their GDP will fall about 10%, possibly even more for the course of the year," said Director of National Intelligence Avril Haines before the Senate Armed Services Committee.
"We're also seeing how things like export controls on semiconductors and so on are affecting their defense industry. So I think that's a very significant impact, although obviously, time will tell as we move forward," Haines added.
Haines, who oversees the nation's 17 intelligence agencies, said private-sector companies linked to oil production have also contributed to global efforts to apply pressure on Russia.
— Amanda Macias
US spy chief says Putin is preparing for prolonged war
The United States believes that Russian President Vladimir Putin is preparing for a long conflict in Ukraine, and a Russian victory in the Donbas in the east of the country might not end the war, U.S. Director of National Intelligence Avril Haines said.
"We assess President Putin is preparing for a prolonged conflict in Ukraine, during which he still intends to achieve goals beyond the Donbas," Haines told lawmakers.
She added that Putin was counting on the Western resolve to weaken over time.
— Reuters
Map shows how NATO is patrolling its eastern flank
From fighter jets to surveillance aircraft, the NATO alliance has placed up to 30 aircraft on patrol over the skies of its eastern flank.
So far, the U.S. has committed the most types of aircraft to complement the alliance's security mission.
Here's an overview of the NATO member aircraft flying the skies:
Since Russia's Feb. 24 invasion of Ukraine, NATO has also placed more than 140 warships on heightened alert.
In addition, the 30-member-strong group has consistently warned Russian President Vladimir Putin that an attack on one NATO member state will be viewed as an attack on all, triggering the group's cornerstone Article 5.
— Amanda Macias
UN says 3,459 killed in Ukraine since start of war, warns death toll is likely higher
The United Nations has confirmed 3,459 civilian deaths, including at least 238 children, in Ukraine since Russia invaded its ex-Soviet neighbor on Feb. 24.
The agency also reported 3,713 civilian injuries in the conflict so far.
The Office of the UN High Commissioner for Human Rights said the death toll in Ukraine is likely higher, because the armed conflict can delay reports.
The international body said most of the civilian casualties recorded were caused by the use of explosive weapons with a wide impact area, including shelling from heavy artillery and multiple launch rocket systems, as well as missiles and airstrikes.
— Amanda Macias
First responders work at the site of a missile strike in Odesa
Images below show first responders working at the site of a missile strike in Odesa, Ukraine. The major port city was hit by Russian missiles on Monday, killing one person and injuring five others, according to Ukrainian armed forces.
-Reuters
Russia still faces a high chance of default, despite payment
Although Russia has so far averted a historic debt default since sanctions were imposed on its foreign currency reserves, analysts believe it is delaying the inevitable.
In a note last week, MSCI Research said that despite the rally for Russian bonds, "probabilities of default implied by the credit-default-swap market were still exceptionally high across the one- and five-year horizons."
Read the full story here.
—Elliot Smith
EU preparing joint borrowing to help Ukraine, report says
Reuters reported Tuesday, citing two EU officials, that the European Commission in considering new joint debt issuance to help with Ukraine's liquidity gap.
The idea would be that Ukraine would get very cheap loans from the EU, with member states providing guarantees that the joint borrowing would be repaid.
The anonymous officials said that the EU would be expected to raise some 10 billion euros through the joint borrowing.
—Matt Clinch
Russian missiles hit port city of Odesa, killing one and injuring others
The major Ukrainian port city of Odesa was hit by Russian missiles on Monday, killing one person and injuring five others, according to Ukrainian armed forces.
In an update on Telegram, the operational command for the region said that the casualties occurred when seven missiles were fired at the city and hit a shopping center and a depot. The statement said that "rare Soviet-style missiles were clearly used."
The attack came on the same day that the president of the European Council, Charles Michel, visited Odesa. Meanwhile in Russia, President Putin and senior Kremlin officials oversaw the "Victory Day" parade in Moscow. The event marks the Soviet Union's victory over Nazi Germany in World War II.
— Holly Ellyatt
Russia has no plans to close the embassies of European countries, official says
Russia has no plans to close the embassies of European countries despite the very poor state of relations between Russia and its neighbors, Deputy Foreign Minister Alexander Grushko has said, according to state news agency Ria Novosti.
"This is not in our tradition," Grushko said. "Therefore, we believe that the work of diplomatic missions is important," Grushko said, in answer to the question of whether Russia could close European diplomatic missions in the region against the backdrop of Western sanctions.
"We did not start a diplomatic war, a campaign of expulsions," the deputy head of the Russian Foreign Ministry claimed.
Russia invaded Ukraine on Feb. 24 after months of building up over 100,000 troops along the shared border. Moscow has tried to justify its invasion by saying it's protecting ethnic Russians in the country and has falsely claimed Kyiv's leadership are "Nazis."
Ukraine and geopolitical experts say Russia has created baseless justifications for the invasion as it wants to stop Ukraine's pro-Western direction, and to re-assert its power and influence over the country.
— Holly Ellyatt
Russia's underestimation of Ukraine led to 'unsustainable losses,' UK says
Russia's underestimation of Ukrainian resistance and its "best case scenario" planning have led to demonstrable operational failings, the U.K.'s Ministry of Defence said on Tuesday.
Those failings prevented President Vladimir Putin from announcing significant military success in Ukraine at the Victory Day parade in Moscow on Monday.
"Russia's invasion plan is highly likely to have been based on the mistaken assumption that it would encounter limited resistance and would be able to encircle and bypass population centres rapidly," the ministry said in its latest intelligence update on Twitter.
This assumption led Russian forces to attempt to carry out the opening phase of the operation "with a light, precise approach" intended to achieve a rapid victory with minimal cost.
"This miscalculation led to unsustainable losses and a subsequent reduction in Russia's operational focus," the ministry said.
— Holly Ellyatt
Russia's economy to shrink 10% this year, Ukraine's to contract 30%: Report
The war in Ukraine is hitting both Russia and Kyiv's economy hard, with both expected to see sharp plunges in economic output, according to research from the European Bank for Reconstruction and Development (EBRD) published Tuesday.
Russia's economy, hit by international sanctions, is expected to contract 10% in 2022 while the Ukraine invasion — which has caused extensive damage to the agricultural producer's economic hubs and output — is forecast to cause Ukraine's economy to shrink by 30% this year, the EBRD said.
"With the 3.4 per cent GDP growth recorded in 2021 no more than a distant memory, the war is putting Ukraine's economy under enormous stress, with the heavy devastation of infrastructure and production capacities," the EBRD said. It's estimated that between 30% and 50% of businesses have stopped their operations completely in Ukraine, causing about half of all employees to lose their jobs and income.
That latest gross domestic product forecast for Ukraine is a downward revision of ten percentage points compared with the bank's projections released in March.
Ukraine's GDP is forecast to bounce back to 25% next year, the EBRD said, but that's assuming that substantial reconstruction work is by then already underway.
— Holly Ellyatt
At least 1 million Ukrainians were 'forcibly relocated' to Russia, says rights official
At least a million Ukrainians have been "forcibly relocated" and sent to Russia, according to a Ukrainian human rights official cited by NBC News.
"Not only are the occupiers hiding their crimes, but also relocating everyone they deem unreliable," said Lyudmyla Denisova, Ukraine's ombudsman for human rights.
"We have proof that forceful deportation was prepared beforehand," Denisova said, according to NBC News. "There are facts that confirm that Russia had directives for their districts on how many Ukrainians and where to deport them."
NBC News and CNBC were not able to confirm those claims.
An estimated 20,000 Ukrainians are in "filtration camps," with most being sent to Russia, while the fate of the rest remains unknown, Denisova added, NBC News said.
Last month, the United Nations Human Rights Monitoring Mission in Ukraine documented about 109 cases of suspected detention or enforced disappearances among civilians since the invasion began.
However, local officials said the figure does not represent the tens of thousands of Ukrainians who have been deported via "filtration camps."
— Chelsea Ong
Ukraine's prime minister says the U.S. steel tariff suspension came together in a matter of weeks
Just hours after the U.S. announced it would suspend tariffs on Ukrainian steel for a year, Ukrainian Prime Minister Denys Shmyhal expressed his appreciation for the speed with which the Biden administration moved on the issue.
Shmyhal said he first spoke about the tariffs with Commerce Secretary Gina Raimondo when he visited Washington on April 21.
Less than 3 weeks later, the U.S. announced that the current 25% tariff would not be applied to steel from war-torn Ukraine for at least a year.
The tariff suspension is the latest example of the White House and federal agencies slashing bureaucratic red tape in Washington in order to get money, weapons and humanitarian supplies to Ukraine.
--- Christina Wilkie
Biden shifts course, calls on Congress to pass standalone Ukraine aid with no Covid funds
President Joe Biden has very publicly shifted course in his quest to pass a $33 billion emergency funding package for Ukraine through Congress.
"Previously, I had recommended that Congress take overdue action on much needed funding for COVID treatments, vaccines and tests, as part of the Ukraine Supplemental bill," Biden said in a statement.
Recently, however, Biden says he was informed that Republicans in Congress are not prepared to vote to pass a Covid bill anytime soon.
Given the reality of the situation, linking the two funding requests — as he had initially proposed — would have in practice meant slowing down the desperately needed money for Ukraine in order to give Congress time to debate the Covid funding.
"We cannot afford delay in this vital war effort," Biden said. "Hence, I am prepared to accept that these two measures move separately, so that the Ukrainian aid bill can get to my desk right away."
Biden's change of strategy was also adopted by Democratic leaders in Congress, who have said they are prepared to move quickly on a standalone Ukraine bill. It is expected to be relatively easy to pass with bipartisan support.
— Christina Wilkie
Read CNBC's previous live coverage here:
Biden presses Congress to pass more military aid; U.S. will suspend tariffs on Ukrainian steel
Copyright CNBCs - CNBC