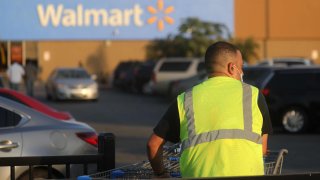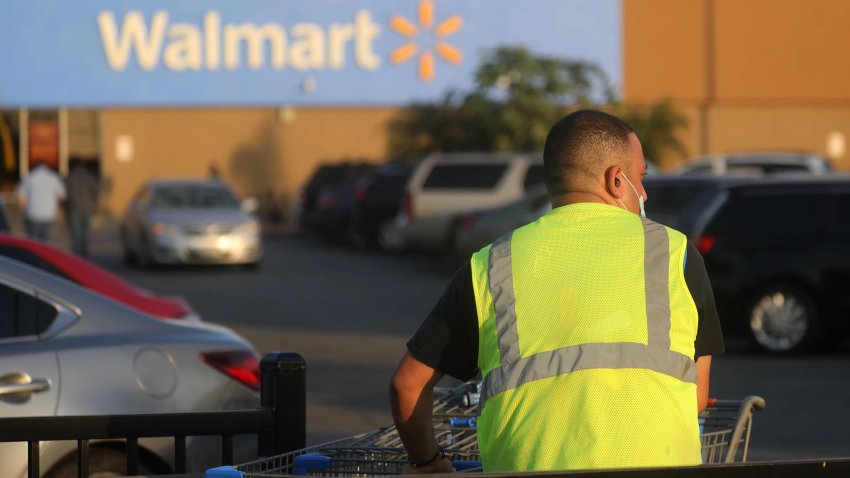 Walmart's fourth-quarter earnings missed Wall Street's expectations as it tries to turn pandemic gains into sustained momentum and higher profitability.
The big-box retailer's e-commerce sales in the U.S. grew by 69% and its same-store sales in the U.S. grew by 8.6%.
Walmart CEO Doug McMillon said it will boost the wage of U.S. workers, raising the average for hourly employees to above $15 per hour. 
Walmart on Thursday reported fourth-quarter earnings that fell short of Wall Street's expectations as the retailer aims to turn the strength of its e-commerce business during the pandemic into lasting momentum and higher profits by boosting investment.
Walmart shares closed Thursday down 6.48% to $137.66, after investors reacted to the retailer's warning that it expects sales to moderate this year. It said earnings per share will decline, but will range flat to slightly higher after excluding divestitures. The company's market value is now $389.48 billion.
The big-box retailer has benefited from pandemic trends, as Americans buy more groceries, cleaning products and other essentials. It also got a boost in the fiscal fourth quarter as many customers spent their stimulus checks. But the pandemic has also increased its costs — in the fourth quarter alone Covid-related expenses tallied $1.1 billion.
Part of Walmart's recent strength has come from investments it made long before the health crisis to boost its online business so it could provide services like curbside pickup and speedy delivery.
Walmart CEO Doug McMillon said at a virtual investor conference Thursday that it is retooling its business to better serve customers, tap new revenue streams and create a diverse ecosystem of services, from delivering groceries to people's fridges to offering annual health checkups and new kinds of financial services. It's also bulking up its advertising business.
"Think of it as a flywheel that's spinning, powered by a mutually reinforcing set of assets," he said, in explaining how each of the businesses will support each other.
He said it will step up investments to adjust to the significant ways the pandemic has transformed the retail business. For example, he said Walmart will spend on automation to speed up the number of curbside pickup orders it can fill.
All told, Walmart is targeting about $14 billion in capital expenditures this fiscal year, up from a rate of $10 billion to $11 billion, as it invests in supply chain, automation and improvements to the customer experience, the company's CFO Brett Biggs said.
McMillon described Walmart+, its subscription service, as "an important piece of our strategy." He said the membership program, which launched in the fall, will drive repeat purchases by customers and give the company valuable data it could use to tailor their experience and grow its ads business. The service costs $98 a year or $12.95 a month.
He said it will also boost the wages of U.S. workers, raising the average for hourly employees to above $15 per hour. 
"This is a time to be even more aggressive because of the opportunity we see in front of us," he said in a news release. "The strategy, team and capabilities are in place. We have momentum with customers, and our financial position is strong."
Stimulus boosted sales
In the latest quarter, Walmart's e-commerce sales in the U.S. grew by 69% — a large number, but the slowest growth rate since the start of the global health crisis. Same-store sales in the U.S. grew by 8.6%, higher than the 5.8% increase expected by a StreetAccount survey. Its membership subsidiary Sam's Club also reported low single-digit same-store sales growth, excluding fuel and tobacco.
For the three months ended Jan. 31, Walmart posted a loss of $2.09 billion, or 74 cents per share, compared with earnings of $4.14 billion, or $1.45 share, a year earlier. The company said a loss on its U.K. and Japanese operations reduced earnings by $2.66 per share, which was partially offset by a gain of 49 cents per share on equity investments.
Excluding these and other items, Walmart earned $1.39 per share, missing analyst estimates. Analysts surveyed by Refinitiv had expected Walmart to earn $1.51 per share.
Total revenue grew by 7.3% to $152.1 billion from $141.67 billion a year earlier, topping Wall Street's expectations of $148.30 billion.
Sam's Club reported same-store sales grew by 8.5% excluding fuel and tobacco, while its e-commerce sales jumped by 42%.
Biggs told CNBC the company could get another boost if the government approves a new round of stimulus payments.
"When money hits we see spending pick up pretty quickly and I would anticipate if we get another round of stimulus, which is obviously being debated, that we would see something similar," he said.
E-commerce sales growth ebbs
The decelerating pace of e-commerce growth rate points to some challenges it will face as tailwinds from the global health crisis trends fade. More Americans are getting Covid vaccines and can spend their budget in other ways, such as going out to dinner or filling up the gas tank on a commute back to the office.
Walmart is also under pressure to turn thriving parts of its business into money-makers. Online services that have gained popularity, such as curbside pickup, require additional labor as employees pick and pack orders. That translates to higher labor costs that Walmart has not been passing on to its customers, even as more take advantage of the convenience of shopping online.
Walmart's e-commerce business has had dramatic gains, but it has not yet turned a profit. However, Biggs said its e-commerce margins continue to improve.
Walmart is raising its dividend by a penny to 55 cents per share and approved a $20 billion stock buyback program.
Read the full press release here.
—CNBC's Courtney Reagan contributed to this report.
UPDATE: The Refinitiv estimate was adjusted to exclude the impact of a U.K. tax issue.
Copyright CNBCs - CNBC