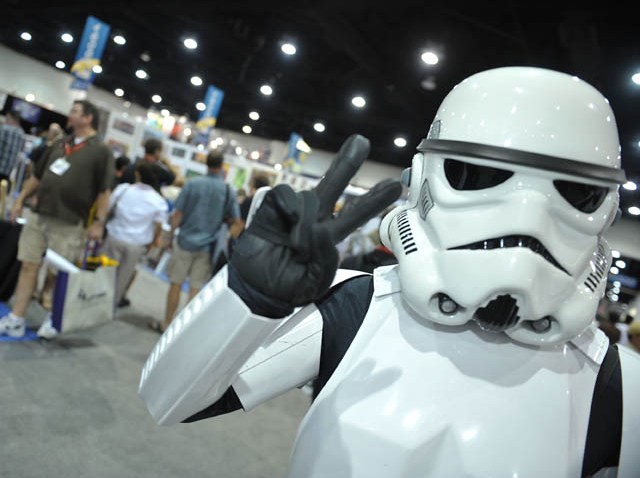 Anaheim isn't officially out of the running, but thanks to a new land deal approved Tuesday, the world's largest comic book convention will probably remain in San Diego.
The San Diego Board of Port Commissioners unanimously approved a multi-million-dollar land deal, opening the way for a $753 million expansion of the San Diego Convention Center, the longtime home of Comic-Con.
In recent years, fanboys and fangirls have complained about the lack of space at the pop culture extravaganza. Anaheim jumped at the opportunity to poach the festival.
Business
The latest business news.
Last month, in an open letter to Comic-Con organizers, the Anaheim/Orange County Visitor & Convention Bureau made its official pitch: "This probably isn't much of a surprise to you, but we want Comic-Con International to make Anaheim its new home for 2013 (and beyond)."
The group even launched a Facebook page to gauge community interest, attracting more than 2,000 fans. The cornerstone of the campaign was Anaheim's "Top 8 Reasons to Move Comic-Con International to Anaheim, CA."
No. 1 on the list is the size of the San Diego Convention Center.
Thanks to Tuesday's deal, Anaheim may have to take that reason off its list.
According to San Diego television station KGTV:
Under the deal, the San Diego Convention Center Corp. will pay $1 million upfront to secure a six-acre bayfront site from Fifth Avenue Landing LLC. The SDCCC will then make $500,000 annual payments over the next five years, when the balance will be due.

"I applaud the port commissioners for approving this agreement and recognizing the importance of expanding our Convention Center," San Diego Mayor Jerry Sanders said. "While there is more work to be done before we can break ground, today's action is a critical step forward."

Officials argue the $753 million expansion is needed to attract and keep large conventions, like Comic-Con.
The San Diego Convention Center currently has about 600,000 square feet of exhibit space, compared to Anaheim's 815,000 square feet. The proposed San Diego expansion would add another 200,000 square feet of exhibit space, KGTV reported.
That's certainly a step toward keeping Comic-Con organizers happy. Comic-Con spokesman David Glanzer told the San Diego Union-Tribune on Tuesday that it will decide on its next contract (2013-2015) within the next 30 days.