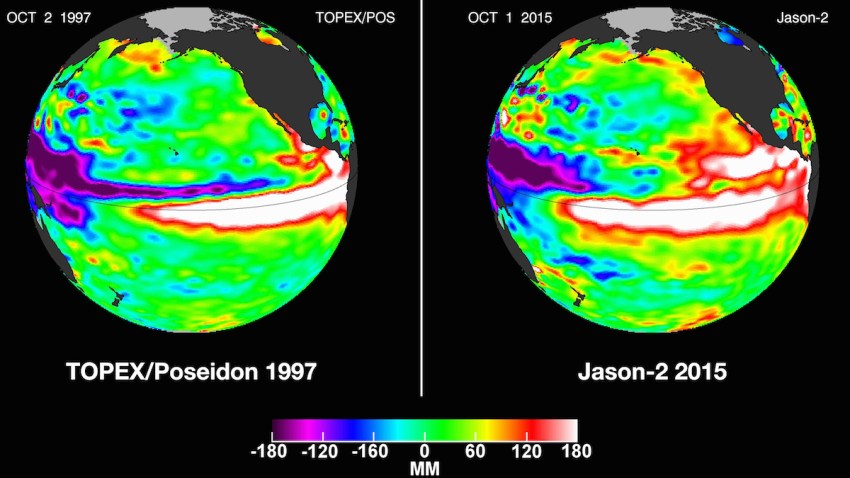 Weather systems influenced by El Nino will bring above-average rainfall, but not necessarily the much-needed snowfall that parched California needs to improve long-term drought conditions, according to the National Oceanic Atmospheric Administration.
NOAA on Thursday issued its winter forecast, heavily influenced by one of the strongest El Ninos on record. California is forecast to get more than the usual precipitation during the critical time its reservoirs usually fill, but there's no guarantee.
"A strong El Nino is in place and should exert a strong influence over our weather this winter," said Mike Halpert, deputy director, NOAA's Climate Prediction Center. "While temperature and precipitation impacts associated with El Nino are favored, El Nino is not the only player.
"Cold-air outbreaks and snowstorms will likely occur at times this winter. However, the frequency, number and intensity of these events cannot be predicted on a seasonal time scale."
The already strong El Nino has a 95 percent chance of lasting through the winter before weakening in the spring, according to NOAA. In Southern California, the probability of a wet winter has increased from 40 percent to 50 percent with some areas of the state in the 70-percent range.
In the last 65 years, there have been just six strong El Ninos and only two led to weather patterns that produced major precipitation statewide, according to the California Department of Water Resources. One of the strongest occurred in 1997-98, when storms damaged strawberry and artichoke crops, pushed houses off hillside foundations and washed out highways.
The weather pattern influenced by El Nino, a warming of the water off the Pacific coast of South America, means central and southern California might see some drought improvement by the end of January, according to NOAA.
"While it is good news that drought improvement is predicted for California, one season of above-average rain and snow is unlikely to remove four years of drought," said Halpert. "California would need close to twice its normal rainfall to get out of drought and that's unlikely.
The state finished its water year on Oct. 1 as one of the state's most severe dry periods on record. Recovering from four years of below-average precipitation will depend largely on when and where snowfall occurs -- two factors NOAA's seasonal outlook does not predict.
Those forecasts depend largely on the strength and track of a storm. Heavy snowfall accumulation in the Sierra Nevada would bode well for California's drought outlook because springtime runoff from melting mountain snow flows into the state's major reservoirs, providing water for millions of Californians.
More than 97 percent of the state is under moderate to exceptional drought, according to the latest U.S. Drought Monitor. The weekly report shows 46 percent of the state under exceptional drought, the most severe of the Monitor's four drought categories.
In April, Gov. Jerry Brown issued an executive order mandating a statewide 25-percent reduction in urban water use. Californians surpassed that mandate to save water for a third consecutive month, using nearly 27 percent less in August than the same month in 2013, according to the state's water board.
September figures will be released later this month.