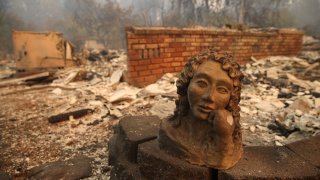 The list below is a tragic reminder of the heart-breaking loss that has resulted from wildfires in California.
Below, a look at some of the state's deadliest fires.
PHOTOS: Wildfire Ravages Butte County, Leaving Dozens Dead
Camp Fire, November 2018
In just a matter of days, the Camp Fire in Butte County became California's most destructive wildfire and its deadliest on record. The death toll stands at 85 with many more people unaccounted for in the fire zone. According to Cal Fire, the flames were caused by power lines.
Griffith Park Fire, October 1933
What started as a debris pile fire in Los Angeles' 4,300-acre park at the eastern end of the Santa Monica Mountains became one of California's deadliest wildfire. On Oct. 3, 1933, Depression-era workers were taking care of other projects in the park when they were dispatched to fight the fire. Not trained in firefighting, they were unable to contain the flames and the fire spread to nearly 50 acres. Fanned by shifting winds, the fire raced up a canyon and overwhelmed workers. Twenty-nine were killed.
Oakland Hills (Tunnel) Fire, October 1991
Local
Get Los Angeles's latest local news on crime, entertainment, weather, schools, COVID, cost of living and more. Here's your go-to source for today's LA news.
Also called the Tunnel fire, the firestorm scorched hillsides in northern Oakland and southeastern Berkeley during an October weekend. The fire, rekindled from an earlier grass fire, burned only 1,600 acres — not large when compared to other wildfires on the list. But it was located in a densely populated area with houses and other buildings in its path. Fanned by powerful wind gusts, the flare-up grew into a wall of fire that left some residents trapped in an inferno that resulted in 25 deaths. Nearly 3,000 structures were destroyed.
Tubbs Fire, October 2017
The Tubbs fire part of a complex of wildfires known as the October Fire Siege in California's Wine Country. The fire, fanned by unrelenting winds in Sonoma and Napa counties, resulted in 22 deaths and destroyed 5,643 buildings, according to Cal Fire. The fire started in the Calistoga area on the night of Oct. 8, spreading at a stunning rate and burning through entire neighborhoods, forcing some residents to run from their homes in search of shelter.
North Complex Fire, August 2020
This fire was, as of May 2021, the fifth most destructive fire and the sixth largest fire on record for California. The flames spread over 318,935 acres, and though the cause is still under investigation, may have been started by lightning in Butte, Plumas and Yuba counties. In the end, the fire destroyed roughly 2,352 buildings and resulted in 15 deaths.
Cedar Fire, October 2003
The catastrophic San Diego County Cedar fire remains the eighth largest fire in California history. It also is one of the deadliest. The 273,000-acre firestorm wiped out 2,820 structures and resulted in 15 deaths. The fire, started by a lost hunter who set a signal fire in Cleveland National Forest near Julian, stormed through wilderness areas and rural communities.
Rattlesnake Fire, July 1953
In the summer of 1953, an arsonist set two fires in Mendocino National Forest in Northern California, setting off a chain of tragic events that would become a textbook case in studies of firefighting. Firefighters quickly got a handle on the first, but spot fires developed during the evening when winds fanned the second fire. Most were extinguished, but one flared up and quickly spread as firefighters sat down for a meal. Some of them ran uphill to a firefighter who warned them about the fire, but 15 who tried to escape down the canyon were overtaken and killed. A boulder at the Grindstone Overlook on Forest Highway 7 has a plaque with the victims' names.
Loop Fire, November 1966
On Nov. 1, 1966, 12 members of the El Cariso Hotshots -- specially trained firefighters who ranged in age from 18 to 26 -- were killed. Again, a firefight turned deadly because of shifting winds. Some crewmembers were trapped when gusts carried spot fire flames up steep Pacioma Canyon in Angeles National Forest north of Los Angeles. Many of the 19 Hotshots who escaped suffered critical burns. El Cariso Park in Sylmar stands as a memorial to the victims.