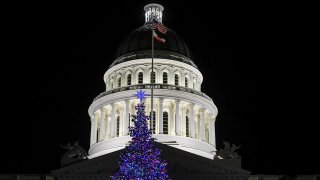 New laws are coming to California.
On Jan. 1, laws regarding minimum wage, COVID-19, driving, sick leave, safety, and other subjects will go into effect.
Below, a look at some of the most relevant laws.
Employment and the Workplace
AB 685, Potential COVID-19 Exposure Notification: Requires all employers to promptly notify employees of potential coronavirus exposure, as well as local public health officials, after someone at the worksite tests positive for COVID-19, receives a medical diagnosis, and/or receives an isolation order. This law also expands Cal/OSHA's authority to shut down a worksite if the agency deems it an imminent hazard.
Minimum Wage Increase: California's minimum wage increases to $14 per hour for businesses employing 26 or more people, and $13 per hour for businesses that have 25 or fewer employees.
AB 2992, Expanded Leave for Crime Victims: Extends job-protected leave for victims of crime or abuse causing physical or mental injury and a threat of physical injury. This law also requires companies with 25 or more employees to provide these victims with time off work to seek medical attention or psychological counseling for their injuries, participate in safety planning, or get help from other related organizations.
AB979, Corporations and Underrepresented Communities: California-based companies must have at least one board director by the end of 2021 who is a racial or sexual minority. By 2022, that bumps to two such directors for smaller boards and to three for boards with nine or more directors. It follows a similar California-first requirement for female board directors.Companies with 100 or more employees must provide the state information on employees' race, ethnicity and gender in various job categories, information that could help the state identify pay disparities.
SB1383, Family and Medical Leave Expansion for Small Businesses: Requires small employers with as few as five employees to provide up to 12 workweeks of unpaid, job-protected leave to their employees for qualifying life events such as serious health problems, birth of a child, and military active duty. However, only employees who have worked for the company for more than 12 months, and for more than 1,250 hours during the previous 12-month period are eligible. Additionally, if both parents of a child work for the same company, each of the parents will receive 12 workweeks leave.
Hospitals must maintain a three-month supply of personal protective equipment such as masks and gloves and supply it to endangered employees. The state itself must also build a stockpile under a separate law.
AB 3075, New Successor Liability Risks: Companies that have acquired another business through a merger or consolidation that have similar operations will now be liable for any wages, damages, and penalties owed by the predecessor to its employees.
AB 2017, Kin Care Leave: Gives employees the power to use their sick days at their sole discretion. Businesses cannot deny an employee's use of their sick days for whatever reason the employee deems necessary.
SB 973, Annual Report Pay Data: Designed to address the state's gender wage gap, this law requires private companies with 100 or more employees to submit a pay data report to the Department of Fair Employment and Housing (DFEH) agency every year. The report shall contain specified wage information tied to race, ethnicity, and sex. This law would "authorize the DFEH to receive, investigate, conciliate, mediate, and prosecute complaints alleging practices unlawful under current discriminatory wage rate provisions."
Public Safety/Criminal Justice
Traffic Safety
AB 2285, Establishes potential fines for motorists who do not slow down and, whenever possible, change lanes when encountering a Caltrans vehicle, tow truck, or any emergency vehicle with lights flashing on a highway. However, AB 2285 does not specify that motorists must move over if there might be conflicts with other drivers, or conditions don't allow for it. But they must slow down. Otherwise, CHP officers could write them a $50 ticket.
AB 2717, Unattended Children Liability: Amends existing law concerning leaving children under the age of 6 unattended in vehicles. Exempts a Good Samaritan who rescues an endangered child from a locked vehicle from civil and criminal liability, "if the property damage or trespass occurs while the person is rescuing a child 6 years of age or younger."
Emergency vehicles can use a distinctive "Hi-Lo" warning sound to notify the public of an immediate need to evacuate an area in an emergency under a law that took effect in September.
Wildfires
AB3074, Brush Clearance: Homeowners in fire-prone areas must further reduce vegetation within 100 feet (30 meters) of structures, including eliminating vegetation immediately adjacent to structures, though the rule can't be enforced until the state develops regulations and lawmakers provide money for beefed-up inspections. As mentioned above, the Governor's Office of Emergency Services must take into account the needs of the elderly, children, those with language barriers or physical or mental disabilities when updating the State Emergency Plan.
AB2756, Insurance Code: Insurers must prominently notify policyholders if their offer to renew a policy reduces coverage, such as eliminating fire protection, and get it acknowledged in writing.
AB2658, Evacuations and Work: Employers can't force domestic workers to work during an evacuation, whether the danger is from fire or the coronavirus.
Copyright AP - Associated Press