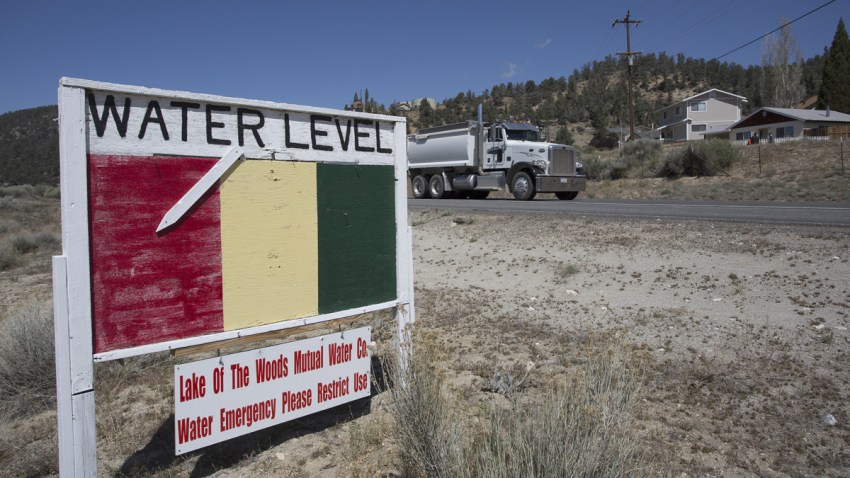 Residents of drought-stricken California used 18 percent less water in December, falling short of the 25 percent conservation mandate set by Gov. Jerry Brown in reponse to the region's dry spell, state officials said Tuesday.
Residents missed the mark for a third straight month, but the California Water Resources Control Board reported at a meeting in Sacramento that the state remains on course to beat its long-term conservation goal. California has saved a combined 25.5 percent since the mandate was issued in June and called for savings from 2013 use rates, the agency said.
State water managers are also looking ahead to April 1 -- when the Sierra Nevada snowpack is historically at its deepest before melting and feeding rivers and streams. Its depth then will signal whether drought conditions are easing after the state's driest four-year period on record.
"We're at halftime," said Felicia Marcus, the state water board's chair. "We're not doing too badly, but we certainly haven't won the game yet."
Average monthly water use declined from 76 gallons for each person in November to 67 gallons in December, the second lowest rate since water-use reporting began in June 2014, officials reported.
On Tuesday, water content of the snowpack measured 130 percent of its historical average for this time of year. Under a light snowfall, snowpack survey chief Frank Gehrke plunged a measuring pole into 76 inches of snow near Echo Summit in the Central Sierra region that includes Lake Tahoe.
"It's certainly a very encouraging start to the winter," said Gehrke, chief of the California Cooperative Snow Surveys Program for the Department of Water Resources.
El Niño-influenced storms by Feb. 1 had boosted the snowpack to levels higher than the state has seen in five years, officials said.
Still, major reservoirs and underground water supplies remain critically low. Oroville reservoir is at 43 percent of capacity, and Castaic and San Luis are at 34 percent of capacity. Normal capacity levels for Feb. 2 are 66 percent for Oroville, 79 percent for San Luis and 83 percent at Castaic.
More than 40 percent of the state remains under exceptional drought, the most severe category represented by the U.S. Drought Monitor. More than 95 percent of California remains under some type of drought, down just two percentage points since the start of the water year in October.
Marcus said she anticipates the state water board will extend the emergency conservation orders through October. The regulations have drawn criticism from water districts, despite efforts to ease them.
Under the proposed regulations, especially hot and dry inland communities might be able to get a slight cut in their conservation targets. Communities with fast population growth, and districts that have developed desalination plants, wastewater-recycling plants or other sources of new water might also get a break.
The proposal doesn't go far enough to reward communities that have invested millions of dollars to protect supplies during times of drought, David Bolland, special projects manager at the Association of California Water Agencies, said in a letter to the state water board. Bolland urged state officials to replace the emergency regulations with long-term water policy.
"Such an approach must fully consider existing and future investments in sustainable and emergency supplies," he said.
In Los Angeles, LADWP customers reduced their water use by 13.7 percent in December, compared to the same month in 2013. Since the statewide mandate was instituted in June, however, DWP customers have reduced a cumulative 16.7 percent, just ahead of the goal, according to the State Water Resources Control Board.

Most Southland cities were still besting their cumulative conservation mandate, although many fell short during December, according to Tuesday's figures. Buena Park, for example, saw a 14.1 percent reduction of use in December, compared to the same month in 2013, but its overall reduction since June is 22.9 percent, ahead of the 20 percent mandate for the city.

Some cities, however, were lagging behind their goal.

The cumulative water savings in Whittier since June is 19.4 percent, just below its mandate of 20 percent. Monterey Park is conserving at a 17.8 percent rate, below its goal of 20 percent. El Segundo continues to struggle with its 20 percent reduction mandate. Residents in that city have cut their overall use since June by just 4 percent, according to the state. The city's conservation rate in December was 16.1 percent.
Copyright AP - Associated Press