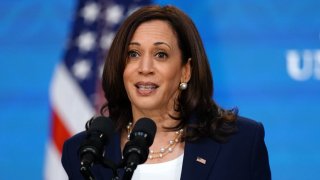 Vice President Kamala Harris visited California Monday for a tour of Vandenberg Space Force Base before a fundraising stop.
Vandenberg Space Force Base is one of six possible locations for the U.S. Space Force's training and readiness command headquarters, known as "STARCOM." There is no timeline for a final decision.
The other candidates are Buckley SFB, Schriever SFB and Peterson SFB -- all of which are in Colorado -- and Florida's Patrick SFB. Site surveys are planned for late April and early May.
STARCOM currently operates out of Colorado Springs, Colorado.
Vice President Harris' visit comes a day after a SpaceX rocket lifted off from the Central Coast base carrying a National Reconnaissance Office satellite into orbit.
Vice President Mike Pence visited the Vandenberg during a 2019 stop in California.
Harris, who has a home in Los Angeles' Brentwood area, flew into Los Angeles International Airport ahead of a Democratic National Committee fundraiser.