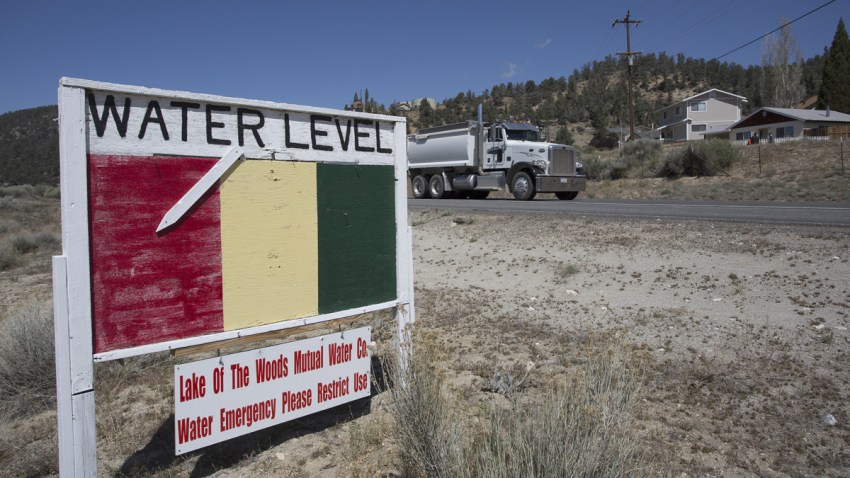 Californians are falling short of the state's mandated water-saving target for the drought.
State water officials announced Thursday that urban water users overall have managed to use 24.8 percent less water since mandatory conservation began last year. That just misses the 25 percent goal for statewide water cuts ordered by Gov. Jerry Brown.
California is now in the fifth year of drought. Water officials blamed warmer weather in January for urban users' slipping in conservation efforts, which have included cutting back on watering lawns and stricter enforcement for wasteful users.
The latest numbers mark the first time since June that Californians have missed the overall mandatory water-conservation target. Monthly figures show water customers reduced their use by 17.1 percent statewide in January, compared to the same month in 2013.
In Los Angeles, Department of Water and Power customers cut their water use by 13.7 percent in January, compared to the same month in 2013, below the 16 percent conservation mandate set by the state. Since June, when the water-cutback requirements went into effect, DWP customers have cut their use by a cumulative 16.4 percent, putting the agency just ahead of its state-set mandate, according to the State Water Resources Control Board.
Most Southern California cities continued to surpass their water-savings goals, including Azusa, which has cut its use by 20.9 percent since June, ahead of its 20 percent mandate; Downey at 21 percent, ahead of its 20 percent requirement; and Santa Monica at 21.4 percent, ahead of its 20 percent mandate.
Some cities, however, are falling short of the mandates, including Norwalk, Pasadena, Hawthorne, Fullerton and Arcadia. El Segundo continues to lag well behind its 20 percent conservation mandate, with a cumulative conservation rate of 3.9 percent.
A strong El Niño weather pattern this year has brought parts of the state up to normal levels of rain and snow, but fallen short of the big storms that state officials say would be needed to bring California out of drought.
"We're hoping for every raindrop and every snowflake we can handle. We're hoping for a miracle March and an awesome April," said State Water Resources Control Board Chairwoman Felicia Marcus.
More than 38 percent of the state is under exceptional drought, the most severe category listed by the U.S. Drought Monitor. That figure is down from 44 percent three months ago.
More than 94 percent of the state remains under some type of drought.
Copyright AP - Associated Press