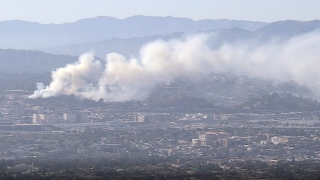 Two small brush fires were extinguished Saturday in Elysian Park.
The first fire, which charred about one-acre of grass, ignited near 714 W. Lookout Drive about 4:55 p.m., said Los Angeles Fire Department spokesman Nicholas Prange.
During the firefight electrical wires came down creating a temporary dangerous situation for firefighters, Prange said.
Local
Local news from across Southern California
Firefighters with assists from two volunteer hand crews and two Community Emergency Response Teams evaded the power lines and stopped the flames from threatening nearby homes, Prange continued.
The department dispatched 73 firefighters to the scene and extinguished the blaze in about an hour, Prange said.
No injuries were reported and no buildings were burned.
The second fire started nearby, at 500 N. Buena Vista Drive, about 5:28 p.m., Prange said.
This fire was extinguished by fire department water-dropping helicopters before ground crews arrived on scene, Prange said. There was no available estimate about how long it took to douse it. Firefighters will temporarily remain at both scene to mop up and put out any hot spots that might flare up.
No injuries were reported in this fire and the cause of both fires remained under investigation.