TGI Weekend! This weekend begins with lots of unique ways to celebrate love in San Diego on Valentine's Day. After that, fill your days with everything from museums, history, and nature, to craft brews, coffee, community festivals and entertainment. Get up. Get out. Play!
Thursday, Feb. 14: Happy Valentine's Day!
North Park Thursday Market
3:30 p.m. to 7:30 p.m., North Park Way & Granada Avenue (North Park)
North Park is known for its interesting small businesses and, on Thursdays year-round, local vendors and artisans are showcased at this popular farmers market located on the corner of North Park Way and 29th Street. On the shopping list: farm-fresh fruits and vegetables, meat, eggs, sauces, bread and even handcrafted gifts from local, small businesses. The free event also features live music.
Oceanside Sunset Market
5 p.m. to 9 p.m., Main Street Oceanside
Each Thursday, the Oceanside Sunset Market brings about 200 local merchants together for this sunset marketplace spanning four blocks in downtown Oceanside. Shoppers can expect vendors showcasing homemade goods and tasty grub, plus live music and, of course, an incredible ocean view. The free market is located on Pier View Way; if it rains, the market usually gets canceled, so check the weather before making your plans.
San Diego Museum of Art Tour, Picnic & Walk
5:30 p.m. to 7:30 p.m., San Diego Museum of Art
File this under charming: the San Diego Museum of Art in Balboa Park will offer 30-minute, docent-led, after-hours tours on Valentine's Day for lovebirds who love the arts, followed by a romantic picnic. After strolling around the museum, couples will visit the May S. Marcy Sculpture Court and Garden at the Panama 66 restaurant where they will be given a picnic basket filled with everything needed to two: gourmet sandwiches, a cheese or vegan plate, dessert, and a bottle of champagne, wine or growler of craft beer from Panama 66. After the picnic, end the evening with a stroll around the garden. The museum tours will be held every half-hour from 5:30 p.m. to 7:30 p.m. Tickets for this all-inclusive tour and picnic package are priced at $130 per couple.
Beer & Cheese Pairing
6 p.m. to 7:30 p.m., Venissimo Cheese at Bottlecraft
You had him or her at cheese. Venissimo Cheese hosts this casual Valentine's Day craft beer and cheese pairing event at its location inside Bottlecraft in North Park. Lovebirds will sample seasonal pairings that scream love in every language. Tickets cost $40.
4th Annual Anti-Romance Party
6 p.m. to 9 p.m., Duck Foot Brewing Company Tasting Room
If you're not into Valentine's Day, here's an alternative for you: the annual "Anti-Romance Party" at Duck Foot Brewing Company in Miramar. The adults-only event features games, adult-themed coloring books and, of course, craft brews. This year's beer special is a Red Ale with Peanut Butter, Cocoa Nibs, and Sea Salt – a mildly dark, salty brew, fit for the anti-romance vibe.
Macrame Moon Craft Workshop
6:30 p.m. to 9:30 p.m., Rip Current Brewing North Park
Get crafty – in more ways than one – Thursday night at Rip Current Brewing in North Park where experts from Patchwork will lead this workshop on how to make a macramé moon wall hanging. A $35 ticket gets you all of the supplies needed to create the craft as well as instruction. No previous experience is required to take part in this workshop.
Flight School: Beer & Chocolate
7 p.m. to 8 p.m., Stone Brewing World Bistro & Gardens (Liberty Station)
Invite your sweetheart to this suds-meets-sweets event at Stone Brewing World Bistro & Gardens at Liberty Station, where an expert will guide you through four samplings of chocolates from Chuao Chocolatier paired with four tastings of Stone brews. Tuition to this so-called "Flight School" costs $15 a pop.
Steak, Chocolate Cake & Craft Beer Dinner
7 p.m. to 9 p.m., North Park Beer Company
If you love craft beer, this dinner event at North Park Beer Company may be the way to go on Valentine's Day. The $50 per person coursed dinner will be served in the taproom, with dishes created by local favorite, Mastiff Kitchen, each expertly paired with a craft brew. Seating is limited, so reserve your spot ahead of time.
Valentine's Day Cruise on San Diego Bay
7:30 p.m. to 10 p.m., Flagship Cruises & Events (990 N. Harbor Dr.)
Enjoy dinner, dancing, and cruising around San Diego Bay aboard a luxury yacht on Valentine's Day. Flagship Cruises & Events will host this Valentine's Day Cruise from 7:30 p.m. to 10 p.m. which includes a glass of champagne as you board, a three-course dinner, music and endless romantic views of the scenic bay – from the San Diego skyline to the Coronado Bridge. Tickets cost $89.50 per person; for $30 more, you can upgrade to a hosted bar throughout the cruise.
Somebody to Love
8 p.m., The Music Box
"America's Got Talent" finalist and San Diego native Brian Justin Crum brings his powerhouse vocals to the stage at The Music Box in "Somebody to Love," a Queen-inspired, rock-meets-ballet concert. The show features Queen's iconic songs plus the talents of ballet dancer and San Diego local Kirsten Bloom Allen for a uniquely artistic, multi-sensory experience. General admission costs $67, or you could upgrade to a reserved table, plus a pre-show meet-and-greet.
For even more Valentine's Day plans in San Diego, read our full guide here.
Friday, Feb. 15
Museum Month: Half-Priced Admission
Museum Times and Locations Vary (Entire Month of February)
Quite possibly the best part about February: the Museum Discount Pass. All month long, more than 40 museums in San Diego County – from the Birch Aquarium and the USS Midway Museum to the San Diego History Center and Whaley House – will offer half-priced admission. The Museum Discount Pass, presented by the San Diego Museum Council, is free and available for pick-up at local libraries. Bring it with you this month to select museums on this list to snag deep discounts on admission.
San Diego Whale Watching Tours
9:30 a.m. or 1:30 p.m., Flagship Cruises & Events
Whale watching season in San Diego typically runs from December to April, when approximately 20,000 gray whales migrate along our coast. Flagship offers daily whale watching tours to catch a glimpse of the magnificent giants of the sea, led by marine experts from Birch Aquarium, who will explain the intricacies of the ocean ecosystem. The tours are aboard the two-story yacht, the Marietta, and last about three-and-a-half hours. Weekend prices cost $48 for adults and $24 for children ages 4 to 12. Check the Flagship website for departure times, depending on the day you choose to cruise.
Heritage Weekend at San Diego's Historic Mission
6:30 p.m., Mission Basilica San Diego de Alcala
Mission Basilica San Diego de Alcala – also known as the "birthplace of San Diego" – is currently celebrating its 250th anniversary and special events will be held throughout the year just for the occasion. This weekend – Friday through Sunday – is "Heritage Weekend" at the landmark, a festival highlighting the Spanish and Native American traditions that have shaped the history of the mission. The event will include food, music, exhibits, interactive crafts and special prayer services. It kicks off Friday at 6:30 p.m. with a "Holy Hour" ceremony led by Deacon Andrew Orosco from the Kumeyaay community. Saturday's festivities run from 9:30 a.m. to 3 p.m.; Sunday's lineup includes a trilingual mass at 12 p.m., food at 1 p.m. and a performance from a Spanish guitarist at 2:30 p.m. The event is free.
Hops on the Harbor: Burgeon Beer Company
7 p.m. to 10 p.m., Flagship Cruises & Events
Enjoy a craft beer dinner cruise around the San Diego Bay paired with suds from Carlsbad's Burgeon Beer Company, known for its Treevena American IPA. The menu from this installment of "Hops on the Harbor" includes four 6-ounce beer tastings expertly paired with four courses. For instance, Burgeon's Burl, a nut brown brew, will be paired with Coffee-Rubbed Beef Sirloin. Also on the beer list: Burgeon's German pilsner, Pistil, and its hoppy pale, Canopy Tour. The dinner cruise boards at 7 p.m. from 990 North Harbor Dr. and sails past the San Diego skyline, USS Midway, Star of India and other Maritime Museum ships and the Coronado Bay Bridge. Tickets cost $79.50 for adults and $47.70 for children ages 4 to 12; kids 3 and under are free. Reservations are recommended.
Circus Vargas
7:30 p.m., Westfield Mission Valley
Circus Vargas – celebrating its 50th anniversary and the golden era of the circus in America – returns to San Diego bringing with it acrobats, daredevils and flying trapeze under the big top. The show runs through Feb. 18 at Westfield Mission Valley. After that, "The Big One" moves to Westfield Plaza Bonita in National City (Feb. 21 to March 4), and then travels to Escondido's Westfield North County (March 7 to March 18). General admission bleacher seats start at $15, while arena seats start at $27. Kids under 2 who sit on an adult's lap get in free.
Shen Yun: 5,000 Years of Civilization Reborn
7:30 p.m., California Center for the Arts Escondido
A trip back in time through ancient China is "Shen Yun," a show featuring the art of classical Chinese dance along with vibrant costumes, high-tech backdrops, and a talented orchestra. The production runs at the California Center for the Arts in Escondido through this Sunday; Saturday's performance is at 7:30 p.m. Tickets start at $80.
San Diego Sockers vs. Tacoma Stars
7:35 p.m., Pechanga Arena San Diego
Soccer powerhouse Landon Donovan makes his debut with the San Diego Sockers at this home game Friday night at Pechanga Arena San Diego. General admission tickets cost $15, and free parking is included. The doors open at 6:35 p.m.; the game starts one hour later. By the way, Donovan is pretty excited to join the Sockers -- here's why.
Bohemian Rhapsody
8 p.m. (Thursday, Friday & Saturday), Cinema Under the Stars
The Golden Globe Award-winning "Bohemian Rhapsody" plays on the big screen this weekend at Cinema Under the Stars – at 8 p.m. Thursday, Friday and Saturday. Watch actor Rami Malek transform into Queen's vibrant frontman, Freddie Mercury, in this saga of the iconic band's rise to fame. The outdoor theater on Goldfinch Street is currently hosting its winter/spring screening season and, since it can be a bit chilly out, the theater offers blankets, space heaters and other amenities to keep patrons warm and cozy. Admission is $18 at the box office, or you can reserve your seat in advance for $20.
Saturday, Feb. 16
5K Paw Walk in the Garden
8 a.m. to 12 p.m., San Diego Botanic Garden
The San Diego Botanic Garden teams up with the Rancho Coastal Humane Society for this 7th annual 5K Paw Walk benefitting both organizations. Participants – and their dogs – are invited to walk through a route through the garden's areas like California Native Plants, Australia, the Canary Islands, Hawaii, bamboo, tropical fruit, and palm canyon. The event also includes vendor booths showcasing pet products and treats for pups and humans alike. The registration fee is $32.
37th Annual San Diego Chinese New Year Fair
10 a.m. to 5 p.m. (Saturday and Sunday), Chinatown San Diego (3rd Avenue between Island Avenue and J Street)
This two-day street fair in downtown San Diego's Chinatown community celebrates the Chinese Lunar New Year with dance and cultural performances, tasty Asian street food and lively activities. The event is free; bring cash to purchase snacks and goodies.
Legendary Tour: Hotel Del Coronado
10 a.m., Hotel Del Coronado
San Diego history buffs, this one's for you. The iconic Hotel Del Coronado is currently offering a daily tour at 10 a.m. dubbed the "Legendary Tour," which explores the landmark's rich 130-year-old heritage. Learn about the celebrities, royalty and beach-loving families who have gravitated toward The Del over the decades, and the hotel's most notorious guest, Kate Morgan, who checked into the hotel in 1892 whom some believe never really checked out. The 90-minute tour costs $40 for adults; kids 5 and under can join for free. You must register ahead of time.
Yoga + Beer
10 a.m. to 11 a.m., Eppig Brewing (North Park)
Center and energize yourself with this one-hour yoga session at Eppig Brewing in North Park. The $20 class includes a welcome taster of craft beer, Vinyasa flow, and a pint afterward. Space is limited to email ahead of time (events@eppigbrewing.com) to snag a spot and a mat.
Carnival of Caffeination
12 p.m. to 4 p.m., San Diego Jacobs Center (404 Euclid Ave.)
Modern Times Beer hosts its annual spectacle of caffeinated and fermented wonders, focusing on rare, coffee-centric craft brews and java from top-notch roasters. The Carnival of Caffeination also features food tastings to match the magic happening in those cups. General admission tickets cost $55 and include samples of beer, coffee, coffee beers, and snacks.
Creating a Comics Story with Patrick and Shelly Block
1 p.m. to 3 p.m., Comic-Con Museum
The Comic-Con Museum in downtown San Diego (2131 Pan American Plaza) hosts this free, all-ages workshop with Patrick and Shelly Block, 26-year veteran creators of Disney comics. The audience will get to participate in bringing a Donald Duck story to life and learn tips from the pros in the process.
Familiar
2 p.m. and 8 p.m., The Old Globe
"Familiar" – a family-centric comedy-drama – is on stage at The Old Globe in Balboa Park now through March 3. The production is about a couple living the American Dream since emigrating from Zimbabwe and their daughter, who is getting married. Along the way, there's a lot going on with the blending of cultures and family members. Showtimes for "Familiar" vary weekly; Saturday's schedule includes a 2 p.m. performance and a performance at 8 p.m. Tickets start at $35 all the way up to $91 premium seats.
Stand-Up Comedy
7:30 p.m., 9:30 p.m. and 9:45 p.m., American Comedy Co. and The Comedy Store
Looking for a good laugh? Try a stand-up comedy show at two prime San Diego venues: downtown's American Comedy Co. or The Comedy Store in La Jolla. On Saturday night, New York City funnyman Colin Kane takes the mic at American Comedy Co., with shows at 7:30 p.m. and 9:30 p.m. Tickets there start at $20. Over at The Comedy Store, New Yorker Ari Shaffir headlines his stand-up show at 7:30 p.m. and 9:45 p.m. Tickets there cost $25.
Ritmos Latinos: Que Bonito Amor
8 p.m., Lyceum Theater
San Diego Ballet celebrates Latin music in this three-day production at downtown San Diego's Lyceum Theater. Set to mariachi, jazz, and other rhythms, the show features three signature ballets: "Que Bonito Amor," "Tangata," and "Por Los Muertos." Tickets range from $35 to $50; for an additional $20 on Saturday only, you can mingle with the artists in the Lyceum's lobby after the show.
Louis XVI, The Slashes & Demasiado
9:30 p.m., The Casbah
The Casbah presents three acts under one roof for this 21+ show: Louis XVI, The Slashes and Demasiado. General admission costs $25.
8 Must-See Ocean Views in San Diego
Sunday, Feb. 17
Guided Nature Walk
9:30 a.m. to 11 a.m., Mission Trails Regional Park
Start your Sunday with a little nature walk at Mission Trails Regional Park. A trail guide will take visitors through one of three trails -- the Oak Grove Loop, the Visitor Center Loop or the Riverside Grinding Rocks -- while talking about the plants, animals, geology, history, and ecology of the park. These weekly guided walks are free and open to the public and begin at the Visitor Center. Wear sturdy shoes and bring water, a hat, and sunscreen. Rain cancels the walk.
Gaslamp Artisan Market
10 a.m. to 3 p.m., Gaslamp Quarter (Fifth Avenue)
Peruse more than 30 local artisans offering carefully-curated, handmade products at this weekly outdoor market in the Gaslamp Quarter. The Gaslamp Artisan Market sets up shop every Sunday on Fifth Avenue, between Market Street and Island Avenue.
San Diego Fermentation Festival
11 a.m. to 5 p.m., Leichtag Commons in Encinitas
This family-friendly festival at the Leichtag Commons in Encinitas (800 Ecke Ranch Rd.) celebrates fermented foods and drinks, and overall health and wellness. The events include demos, live music, a wellness pavilion with yoga classes and sound healing, a "Makers Market" boasting dozens of local vendors, and the 21+ "Ambrosia Garden" featuring tasters of beer, wine, mead, cider and more. Tickets range between $14 and $45; kids 12 and under get in free when accompanied by a paid adult.
Live Music: Backstage Pass
1 p.m., Liberty Public Market
Local band Backstage Pass covers the hits of the 1960s, 1970s, and 1980s in this free lunchtime concert on the patio at Liberty Public Market Sunday. To make a day of it, grab a bite from one of the vendors inside Liberty Public Market, take your food to the patio and eat while enjoying the live music.
San Diego Fleet vs. Atlanta Legends
5 p.m., SDCCU Stadium
San Diego Fleet – our city's Alliance of American Football (AAF) team – squares off against the Atlanta Legends at this Sunday evening home game at SDCCU Stadium. With the Chargers long gone, this is one way to still enjoy football in San Diego. Tickets start at $20.
Murphy's Celtic Legacy
7 p.m., Poway Center for the Performing Arts
Dancers and musicians from Riverdance, Lord of the Dance and Celtic Women take center stage at the Poway Center for the Performing Arts for this lively Irish dance show. The choreography combines traditional Irish dance with modern elements, live music and more. Tickets start at $25.
Free or Cheap Things to Do in San Diego
Times and locations vary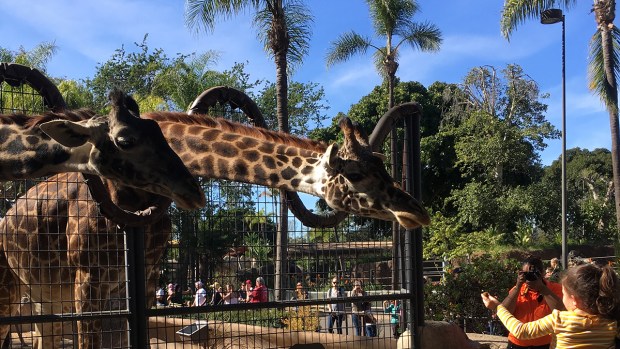 Free or Cheap Things to Do in San Diego
Looking to save some cash, but still enjoy the city? In San Diego, there are still plenty of activities to enjoy for free or on the cheap. Go for a hike at Torrey Pines State Park or Cowles Mountain, stroll Balboa Park, try a new craft brewery, admire the murals of Chicano Park or read a book at a downtown park. Get out there and explore America's Finest City.
Do you love the weekend in San Diego? Are you looking for things to do? Join our Facebook group, Your San Diego Weekend. We're sharing weekend events, things to do with the whole family, weather, the newest restaurant openings and more! Click here.