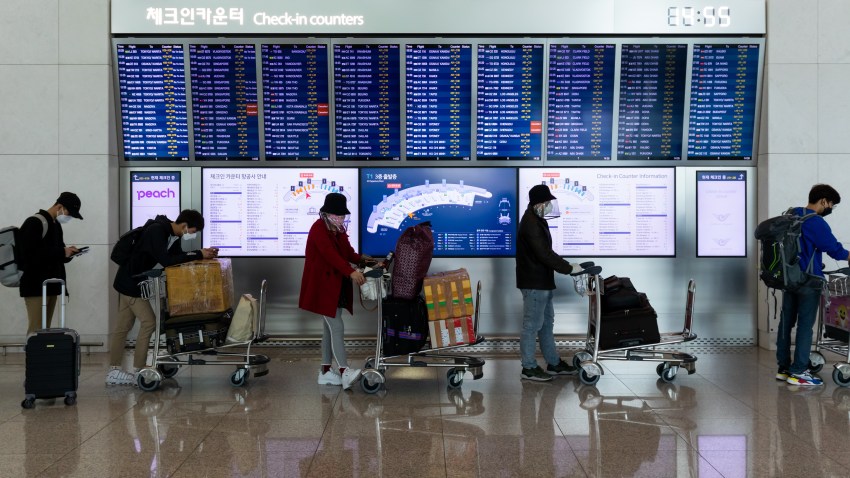 This article was originally published on March 2, 2020. It will be updated regularly as new information becomes available.
COVID-19, the disease caused by a member of the coronavirus family, is spreading rapidly around the world, and airlines are under extreme stress as the outbreak continues to reach new countries. At this point, tens of thousands of confirmed cases have popped up in more than 100 countries, and airlines are taking precautions to protect passengers from catching and spreading the disease.
The U.S. Centers for Disease Control and Prevention recently updated its country list for warning level 3 — its most severe advisory — to include China, Iran, Italy and South Korea, while an alert level 2 still applies to Japan. The Atlanta-based agency also recommends avoiding any layovers at airports in level 2 or 3 advisories. Meanwhile, the U.S. Department of State has warned Americans not to travel to China if possible
Coronavirus Pandemic
Full coverage of the COVID-19 outbreak and how it impacts you
While airlines flying to Asian countries suffered the first wave of cancellations, carriers heading in and out of Europe and North America have followed close behind as the outbreak continues. With the evolving nature of the outbreak, some airlines have increased their flight cancellations, and have even begun waiving fees for those who previously booked flights to high-risk countries.
American Airlines and Delta Air Lines are the latest U.S. airlines to update their cancellations and waiver policies, with American canceling all service to Milan until further notice and Delta suspending service from New York's John F. Kennedy International Airport to Milan.
On March 11, President Trump addressed the nation, suspending travel from Europe into the United States for the next 30 days.
Below is a list of other airlines that have put various flight cancellations and fee-waiving policies into effect since the disease outbreak on Jan. 20, when the first confirmed cases occurred outside of mainland China, according to the World Health Organization.
Alaska Airlines
As of March 10, Alaska Airlines has extended its waiver of change and cancellation fees for travel through March 31, regardless of purchase date, and for new tickets purchased between Feb. 27 and March 31. The offer applies to all fares, including saver fares. Tickets must be changed or canceled prior to the departure of your original flight, and fare differences may apply. Specific details for tickets purchased on or before Feb. 26 can be found here; details for tickets purchased between Feb. 27 and March 31 can be found here.
American Airlines
As of March 10, American will waive flight-change fees prior to travel on any tickets purchased before March 1 for travel through April 30, updating its March 5 policy of waiving fees for tickets purchased from March 1-31. This offer is available for any of the airline's nonrefundable published fares. The new ticket must be reissued on or before Dec. 31 or 12 months from the original ticket date, whichever is earlier. More details can be found here.
Additionally, any traveler with previous plans to go to Italy, Beijing, Shanghai, Hong Kong, South Korea or Wuhan, China, is eligible for a "one-time fee-free trip cancellation," according to the airline's site. To learn more specifics, including eligibility details, check here.
On March 14, American announced it is reducing international capacity by 75% year over year from March 16 to May 6. It will continue to offer one flight daily from Dallas to London, from Miami to London and three flights per week from Dallas to Tokyo. The airline also anticipates domestic capacity will be reduced by 20% in April and by 30% in May compared to last year. More scheduling details can be found here, while information on government-imposed travel restrictions can be found here.
Effective March 16, American is changing its food service procedures in its lounges and aboard aircraft; that includes replacing buffet-style food with individually portioned, covered dishes. Passengers will also receive a new plastic or paper cup with every drink request. More details can be found here.
Delta Air Lines
Delta is waiving fees for all travel departing in March or April as well as for tickets purchased in March. Any Delta ticket expiring in March or April will be extended to allow for rebooking and travel until Dec. 31. For flights May 1 or later, the airline asks customers to check back later. You can find more details here.
The airline is also waiving fees for any travel through May 31 to these restricted areas:
Europe, the U.K. and Ireland
Shanghai and Beijing
Seoul
Argentina, Colombia, Ecuador, El Salvador, Guatemala and St. Maarten
Australia
With the U.S.-imposed travel ban now extending to Ireland the U.K., Delta is temporarily suspending service between Detroit and London starting March 16 and service between New York and Dublin starting March 18.
Starting Monday, the airline will operate one daily flight between the following cities:
Atlanta to Amsterdam
Atlanta to London
Atlanta to Paris
Detroit to Amsterdam
New York to London
More details on trans-Atlantic flights can be found here. The latest trans-Pacific flight schedules can be found here.
On March 13, the Atlanta-based airline announced it is reducing overall capacity in the next few months by 40%, the largest in its history. Delta is nearly eliminating flying to continental Europe for the next 30 days and parking up to 300 aircraft. It is also implementing a hiring freeze and offering voluntary leave options.
Frontier Airlines
As of March 10, Frontier has extended its waiver policy so that customers can make a one-time, fee-free change for travel reservations made between March 10 and March 31, with any fare difference applying. There's also an option to change the origin and/or destination city, and new travel must be completed by Nov. 9. Those wanting to cancel their existing reservation will have the cancel fee waived and will retain the value of the ticket to be applied toward the purchase of a future ticket within 90 days of cancellation.
For tickets issued prior to March 10 with original travel dates between March 10 and April 30, customers can make a one-time change to their itinerary without a change or cancellation fee; travel must be completed by Nov. 9. For more details, check here. Frontier told TODAY that they will continue to monitor and evaluate the situation. To make a change or cancellation, call 801-401-9000.
Over the weekend of March 7, TODAY learned that some Frontier call center personnel were incorrectly advising customers that the fee waiver was no longer available. "We have identified and clarified the guidance and continue to offer fee waivers," Jennifer de la Cruz, director of corporate communications at Frontier Airlines, told TODAY via email. "We sincerely apologize for any inconvenience or distress this may have caused our customers."
Hawaiian Airlines
As of March 6, Hawaiian has updated its waiver policy so that guests who book any flights between March 1-31 can make a one-time, fee-free change to a future travel date; applicable fare differences will apply. As of March 9, the airline will also issue travel waivers for flights booked through March 9 for travel between March 1 and April 30. Additional waivers can be found here.
All flights from Hawaii to South Korea have been suspended from March 2 to April 30 as of Feb. 26. You can find out more on the company's website.
Following new travel rules from Australia and New Zealand requiring that everyone entering the country must self-isolate for 14 days, Hawaiian Airlines is offering a one-time change fee waiver for affected customers. More details can be found here. On March 15, the airline announced it is temporarily suspending nonstop service between Honolulu and the Australian cities of Brisbane and Sydney, as well as Auckland, New Zealand.
JetBlue
On March 12, JetBlue announced that it is extending its waiver on change and cancellation fees for previously booked flights for travel between March 10 through April 30. The company also extended its waiver to all new bookings made between March 6 and March 31 for travel through Sept. 8 across all fare categories and destinations. JetBlue said an earlier advisory suspending change and cancellation fees for new bookings made between Feb. 27 and March 5 for travel through June 1 still applies. For any changes to your travel plans, the airline will credit the amount in the form of a travel credit that's valid for one year; fare differences may apply.
On March 4, the airline announced it would cut its capacity by 5%.
Southwest Airlines
Southwest told TODAY that they haven't canceled or suspended any flights in the wake of the novel coronavirus outbreak, however, it is one of the only U.S. airlines that already doesn't charge flight rescheduling or cancellation fees, so you can reschedule or cancel any flight at any time for no cost.
Spirit Airlines
As of March 10, Spirit Airlines has updated its policy to allow customers to make a one-time free change — fare differences apply — by calling customer service at 801-401-2222 or by texting 48763. You can also text via WhatsApp to 801-401-2222 with "Hello."
Customers concerned about COVID-19 also have the option to receive a credit for the full value of their reservation. The credit can be used for up to six months to book any flight currently available, including beyond the six-month time frame. This reservation credit can be used for up to 6 months to book any flight currently available (including beyond the 6-month timeframe). More details can be found here.
United Airlines
The Chicago-based airline will waive change fees for any bookings — domestic and international — made between March 3 and March 31. On March 10, just like many other airlines on this list, United also updated this policy to include waivers for all tickets issued on or before March 2 with original travel dates of March 9 through April 30. Customers can change their travel plans to a flight of equal or lesser value up to 12 months from the original ticket issue date free of charge; fare differences may apply.
United's website was also updated to include guidelines regarding travel to and from European countries in light of the new travel ban. The company states that customers who are "U.S. citizens, lawful permanent residents or immediate family members of U.S. citizens will be subject to additional health screenings on arrival to the United States. The CDC also advises that travelers returning from these countries in Europe must stay home for 14 days and monitor their health after returning to the U.S."
Their website also states that the company will continue to fly its regular schedule from Europe to the United States through March 20. After that date, the company expects to "fly daily to Zurich, Brussels, Paris, Amsterdam, Manchester and Edinburgh, maintain multiple flights to Frankfurt and Munich, and operate 18 daily flights to and from London, three to Dublin and four flights a week to Lisbon, all while continuing to monitor demand." You can read more about it on the company's website.
On March 4, United announced that it plans to cut international flights by 20% and domestic flights by 10% next month.
Not traveling by air? Amtrak is also suspending fees for canceling and changing trips made up until April 30, although there have yet to be coronavirus-related travel restrictions on the railway. "We will continue to monitor the coronavirus situation closely and adjust this policy as necessary," Amtrak said in a statement.
Does travel insurance protect my trip for COVID-19 claims?
If you have a flight scheduled in the next few months and you're thinking about canceling because of COVID-19, it's important to not only check your travel insurance policy beforehand but also the date of purchase. Many insurance companies cite Jan. 21, the day COVID-19 became a named event, as the cutoff date for coverage related claims arising from the disease.
If you haven't left for your trip and want to cancel, you could attempt to upgrade your travel insurance to a "cancel for any reason" option if the insurance company allows it; this lets you cancel your trip 48 hours before the scheduled departure time. Be aware that you may only be refunded about 50%-75% of your trip if you upgrade to this option.
This article first appeared on TODAY.com. More from TODAY:
Copyright Today Digital Originals