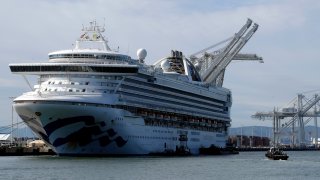 A couple who was aboard a cruise ship carrying passengers who tested positive for coronavirus has filed a $1 million lawsuit, alleging that the company exposed them to the disease.
Ronald Weissberger, 74, and his wife, Eva Weissberger, 69, of Broward County, Florida, boarded the Grand Princess in San Francisco on Feb. 21 for what was supposed to be a relaxing vacation to Hawaii.
The ship was on its way back to California when it was told on March 4 to anchor off the coast after people on the vessel tested positive for coronavirus.
Vice President Mike Pence said Friday that among the more than 3,500 people aboard the ship, 21 were infected with the disease.
After several days of being anchored off the coast, the ship arrived to a port in Oakland on Monday and passengers were allowed to begin disembarking. Passengers are now being sent to quarantine centers at military bases in California, Texas and Georgia.
Read the full story at NBCNews.com.