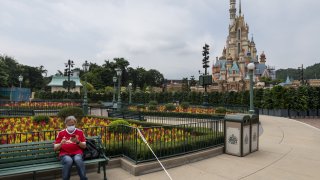 Prolonged closures at Disney's California-based theme parks and limited attendance at its open parks has forced the company to lay off 28,000 employees across its parks, experiences and consumer products division, the company said.
In a memo sent to employees on Tuesday, Josh D'Amaro, head of parks at Disney, detailed several "difficult decisions" the company has had to make in the wake of the coronavirus pandemic, including ending its furlough of thousands of employees.
Shares of the company fell less than 2% after the closing bell on Tuesday.
Around 67% of the 28,000 laid off workers were part-time employees, according to a statement by D'Amaro on Tuesday. The company declined to break down the layoffs by individual park locations.
While Disney's theme parks in Florida, Paris, Shanghai, Japan and Hong Kong have been able to reopen with limited capacity, both California Adventure and Disneyland have remained shuttered in Anaheim, California.
"As you can imagine, a decision of this magnitude is not easy," D'Amaro wrote in the memo to employees obtained by CNBC. "For the last several months, our management team has worked tirelessly to avoid having to separate anyone from the company. We've cut expenses, suspended capital projects, furloughed our cast members while still paying benefits, and modified our operations to run as efficiently as possible, however, we simply cannot responsibly stay fully staffed while operating at such limited capacity."
The parks, experiences and consumer products segment is a vitally important part of Disney's business. Last year, it accounted for 37% of the company's $69.6 billion in total revenue.
Coronavirus Pandemic
Full coverage of the COVID-19 outbreak and how it impacts you.
Disney has been hemorrhaging money since the outbreak began. In the second quarter, the company reported a loss of $1 billion in operating income due to the closures of its parks, hotels and cruise lines. In the third quarter, the company reported a steeper loss of $3.5 billion.
D'Amaro and his team have been working to persuade California state legislators to provide guidelines for reopening parks. Last week, the company provided a media update to highlight the success it has seen at its Florida parks and internationally in Paris, Shanghai and Japan.
The virtual update also showcased the updated safety measures it has in place already. These policies include requiring masks, having sanitation stations widely available, online mobile ordering for meals and cashless pay.
Disney's coronavirus woes have been "exacerbated in California by the State's unwillingness to lift restrictions that would allow Disneyland to reopen," D'Amaro said.
Gov. Gavin Newsom outlined a new four-tier reopening framework in late August for easing restrictions on California's businesses depending on the level of COVID-19 spread in individual counties.
Orange County, which is where Disneyland operates, remains in the "substantial" tier, and theme parks must remain closed, according to the state's website. Orange County is reporting a local positivity rate, or the percentage of total tests that have positive results, of 3.1% — below the statewide 3.4% rate.
However, the county is reporting roughly 4.4 new COVID-19 cases per 100,000 people daily, preventing it from moving forward with more reopenings. Newsom told reporters during a press briefing at the end of August that state officials were "actively" working with Disneyland and other theme parks in California.
Read Disney's memo to employees
This story first appeared on CNBC.com. More from CNBC:
Copyright CNBCs - CNBC