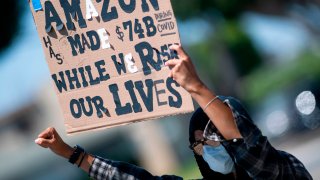 A day after workers at an Amazon fulfillment center in Kenosha, Wisconsin, were notified via text that more of their colleagues had tested positive for the coronavirus and they needed to maintain social distancing, the National Weather Service issued a tornado warning for the county.
Managers ushered hundreds of employees into windowless rooms where they huddled shoulder to shoulder for half an hour, waiting for the storm to pass, according to a current employee who spoke to NBC News on the condition of anonymity.
Co-workers and local health authorities don't know if that half-hour in a packed room led to additional COVID-19 cases among the warehouse employees. That's because the company has declined to provide data about the total number of cases in the warehouse despite repeated requests by the Kenosha County Division of Health, documents obtained by NBC News show.
Amazon spokesperson Lisa Levandowski said the company reports all positive cases of COVID-19 among workers to the health department where the worker lives, but doesn't release total cases broken down by facility to avoid creating "unnecessary fear."
Amazon's lack of transparency is compounded by what occupational health experts describe as inadequate legal protections — including inaction from the Occupational Safety and Health Administration (OSHA) — that have left employees of Amazon and many other employers with few protections and little information about outbreaks they face at work.
Read the full story on NBCNews.com