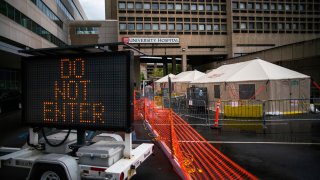 A second surge of the coronavirus in the fall and winter could be catastrophic for the U.S. It's not just more sick people that doctors worry about, NBC News reports.
The pandemic hit all U.S. hospitals with a financial "triple whammy," said Aaron Wesolowski, the American Hospital Association's vice president for policy research, analytics and strategy. Costs increased dramatically, while revenues plummeted.
The hospitals were forced to cover the exorbitant costs of buying extra personal protective equipment like N95 masks, as well as convert wards to treat COVID-19 patients and more uninsured patients. At the same time, they had to stop performing revenue-generating procedures like elective surgeries.
By the end of 2020, hospitals across the U.S. will lose about $300 billion, according to the American Hospital Association. But for major medical centers like University Hospital in Newark, the financial hit of a second wave of COVID-19 would be especially devastating.
Coronavirus Pandemic
Full coverage of the COVID-19 outbreak and how it impacts you.
"Where there are already cracks in the system, those cracks become earthquakes," said Dr. Chris Pernell, University Hospital's chief of strategic integration and health equity officer.
Read the full story on NBCNews.com