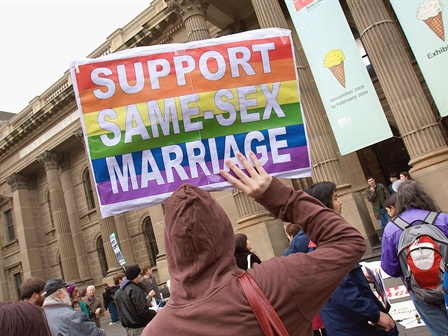 Teachers at El Camino Real Charter High School will protest outside school grounds in an effort to retain the school's charter status after administrators were caught spending school money for personal use.
The protesters are calling for the removal of Executive Director David Fehte and Chief Business Officer Marshall Mayotte, who are among a group of administrators at the school who used a school-issued card for personal purchases.
"My contention is that, while their actions may not have been criminal, they were certainly incompetent, irresponsible and unethical," said Carlos Monroy, a teacher at the school.
The administrators were first flagged in October 2015 by the Los Angeles Unified School District Charter School Division.
The district asked the school to revise its fiscal policies after a review of credit card charges revealed such things as first-class travel fares without "any explanation as to the nature of the travel expenses," according to a review from the division.
Fehte spent thousands of dollars on food, airfare and other expenses, documents provided by the law firm representing the nonprofit that runs the charter school show.
One purchase showed Fehte spending $1,139.84 at Monty's Steakhouse and Seafood in 2014. In October 2015, he spent $1,469.30 on a Delta Airlines flight.
For his part, Mayotte's name appears on a more than $800 charge at Mandalay Bay in Las Vegas, though the law firm contends that the purchase had a school-related purpose, namely a Common Core Conference.
Mayotte's name also appears on other triple-figure charges, though the law firm contends that those charges were not Mayotte's or were incurred on behalf of other employees.
Since the investigation began, El Camino Real Charter High School received a finance score of "1" from the LAUSD Charter Schools Division for the 2015-16 school year, the lowest score on a scale from one to four.
In 2013-14 and 2014-15, the school had received scores of four, effectively showing the investigation's impact on the school.
While the El Camino Real Alliance, the nonprofit entity that operates the charter school, has since revised its rules, most recently in a board meeting held last week, some teachers believe that more needs to be done.
"If we're talking about educational funds, this is public money," Monroy said. "This is money meant for children, meant for teachers, meant for the classrooms and (Fehte) is going on first-class flights and buying steak dinners. That's not acceptable."
In an email, the LAUSD charter schools division said it is reviewing the school's response to the notice of violations and "evaluating the adequacy of the ECRA response."
The division, the email said, will make recommendations to the LAUSD Board of Education, "which will consider the issue at an upcoming meeting."
Should the school's charter indeed be revoked, the school might stay open through the end of the school year, according to an LAUSD Office of Communications and Media Relations official. Furthermore, students would be able to attend another LAUSD school.
That would negatively impact students, Monroy said.
"The negative connotation that would be associated with El Camino is going to follow these students as they try to get into colleges," he said, adding that teachers could also be negatively impacted, since their contracts do not outline what happens to them if the school's charter is revoked.
Neither El Camino board Chairman Jonathan Wasser, nor LAUSD charter schools division director José Cole-Gutiérrez returned requests for interview. Fehte and Mayotte were not immediately available for comment.
The teacher protest is set to begin at 7 a.m. Wednesday outside the school located at 5440 Valley Cir Blvd. in Woodland Hills.